Navy Shipbuilding Plan Could Soon Be Tossed Overboard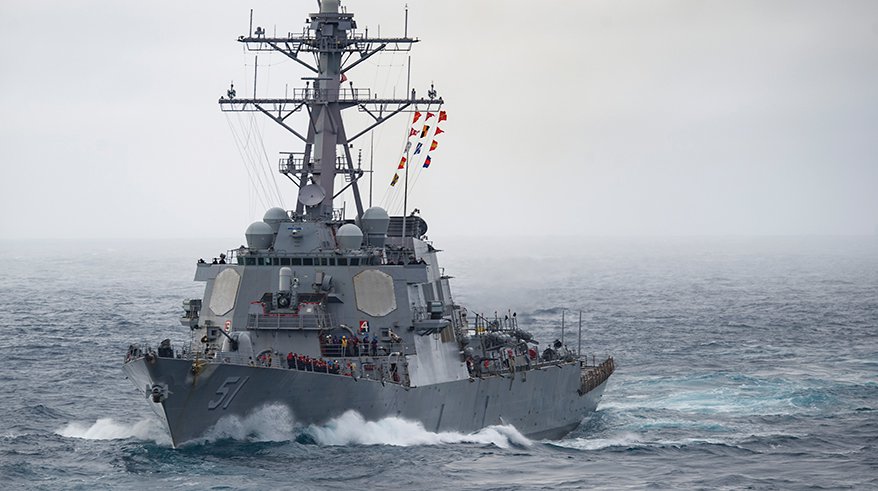 Photo: Navy
The Navy's new 30-year shipbuilding plan is intended to send a strong demand signal and pro-vide predictability for the industrial base. However, trends that are informing a new force structure assessment could soon upend the blueprint.
In March, the service submitted its fiscal year 2020 long-term shipbuilding strategy to Congress. The version released last year was criticized by lawmakers and analysts for being too conservative with the timeline for increasing the number of battle force ships in the service's inventory. Under that construct, the Navy would not have reached its goal of a 355-ship fleet until the 2050s. However, this year's plan is much more aggressive.
"Through the judicious application of predictable shipbuilding profiles and stable, on-time funding, the timeframe for achieving the overall inventory [goal] was accelerated by 20 years," the document said.
The service currently has 289 battle force ships. Under the new schedule, the fleet would grow to 314 ships by 2024 and 355 vessels by 2034. The blueprint includes the procurement of 55 ships over the next five years, but service life extensions of DDG-51 Arleigh Burke-class destroyers are the principle driver of the 20-year acceleration of the proposed fleet expansion, the report noted.
Promoting the health of the industrial base by implementing a predictable shipbuilding plan was a key theme in the strategy.
"We are at a level of fragility that without consistent and continuous commitment to steady acquisition profiles as proposed in this plan, the industrial base will continue to struggle and some elements may not survive another 'boom/bust' cycle," it said.
However, a new Navy force structure assessment is underway, and the results are expected to be released by the end of the year.
Ronald O'Rourke, a naval affairs specialist at the Congressional Research Service, said the assessment could lead to a change in both the total ship count goal and the mix of ships in the future fleet.
"They have dropped a lot of hints that there could be a change in the fleet architecture that could especially affect the surface force so that you'd have fewer large ships, more smaller ships, and … large unmanned surface vehicles," O'Rourke said during a panel discussion at the Heritage Foundation after the 2020 plan was released.
Earlier this year, Chief of Naval Operations Adm. John Richardson suggested the 355 number is not set in stone.
"Technology is moving fast, and so how that [number] may change in response to these new technologies that are emerging, we're very open to that," he said during remarks at the Brookings Institution.
Moreover, a number of trends could make it difficult for the Navy to maintain the steady acquisition profiles that the 2020 plan envisions.
Strains on the industrial base could create hiccups, officials and analysts noted.
"We're relying very heavily on industry to tell us when we've reached the limits, and we're seeing that in a couple specific shipbuilding lines," Deputy Chief of Naval Operations for Warfare Systems Vice Adm. William Merz said at this year's annual Sea-Air-Space symposium. "We're focusing on what we can to do to keep that capacity open."
Shipbuilders are already taking steps to increase their capacity, including hiring more workers, he said.
There is particular concern about submarine construction. In a few years, General Dynamics' Electric Boat and Huntington Ingalls Industries' Newport News Shipbuilding will be trying to produce two types of submarines, Virginia-class attack subs and Columbia-class ballistic missile subs, at the same time.
"It's a huge ramp up that we're doing in the submarine industrial base," said Eric Labs, a senior analyst for naval force and weapons at the Congressional Budget Office. "We've already seen some perturbations, some delays in Virginia-class submarine deliveries."
The Columbia-class, which is intended to replace the Navy's aging Ohio-class ballistic missile submarines, is the Navy's No. 1 acquisition priority. Procurement of the lead ship is scheduled for fiscal year 2021, and the service plans to buy a total of 12 boats. The program is on a tight schedule, and officials have said the vessels will receive priority if funding or production tradeoffs are necessary.
"We are still very concerned regarding the Columbia-class class SSBN going into serial production," Merz said. "It's a very expensive ship ... [and] we will pay for it by balancing the other ship lines to make sure she stays on track."
In a report released in April titled, "Columbia-Class Submarine: Overly Optimistic Cost Estimate Will Likely Lead to Budget Increases," the Government Accountability Office said the Navy's $115 billion procurement cost estimate for the program is not reliable, partly due to overly optimistic assumptions about labor hours required and cost saving measures.
In its official response to the report, the Navy pushed back against the findings, but noted that it will provide updated cost estimates with current data before requesting funding for lead ship construction in 2021.
Labs said there is a long history of cost growth for lead ships in a new class of vessels. Over the next five to six years, the Navy will introduce several new lead ships including the Columbia, a new frigate, a new large surface combatant and unmanned vessels, he noted.
The Navy estimates that its 30-year plan will require an average of $20.3 billion across the future years defense program for its shipbuilding and conversion account, and $26 billion to $28 billion annually in subsequent years.
Analysts say those funding levels might be feasible, given Congress' strong support for shipbuilding in recent years and during previous eras of naval buildups. Lawmakers have appropri-ated more than $20 billion annually for shipbuilding budgets over the past three fiscal years, according to the Congressional Budget Office. However, growing operations and sustainment costs could sink the plan, analysts warn.
The programmed sustainment cost for the 30-year plan is $24 billion in 2020, which rises to $30 billion in 2024. When the battle force inventory reaches 355 in 2034, the estimated cost to sustain the fleet will approach $40 billion, according to the Navy.
"I would argue that this shipbuilding plan is more or less a placeholder that the Navy put out to describe how you would get to 355 ships if you thought that this was the objective that you were intending to reach," said Bryan Clark, a senior fellow at the Center for Strategic and Budgetary Assessments and a former Navy officer. "The challenge with this fleet is it's going to cost way too much to sustain and to man compared to what the Navy is likely to have available in funding, so this is probably not achievable."
Changing the mix of large and small surface combatants and relying more on robotic systems might offer the opportunity to "break this linkage" between number of ships, number of personnel and sustainment costs, Clark said.
Unmanned surface vessels and unmanned underwater vessels, by definition, won't need sailors onboard to operate them, and they could be less costly to maintain, he noted.
"Your cost curve starts to change" as USVs and UUVs are substituted for large manned platforms, he said.
"What the Navy is likely to do in your next budget [and shipbuilding plan] is look at ways to start reducing the size of the fleet as measured in traditional ways like numbers of manned hulls, and look at new ways to evaluate naval capability … as they seek to decompose this manned fleet into smaller units of issue that might be less manpower intensive and less expensive to maintain."
If the Navy keeps its 355-ship goal, it might have to make some changes in the way it counts battle force ships, said Robert Levinson, a senior defense analyst with Bloomberg Government.
"The only way you would probably get there by 2034, I think, with realistic projections about budget is you're going to have to count some of these unmanned ships" that the Navy plans to procure, he said during a recent briefing for members of industry.
Richardson warned against using accounting gimmicks to reach force level goals.
"The thing that really matters is how much naval power do those platforms deliver, … and not so much ship count," he said at the Sea-Air-Space conference.
At some point, USVs and UUVs might count against the battle force, he said. "But we have to be very careful to make sure that we're not constructing something that … counts on a tally but doesn't deliver naval power at the end of the day."
However, as the quantity and capability of robotic systems grow, they could reduce the requirements for manned ships, he said. "You can anticipate some adjustments within the composition of the naval force."
Officials are already exploring those possibilities as part of the ongoing force structure assessment.
"We are expending a lot of effort examining the anticipated role of unmanned systems and how that might affect the shipbuilding plan," Merz said. "We are all-in on developing the capability and getting it in the field as quickly as we can … [but] we are not in a position yet to really discuss how or when we're going to start replacing battle force ships."
The Navy's interest in developing this type of technology was unmistakable at the Pentagon's Lab Day exhibition in April, where the Office of Naval Research and Naval Sea Systems Command had a number of booths where they showed off a variety of the USV and UUV projects they're working on.
Last fall, the Sea Hunter USV prototype — which has a 132-foot hull — reached a major milestone when it sailed more than 3,000 nautical miles from Pearl Harbor, Hawaii, to San Diego without human intervention, said Jeromy DeJaco, the Sea Hunter test director at ONR.
A second platform is being built by Leidos. ONR is aiming to transition the Sea Hunter to Naval Sea Systems Command in 2020 to further the technology.
In April, NAVSEA released a draft request for proposals for a medium unmanned surface vehicle, or MUSV. And over the next five years, the service plans to procure 10 large USVs, 108 Mk-18 undersea vehicles, 44 small/medium UUVs, three large diameter undersea vehicles, and nine extra-large UUVs, according to the latest shipbuilding plan.
"Our commitment in our last budget to the tune of almost $3 billion for just unmanned surface vessels should be enough signal to industry that we're very serious about this," Merz said.
However, President Donald Trump recently threw a wrench in the Navy's plans to retire the USS Harry S. Truman aircraft carrier in 2024 rather than refuel it. The decision to forgo the re-fueling was meant to free up money for autonomous systems and other emerging technologies. In the wake of congressional pushback against the idea, Trump announced in a tweet that he had reversed the decision and the Truman would remain in the fleet.
Unless Congress adds additional funding to the budget to continue bankrolling the Truman, the service will have to figure out how to pay for it.
"It's about $3.5 billion," Levinson said. "They may have to dig it out of … some of these other ships."
In the coming years, the procurement of robotic platforms could help the Navy expand its industrial base — which has shrunk to seven private new-construction shipyards and four prime contractors — said Jerry Hendrix, vice president of the Telemus Group and a former Navy officer.
"You can build that [type of system] at the existing defense shipbuilding yards," he said. "But there's also other yards on the Gulf Coast. There's also yards on the Mississippi and even up into the Ohio that have the capability of doing that … because these platforms have different configurations and don't require as big a graving docks or construction facilities."
Merz said there's going to be "a lot of work for the whole spectrum of shipyards" as these systems proliferate and increase in size.
Levinson noted that there are "lots of players" working on the technology.
While the Navy and industry are bullish on unmanned platforms, Congress ultimately holds the power of the purse to buy them. Some lawmakers have vested political interests in having manned ships constructed in their districts.
Nevertheless, "there's very much a receptive audience to bring that [unmanned capability] in as part of the Navy combat fleet," Labs said. "At the same time, that doesn't mean they're necessarily going to let go of the larger [manned vessels] … right away."
Analysts say the uncertainty engendered by the ongoing force structure assessment, and questions about how other trends will affect the long-term shipbuilding plan, creates challenges for industry.
"Navy officials and industry officials state repeatedly that stability and predictability is beneficial for industry," O'Rourke said.
However, "the kind of developments we've been talking about … are going to create a complicated situation where industry is going to have to address a situation of evolution in requirements, evolution in technology and program plans," he added. "They will have to adjust to that … as we move into this new period where we will have to be apparently making changes in programs due to the changing threat and emerging technological opportunity."
Topics: Shipbuilding, Navy News, Maritime Security