Services Report Progress on Directed Energy Programs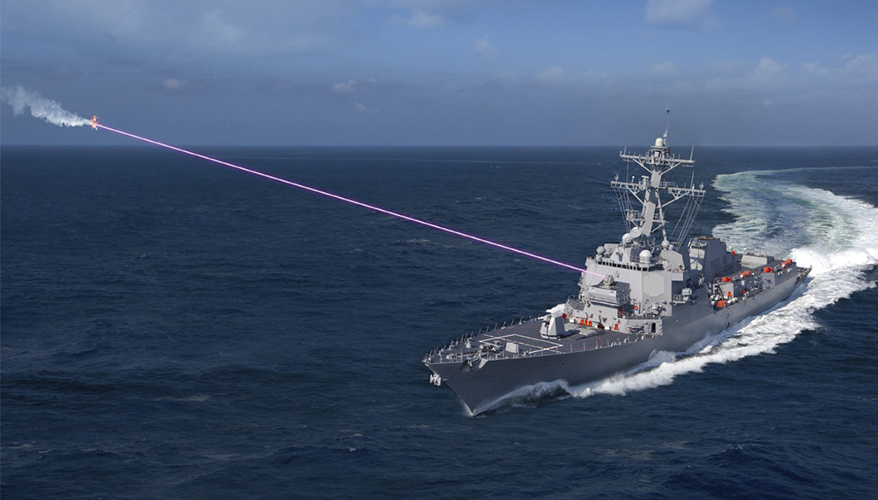 Concept: Lockheed Martin
With promises to reduce cost per shot and provide unlimited magazines, each of the services are betting their directed energy technology can give them an edge on the battlefield.
The Navy, Air Force, Army and other organizations all have ongoing programs and are reporting progress.
The Navy is focused on system integration, said Rear Adm. Ronald Boxall, director of surface warfare.
The service is working to integrate lasers developed through its high-energy laser and integrated optical-dazzler with surveillance, or HELIOS, program, with its existing Aegis advanced combat system, he said during remarks at the Directed Energy Summit in Washington, D.C., in March.
"If I have a system that can kill and I have a system that can actually sense, then I have to make sure it integrates with the other things I have on my ship that can sense and kill," Boxall said. "The most important aspect of the laser is its integration into the existing combat system."
Aegis, which was developed by Lockheed Martin, is used extensively by the Navy as well as international partners. It can attack enemy assets while also protecting against aircraft, cruise missiles and ballistic missiles.
The Navy awarded Lockheed Martin a $150 million contract for two HELIOS systems last year with options worth up to $942.8 million.
Boxall noted the service is aiming to install a system onboard an Arleigh Burke-Class Flight IIA destroyer in 2021.
The other laser is expected to be used for land-based testing at White Sands Missile Range in New Mexico, Paul Lemmo, vice president of integrated warfare systems and sensors at Lockheed, said at the Surface Navy Association's annual symposium in Arlington, Virginia.
The Navy wants to speed up the process of acquiring new laser technology by using its accelerated acquisition board of directors, Boxall said.
The board — which is chaired by Chief of Naval Operations Adm. John Richardson — was created to quicken the pace of bringing new capabilities to the fleet, Boxall said.
The Navy previously installed a 30-kilowatt laser weapon system, known as LaWS, on the USS Ponce in 2014.
Boxall noted that the system itself was "not really" impressive, but it was useful to put it into an operational environment.
"If you move something from an engineering product to something the war­fighter needs, you start learning a lot of things — and we did a lot with LaWS," he said.
Another effort the Navy is working on is the solid-state laser technology maturation initiative, also known as the SSL-TM.
The SSL-TM will be integrated onto the USS Portland amphibious transport dock, later this year, Boxall said.
He emphasized that it is more important to focus on the integration of the weapon than the number of kilowatts.
However, "I do want power," he added. "The more power, the more things I can do with that" technology.
The Army is also investing in directed energy weapons. It is particularly worried about beam control as it develops new technologies.
"Beam control is an area where we need a little bit more help," Craig Robin, senior research scientist for directed energy applications at the Army Space and Missile Defense Command's technical center, said during the summit.
Beam control revolves around getting a laser to pinpoint a target and remain focused on it, he explained.
In order to garner more precise beam control for its directed energy weapons, the Army needs additional surrogate laser systems out in the field so it can conduct more tests, he said.
Meanwhile, the command is developing a new high-energy laser system.
Previously the service developed a high-energy laser that could be outfitted on a truck, Robert Snead, an engineer at the Army Space and Missile Defense Command told National Defense during a DoD Lab Day exhibition at the Pentagon.
The High Energy Laser Mobile — a solid-state fiber laser — was designed to target unmanned aerial vehicles, rockets, artillery and mortars, Snead said.
As technology continued to develop, the Army switched directions and created a system known as the high energy laser tactical vehicle demonstrator, or HEL TVD, which is a 100-kilowatt system.
Development of the technology, which is meant to go onboard a tactical vehicle, will begin in the summer.
"In a few years you will see this system on test ranges," he added.
The Air Force is also keen on directed energy and has high-power microwave programs that will be tested in the coming years, according to Kelly Hammett, head of the Air Force Research Laboratory's directed energy directorate.
"We are pretty much the acknowledged center of gravity for high-power microwave weapons S&T in the services," Hammett said. "We were able to get some funding from [the office of the secretary of defense] on behalf of all the services to build some ground-based, high-power microwave prototypes. Those are being delivered this year and they will go into our experimentation campaign."
The first system, the tactical high-power microwave operational responder, or THOR, is a weapon system intended to go after multiple short-range drones, Hammett said. The effort was in developmental testing as of April.
Another system, the counter-electronic high-power microwave extended-range air base air defense project, also known as CHIMERA, is a long-range system meant to address a myriad of threats, Hammett said. The Air Force is aiming to deliver the weapon in fiscal year 2020.
Last fall, the Air Force tested Raytheon-built laser and microwave systems at White Sands Missile Range. The weapons were designed to take down small targets, Hammett said.
However, they are no longer being developed, he said.
"We have systems that operated exactly as designed, exactly as specified in the [joint capability technology demonstration] and nevertheless were not transitioned," he added.
The Defense Advanced Research Projects Agency is also working on developing new directed energy technology.
DARPA began integrating the high energy liquid laser area defense systems, or HELLADS, into a ground-based demonstrator in 2015. The effort was jointly funded by DARPA and the Air Force Research Laboratory. The goal was to develop a 150-kilowatt class laser weapon that is smaller and lighter than similar laser systems.
HELLADS "was really the first foray into solid-state laser technology and proved that you could do a solid-state laser," DARPA Director Steven Walker said at a recent breakfast with reporters in Washington, D.C.
The agency has since been focused on fiber-laser technology, Walker noted. It has been working with MIT Lincoln Laboratory to develop a small-scale fiber laser, which should be fully demonstrated by the end of fiscal year 2019, he said.
"The advantage there is you can integrate these lasers in much smaller packages," Walker said.
Meanwhile, Special Operations Command is working to integrate a 60-kilowatt directed energy weapon system onto the AC-130 gunship.
"Special operations is in the midst of demonstrating a precise airborne laser on a C-130," said Lisa Sanders, director of science and technology for the command. "It is a really challenging math problem in terms of [size, weight and power]."
SOCOM would prefer a more powerful laser, but is not willing to redesign the back-end of the AC-130 to obtain one, Sanders said.
"Would I love a really, really high powered laser?" Sanders asked. "Yeah, but it is not going to fit on a C-130 operationally, so we think 60-kilowatts is a sweet spot that is achievable technically within the space that we've got."
As the command continues to develop directed energy weapons it is asking itself where are other places it can apply high energy lasers, what are the best types of early integration platforms to use and can those systems be sustained, she added.
The Pentagon considers Special Operations Command to be an early adopter of laser tech, she noted.
A key takeaway from SOCOM's mission with directed energy is that the command is in search of scalable effects with lasers, she said.
Sanders noted that the C-130 is an ideal platform for the laser as the Defense Department already has the aircraft across the globe. "Frankly, that's one of the reasons C-130s are a great platform," she said. "There are C-130s [in] a lot of places."
SOCOM is also working with the Defense Department on a roadmap for directed energy programs, Sanders confirmed.
— Additional reporting by Connie Lee and Jon Harper