PARIS AIR SHOW NEWS: Hypersonic Cruise Missile Approaching First Test Flight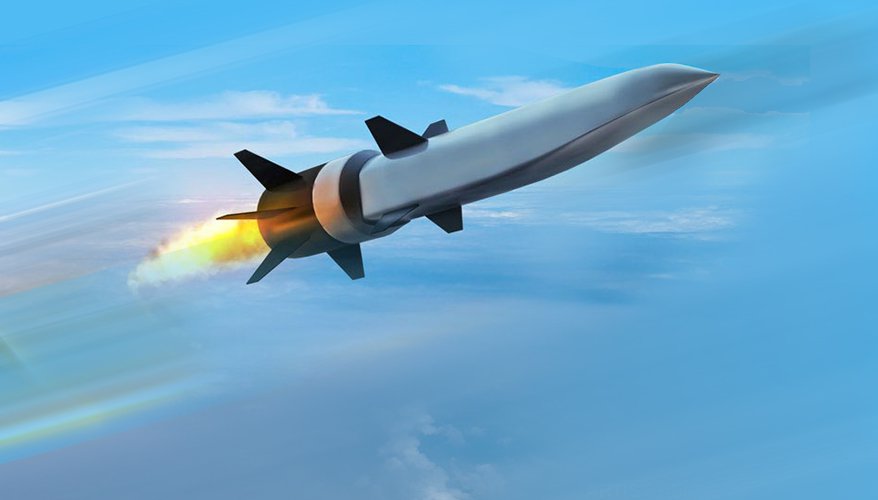 Raytheon hypersonic missile concept art
Art: Raytheon
PARIS —
Industry giants Raytheon and Northrop Grumman are partnering to create a new hypersonic weapon that will soon undergo its first flight test, the companies announced June 18 at the Paris Air Show.
Northrop Grumman will provide a scramjet engine to power a Raytheon-built cruise missile. The initiative is part of a $200 million hypersonic air-breathing weapon concept, or HAWC, program contract that the Defense Advanced Research Projects Agency and the Air Force Research Laboratory are funding.
The technology is a top research-and-development priority for the Pentagon as the U.S. military seeks to maintain its edge over great power competitors China and Russia, which are developing their own hypersonic missiles. The platforms can travel at speeds of Mach 5 or faster and are highly maneuverable, making them difficult to counter.
A flight test of the new Raytheon-Northrop Grumman system will happen in the near future, said Tom Bussing, Raytheon's vice president of advanced missile systems. He declined to provide a more specific date.
The technology has already undergone ground testing, he noted during a briefing with reporters at the Paris Air Show.
The new missile "has been designed with all the attributes that a weapon system should have within it," he said, including placement for computers, sensors and other components that would be needed for warfighting purposes.
The system could be air-launched or surface-launched and attack a variety of targets, he added.
The platform will be boosted by solid rocket motors before the scramjet engine is ignited. Scramjet engines forcibly compress incoming air before combustion to enable sustained hypersonic flight.
The scramjet engine for the new system was manufactured using 3D printing, said John Wilcox, vice president of advanced programs at Northrop Grumman.
The total cost of the weapon system will be comparable to cruise missiles that are on the market today, Bussing said.
The platforms could potentially operate together in swarms using artificial intelligence, he said. DARPA has a program called collaborative operations in denied environments, or CODE, which is aimed at creating new algorithms and software to allow unmanned aircraft to fly autonomously in teams, he noted.
"You could envision these [hypersonic missile] systems having the ability to talk to each other and then make decisions as they fly to their targets," Bussing said.
"This weapon is fundamentally game changing," he added. "There's nothing like it. It's extremely difficult to counter. It's highly maneuverable. It has a lot of unique attributes that make it difficult for the other side to detect and engage."
Bussing and Wilcox said schedule timelines for manufacturing and deployment of this type of system would be determined by the Defense Department. Raytheon and Northrop Grumman are competing with a Lockheed Martin-Aerojet Rocketdyne team on the HAWC program.
Pentagon officials have said they want to start fielding hypersonic weapons in the early 2020s. Wilcox said they could potentially be acquired using Section 804 rapid acquisition authorities granted by Congress.
Topics: Emerging Technologies, Air Power