WEB EXCLUSIVE: U.S. Officials Gearing Up for Paris Air Show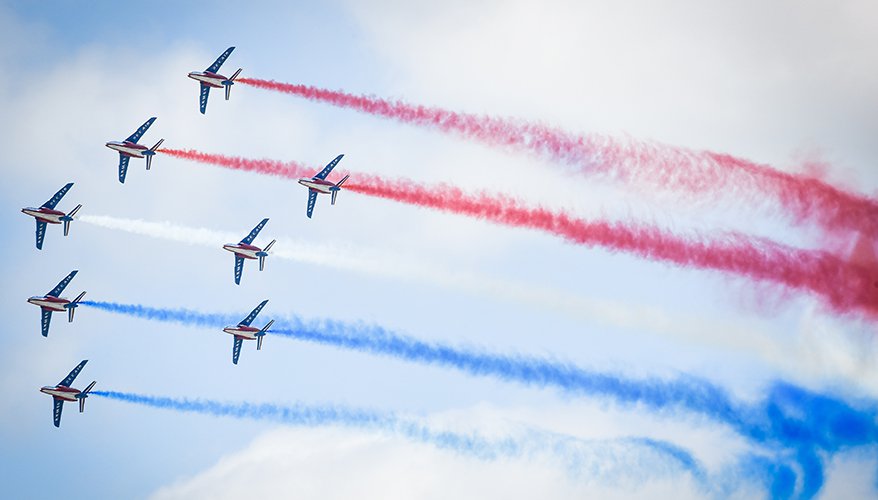 Photo: Air Force
Leaders in government and industry from around the world are headed to France for the Paris Air Show, one of the largest events of its kind, where they will try to facilitate sales and promote their aerospace and defense products.
More than 2,400 companies from 49 countries will be exhibiting, and attendance is expected to top 142,000 people, according to Tom Kallman, president and CEO of Kallman Worldwide Inc., the organizer of the USA Partnership Pavilion at the event. The United States is expected to have the largest international presence at the week-long confab, which kicks off June 17 at the Le Bourget Airport.
About 350 companies will be at the show, noted Secretary of Commerce Wilbur Ross, who is also expected to be there. The U.S. government's participation will be "the largest and most dramatic ever," he said during a recent panel discussion at the National Press Club in Washington, D.C., where senior officials offered a preview of the air show.
The U.S. government contingent will include representatives from the Departments of Defense, State and Homeland Security, all four military branches, NASA, the FAA and the Export-Import Bank, Ross noted.
"The key messages in Paris will be: the U.S. aerospace industry is stronger than ever and partnerships are important," he said.
The aerospace industry has the largest trade surplus of any U.S. manufacturing segment, reaching $88 billion last year. Of the $215 billion in total U.S. aerospace production, about $150 billion, or 70 percent, is exported, according to Ross.
Defense contractors will be showing off a variety of products, including fighter jets, aerial refueling tankers, surveillance aircraft, helicopters, air-and-missile defense systems, and other capabilities.
Undersecretary of Defense for Acquisition and Sustainment Ellen Lord will be spearheading the Pentagon's delegation.
"The Paris Air Show provides an efficient and effective venue to meet with our NATO allies, international partners and industry leaders," Lord said. "It provides opportunities for substantial dialogue, the sharing of ideas on how strengthen our Trans-Atlantic industrial base, and further collaboration amongst key attendees."
Promoting exports of U.S.-made defense products has been a top foreign and economic policy goal of the Trump administration. With its new conventional arms transfer policies, it has moved to loosen restrictions and reduce bureaucratic red tape for selling systems overseas, including drones.
In fiscal year 2018, foreign military sales facilitated by the U.S. government totaled about $55.7 billion, a 33 percent increase over the previous year, according to the State Department. Director commercial sales brought in an additional $136.6 billion.
"Our conventional arms transfer [policy] is moving forward to really lessen a lot of those barriers and speed up international sales, which is one of my key objectives," Lord said.
Promoting exports will be a main line of effort for Pentagon leaders at the air show, she noted.
"We are typically trying to advocate for U.S. industry. So those foreign military sales programs are what we will talk about," she said. "I let the customer drive the dialogue. So we are prepared to talk about a number of things" including NATO initiatives, she added.
Lord noted the importance of international supply chain partners.
"The department strongly supports industry's international efforts to sustain the industrial base since this is a vital part of our national security, and we understand the importance of our allies and their suppliers to our own U.S. industrial base," she said. "It is important that we work together to innovate and develop the best products to support our respective and joint missions, providing the best capabilities at the best price for taxpayers."
Lord said she wants to ensure that overseas defense initiatives, such as the European Defense Fund and the Permanent Structured Cooperation project to increase investment in European military capabilities, don't disadvantage U.S. companies.
"I am concerned about EDF and PESCO," she said. "I am very much in favor of making sure that they consider what we have for technology. And I want to make sure in terms of the EDF or PESCO funds that are being handed out, that U.S. industry has equal opportunity as European industry has here in the U.S."
Meanwhile, on the civilian side, U.S. officials such as NASA Administrator Jim Bridenstine will be in Paris meeting with their counterparts and promoting international cooperation in space. President Donald Trump has set a goal for putting Americans back on the moon by 2024 and establishing a permanent presence there. The goal is to then send humans to Mars.
Bridenstine said international partnerships could aid the initiative, known as Artemis. In Greek mythology, Artemis was the twin sister of Apollo. The Paris Air Show will take place just weeks before the 50th anniversary of the Apollo 11 mission that put humans on the moon for the first time.
"One of the reasons we go to Paris as NASA [is] because all of the heads of the space agencies from around the world will be there, and we will have opportunities to share with them what our plans are, the direction we're going," he said. "When we do this sustainable return to the moon, we want to bring our international partners with us in a major way."
Interoperability will be a key feature of the Artemis project, he noted.
"The architecture that we're developing is open — the way we do communications, avionics, the way we do life support, docking, data, all of this is going to be open," he said. "In other words, if you're a small country, maybe you're a private company, maybe you're a publicly traded company and you have an interest in going back to the moon for commercial reasons, you can plug into our architecture."
"The United States of America is looking forward to going over to the Paris Air Show and sharing all of this with our international and commercial partners," he added.
Editor's Note: National Defense will be dispatching one of our reporters to cover the Paris Air Show. Stay tuned for stories.
Topics: Air Power, Air Force News