PARIS AIR SHOW NEWS: EU Defense Programs Have Trump Administration Talking Retaliation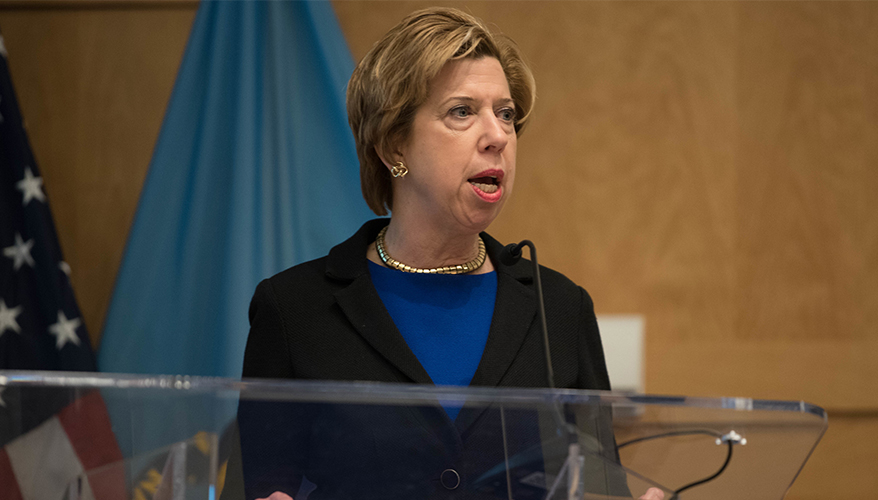 Ellen Lord
Photo: Defense Dept.
PARIS —
The Trump administration might adopt new measures that would limit European companies' opportunities to participate in the U.S. defense market, a top Pentagon official said June 17.
The move, if approved, would be in retaliation for European initiatives that administration officials believe could unfairly hurt American firms, Undersecretary of Defense for Acquisition and Sustainment Ellen Lord told reporters at the Paris Air Show.
The European Defense Fund and the Permanent Structured Cooperation project —known as EDF and PESCO, respectively — aim to boost Europe's indigenous military capabilities. However, Trump administration officials are worried that some of the language shaping those initiatives could undermine U.S. industry, Lord said.
"The U.S. is very concerned about provisions in EDF and PESCO that would limit U.S. and other third parties outside of the EU in terms of participating in programs moving forward," she said. "Right now, European companies enjoy an enormous amount of business in the U.S. and we want to make sure that U.S. companies have the same opportunity" in Europe.
"As we read the language right now, even European-based subsidiaries of U.S. corporations with European facilities or European employees would not be allowed to participate with intellectual property exchange and a number of other issues on programs that grow out of EDF and … into PESCO," she added.
President Donald Trump has shown a willingness to use tariffs and other economic tools to punish other countries for what he views as unfair trade practices. The administration is pondering next steps.
"The interagency right now is discussing where this might go on a whole range of actions that we've discussed" including retaliatory measures, Lord said.
Meanwhile, administration officials are trying to make the case that excluding American firms from European programs would be counterproductive and undermine allies' military capabilities by depriving them of cutting-edge American technology, she noted.
"What's been particularly interesting is that many of the European companies that we have spoken with were unaware of the situation that exists and some of the unintended consequences," she said. "So a large part of my efforts during the Paris Air Show this year is to make sure that both European and U.S. industry understands what's at stake."
However, Lord suggested that the Trump administration isn't about to pull the trigger when it comes to potential retaliatory measures.
"We are not rushing to any actions," she said. "We are having all kinds of dialogue. At this point there is no intention of doing anything abrupt or disruptive."
Lord was asked what the U.S. government's desired end state is for these discussions.
"It's not EU grant money that we are interested in," she said. "It's the ongoing opportunity to have a two-way movement of intellectual property and equal opportunity for the most appropriately prepared companies to address these contractual opportunities as they come up."
Topics: Defense Contracting, Global Defense Market