JUST IN: Space Development Agency Director Favors Leased Satellites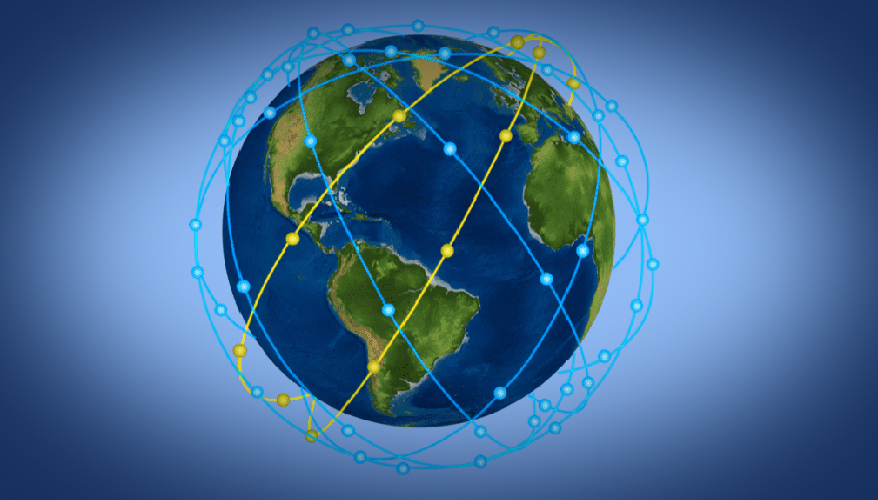 Graphic: DARPA
The proposed Space Development Agency is looking to lease rather than build its own communications satellites, the agency's director said June 14.

"I would be very happy to simply lease commercial services from these mega providers and just say, 'This is great. Services, go buy your radios, do your job, we'll put some nodes on those networks and we will build it out,'" Fred Kennedy said during remarks at an event in Washington, D.C., hosted by the Mitchell Institute for Aerospace Studies.

"There may be things we need to do with that network that will not quite translate to commercial market, but the more that I can leverage commercial, the better off we are," he added.
Acting Defense Secretary Patrick Shanahan ordered the creation of the Space Development Agency, which will answer to Undersecretary of Defense Michael Griffin, rather than the Air Force. However, it has yet to receive funding from Congress to begin operations.
Kennedy's first priority is to create a meshed communications network in low-Earth orbit that will serve as the backbone for all its other proposed systems, he announced in April at the annual Space Symposium in Colorado Springs. The announcement marked the first proposed military satellite communication system since the Transformational-Satellite program was cancelled in 2009.

Elaborating on the proposed system, Kennedy said he would rather the network operate under a leased-services model than a government-owned model, although he recognized that the military has unique requirements.

"We will go where we have to go in order to assure that national security objectives are met," he said.

He set an aggressive schedule for putting satellites on orbit — even though aside from himself — the office currently has one other employee.

"We want to put our first capability up in 2022, with on-orbit demos next year," Kennedy said. "Before the end of [fiscal year 2020] we're going to put capability on orbit .... the first traunch of operational capability by 2022, that's our target." He favors small, low-cost satellites that can be manufactured in large quantities quickly, similar to what some space start-ups are proposing.

Having operational capability on orbit by 2022 is more than just a goal for the agency, he noted. "If we don't get there, I feel we have failed," he said. "If I have to come back to you all in 2023 and say, 'Well, there's a delay,' I've already blown the case."
Another problem the agency is aiming to address is the slow acquisition system and the high costs of developing space assets.
"What we're offering within the Space Development Agency is the leveraging of that confluence of threat and opportunity," Kennedy said. "Let's move away from an exquisite approach that gets us capability in decades to something that might give us some less exquisite capability on the order of a year or two." He likened the small satellites to the iPhone. The first version may not have been great, but as each iteration came out, it became better and better.
The thought process behind the agency has always been to transition it into the space force, if and when the proposed service it is established, Kennedy said. Congress is still debating its merits. He wants two to three years to integrate the agency. Trying to stand up the space force and the Space Development Agency simultaneously could create more chaos then the Defense Department needs, he said.

"Then the question becomes a glide slope of when you would actually bring the agency in.... I was initially arguing for something on the order of two or three years to give us a good glide slope," Kennedy said.

"The bottom line is that that may be out of our hands," Kennedy noted. "We'll wait and see … what Congress decides they wish to do."
The 2020 budget proposal seeks $150 million to stand up the agency. As soon as the funding is approved, the agency will begin work, he added.
Topics: Space, Space Industry, Space Operations