NEWS FROM SEA-AIR-SPACE: Navy, Marine Corps Moving Forward with New Operating Concept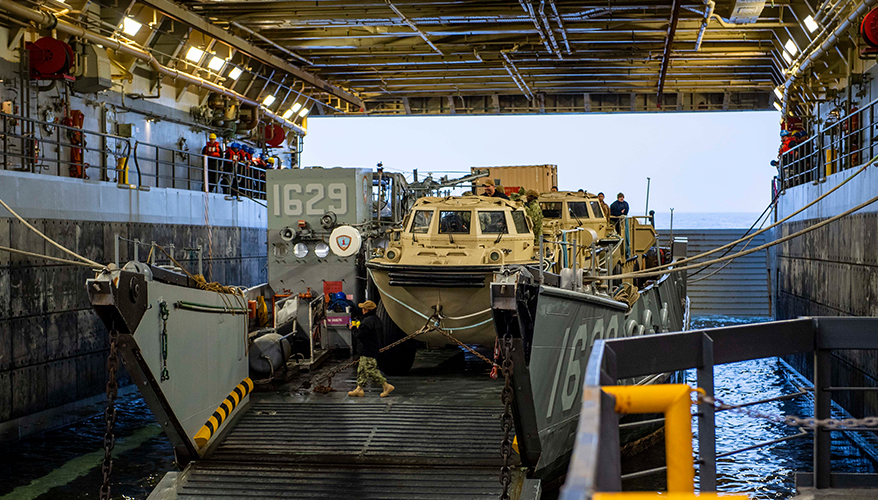 Photo: Navy
NATIONAL HARBOR, Md. — The Navy and Marine Corps are working together to advance a new operating concept aimed at maintaining maritime superiority, a top official said May 8.
The concept, formally known as expeditionary advanced base operations, or EABO, is "all about distributing lethality across the battle space in support of a larger maritime campaign," said Brig Gen. Stephen Liszewski, director of operations for the Marine Corps.
Through the concept, the services are looking to establish expeditionary bases at sea, Liszewski said during the Navy League's Sea-Air-Space conference at National Harbor, Maryland. Once established, the bases could be utilized for a variety of missions.
"That expeditionary advanced base can be used as a forward arming and refueling point for aircraft from the joint force," Liszewski noted.
They could also be used as sensing platforms to collect intelligence, surveillance and reconnaissance information, or as strike platforms to achieve sea control, he added.
Gaining sea control is no easy task, according to Liszewski.
"The real challenge with EABO is that we will be performing and operating in a widely distributed area ... and supporting a larger maritime campaign," he said.
The Navy and Marine Corps recently conducted an exercise where they experimented with implementing the new operating concept.
Pacific Blitz was conducted in March and April in the Southern California region, Liszewski said. The exercise involved the I Marine Expeditionary Force and the 3rd Fleet.
"What they did during the exercise was they looked to operationalize and execute some of these concepts that we were talking about," Liszewski said. "They went out and they worked at how would we establish advanced expeditionary bases and how would we establish forward operating areas."
"The U.S. Navy and Marine Corps are a team, and joint training like Pacific Blitz allows our team to improve our capability to conduct amphibious operations," Vice Adm. John Alexanders, commander of the 3rd Fleet, said in a press release.
Topics: Maritime Security, Marine Corps News, Navy News