NEWS FROM SEA-AIR-SPACE: Navy Hopes to Avoid Complications as It Builds Two Types of Submarines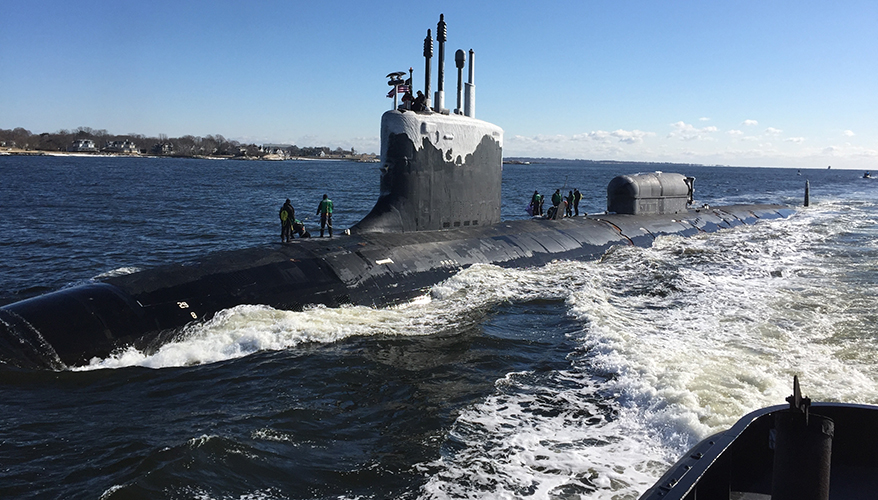 Virginia-class submarine, USS North Dakota
Photo: Navy
NATIONAL HARBOR, Md. — Development of the Columbia-class ballistic missile submarine is still on track, but the real test will come in five years when the service is producing two different types of subs at the same time, a senior Navy official said May 7.

James "Hondo" Geurts, assistant secretary of the Navy for research, development and acquisition, said the biggest concern the Navy has when it comes to fielding new classes of submarines is not the yet-to-built Columbia-class. The program "is largely tracking to the schedule we have," he told reporters at the Navy League's Sea-Air-Space conference at National Harbor, Maryland.

Problems may emerge when it is launching those boats and a new generation of Virginia-class fast attack submarines beginning at about the middle of the next decade, he said.

Looking broadly at the whole submarine enterprise, the Navy must ensure that it can produce both platforms at the same time without any schedule slippages, he said. The service must do everything it can to communicate with the shipyards and vendors to coordinate the two major programs.

"One of the biggest risks to Columbia is if Virginia is out of its cadence," Geurts said.

The Columbia-class will replace the Ohio-class ballistic missile submarines, one of the three legs of the nuclear triad, which also includes long-range bombers and intercontinental ballistic missiles. General Dynamics Electric Boat and HII Newport News Shipbuilding are designing the new submarines with the first expected to begin construction around 2021. Navy officials have long warned that there is little margin for error in the Columbia-class schedule as the Ohio-class boats are approaching the end of their service lives. The first vessel is expected to be delivered in fiscal year 2028, the second in 2031, and the remaining 10 at a rate of one per year from 2033 to 2042.
Beginning in the mid-2020s, Virginia-class submarines will be procured at a rate of two per year while Columbia will be procured at a rate of one per year.

The more numerous Virginia-class submarines are expected to number 66 and have been in production since 2004 with various block upgrades. Block V submarines are also being built by Electric Boat and Newport News Shipbuilding.

"Submarines are very sensitive to sequencing," Geurts said. "If you get a little bit out of sequence, it can have an impact. So we have go to make sure that we have all the sequencing right, which includes facilities, workforce, supplies, bandwidth so that as we sequence in Columbia, we can continue with the cadence on Virginia."
If things do go awry, Geurts said Columbia-class subs will be the No. 1 priority.
Topics: Maritime Security, Shipbuilding