NEWS FROM SEA-AIR-SPACE: Maritime Administration Fleshing Out Plans to Modernize Sealift Assets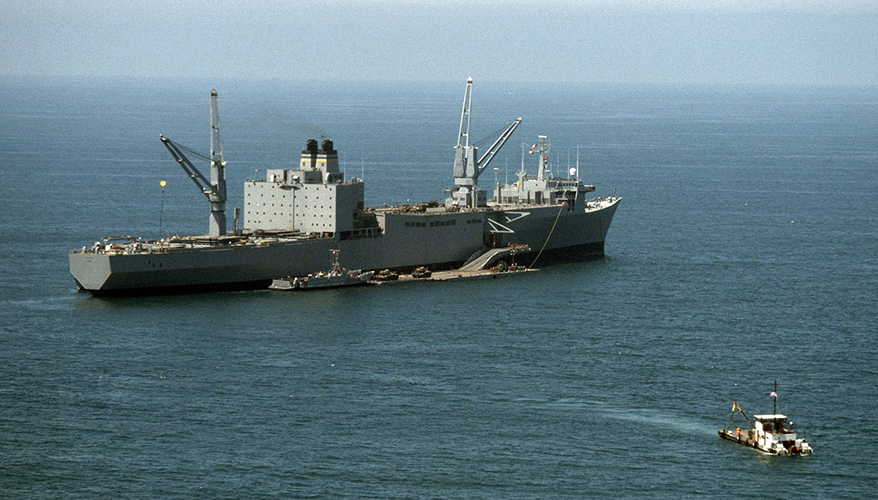 Photo: Defense Dept.
NATIONAL HARBOR, Md. — The Maritime Administration is working out the details of its plan to modernize its aging fleet of civilian ships that could be called into action to support the U.S. military during a large-scale war, the head of the organization said May 6.

The Maritime Administration is charged with maintaining a fleet of 46 ships in the Ready Reserve Force that are on average more than 44 years old, Administrator Mark Buzby noted during a panel discussion at the Navy League's Sea-Air-Space conference in National Harbor, Maryland. Those vessels are crewed by civilian mariners that have volunteered to serve.

"Those ships have to be ready to go and answer a five-day readiness [requirement] to move a majority of our [continental U.S.]-based garrison forces overseas in a major contingency," he said. "Forty-four-year-old ships don't rest easy. They need a lot of love, tender care and a lot of money. And that's a continuous challenge."

The situation hasn't improved much over the past year, Buzby said.

"I'm afraid we have not, in terms of actual numbers, gotten any healthier," he said. Readiness has slipped and there is a shortfall of about 1,800 mariners that would be needed for a prolonged sealift effort, he noted.

"Things aren't going to get markedly better until we … start getting more ships online and newer ships online," he said. "The good news I would say is that we are getting much more visibility on the issue."

Buzby's staff has been working with the chief of naval operations' staff and the military's Transportation Command to develop an affordable program to acquire the sealift capability that the nation needs, he noted.

"We actually have a path ahead that Congress has bought into," he said.

The modernization plan is three-pronged. The first is for several ships to receive service life extensions and upgraded systems to enable them to remain in the fleet until they are about 60 years old, he said.

The second prong is to purchase newer ships on the open market and modify them to be more militarily useful. Those vessels would replace some of the older platforms in the Ready Reserve Force including steam-powered ships. The Maritime Administration still maintains 24 steam-powered vessels, Buzby noted.

The third prong will be to procure new-builds. The details for that part of the plan are still being worked out, he said.

"The Navy has a pretty large order book and a lot of plans for building a lot of ships, and we have to kind of prioritize properly where sealift should fit into that," Buzby said.

The Maritime Administration is working with the CNO's staff to determine the right type of ships to buy, the right quantity to buy and when to phase them in, he said.

"The good news is, while we still are a bit on the edge being able to provide a solid sealift over a long period of time, we're moving in the right direction and we have plans in place to get us there," Buzby said.
Topics: Maritime Security