NDIA PERSPECTIVE SPECIAL OPERATIONS
Communication Key to SOCOM's Success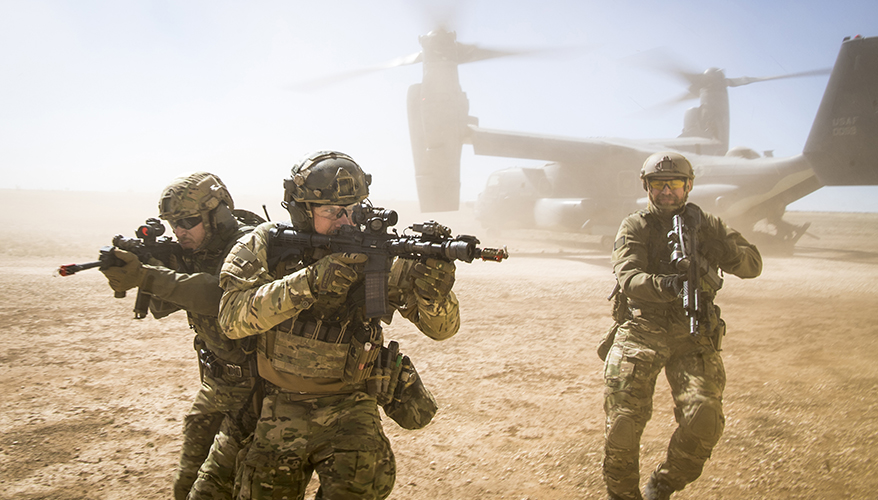 Photo: Defense Dept.
The National Defense Industrial Association believes war-fighters must collaborate with industry throughout weapons system development to deliver capabilities that provide the U.S. with the competitive advantage it needs to win future conflicts.
Thus, reforming acquisition and accelerating innovation for conventional and special operations forces requires closely integrating operators into the acquisition cycle from conception through sustainment. NDIA's Special Operations Forces Industry Conference (SOFIC) provides indispensable in-person collaboration opportunities for operators and industry innovators, to deliver decisive advantage for our warfighters when defending the homeland and its freedoms. Why do this? Because we want the nation's warfighters to fight with a clear and overwhelming advantage.
When we fail to bring operators and innovators together, we risk misunderstanding, which can lead to opposition to collaboration. For example, employees from both Google and Microsoft recently expressed concern about their companies' engagement with the Defense Department. The opposition likely stemmed from a fundamental misunderstanding about the military's mission and the motivations driving its uniformed members to serve. While Microsoft's leadership made clear their commitment to support service members and actively participate in critical discussions about responsible technology use, Google responded to the pressure by declining to renew a defense contract.
A big part of NDIA's mission is to provide forums where operators and innovators can learn they share common values and to avoid situations where lack of shared experience and context leads to misunderstanding. Service members choose military service because they believe in the American creed of life, liberty and the pursuit of happiness, and they regard equal opportunity and justice as civil rights. The people of America's high-tech companies choose their careers to help make their customers' lives easier, more interesting and more enjoyable. Fundamentally, the professional goals of both groups align; service members secure and defend freedom, and innovators help Americans make the most of their freedom. Bringing the two groups together helps them share information and ideas in ways that will protect and strengthen freedom for everyone.
Protecting freedom requires service members to hedge against anticipated threats. Military officials worry about Russia interfering in elections and increasing its influence in Ukraine and the Baltics. They worry about China building military outposts in the Spratly Islands along key sea lines of communication and amidst rich fishing grounds. And they worry about terrorist organizations establishing permanent training facilities in the Middle East, from which they can threaten the homeland. These threats potentially impact all Americans as well as many allies, driving service members to pursue capabilities to assure allies of the nation's commitment, deter unwanted action and, if necessary, defeat adversaries.
This is why convening events bringing together warfighters and industry strengthens American defense. Allowing junior military members to interact, and maybe even "interhack," with defense industrial base employees allows the two groups to share context and perspective, as well as knowledge, skills and experience.
Bringing together more senior members of each type of organization exposes operators to the current state of the art in technology and provides a forum for them to explain their missions and working conditions with inventors, innovators and developers who can help shape the outcome during future missions.
Under the current acquisition process, requirements development generally depends on field-grade operators identifying shortfalls and working to determine whether services should address gaps using doctrine, organization, training, materiel, leadership, personnel or facilities. When considering materiel solutions, acquisition professionals conduct market research to understand the art of the possible, both now and in the near-to-mid-term. It is critical for acquisition officers to share market research responsibilities with operators and to emphasize in-person interactions with industry innovators and developers to determine how American industry can leverage new and nascent technologies to deliver decisive advantage to warfighters.
With 29 divisions and 29 chapters, NDIA creates educational opportunities and convenes legal forums across a broad spectrum of topics, catalyzing collaboration between government and industry. In-person engagement allows participants to share more than facts and requirements, it allows them to share context. Warfighters can share hard-earned training and combat experience, emphasizing the equipment that worked better than expected and highlighting shortfalls.
Industry can share their recent successes and extrapolate to characterize what they believe the art of the possible will be in the near-, mid- and far-term. As we've seen with DevOps, an enterprise software development phrase used to describe an agile relationship between development and IT operations, providing context with requirements drives better outcomes.
Accelerating innovation requires getting smart people in the same room and encouraging them to share expertise. Pairing developers with operators to shorten development timelines and deliver capabilities that closely align with existing and emerging requirements accelerates innovation.
NDIA is excited to again partner with U.S. Special Operations Command to bring the best in defense industry capabilities and innovation to Tampa to enable in-person engagement focused on tackling current and emerging challenges.

James C. Boozer is the executive vice president of the National Defense Industrial Association.
Topics: Special Operations, Special Operations-Low Intensity Conflict