'Hyper-Enabled Operator' Concept Inches Closer to Reality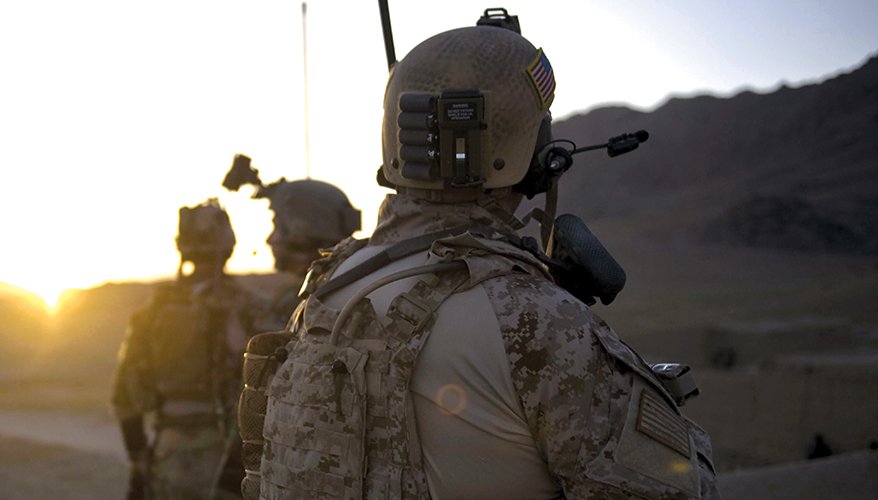 Photo: Defense Dept.
Nearly a year after announcing a new effort to "hyper-enable" commandos with a slew of new technologies, Special Operations Command is making progress, officials have said.
"Hyper-enabling the operator could mean a lot of things — getting them better body armor, getting better boots, get them better helmets," said Jim Smith, the command's acquisition executive. But "when you hear U.S. SOCOM talking about hyper-enabling the operator … we're really talking about the cognitive space."
The concept — which focuses on four pillars of technology including communications, computing, data/sensors and human-machine interfaces — is about pushing tailored information to a dismounted operator or unit at the tactical edge, he said during remarks at the National Defense Industrial Association's annual Special Operations/Low Intensity Conflict conference.
The command intends to look at multiple technology areas including data, presentation and computation, he said.
Having readily available information for warfighters on the battlefield mirrors technology found in self-driving cars, Smith said.
"[You have] got to have a lot of computing power on the car" itself, he said. "You can't be reaching back to the cloud every time you're trying to figure out if something is a stop sign or a pedestrian."
It's "the same thing for our operators. How do I get them computing power at the edge, the right comms pipe?" he said.
The initiative spans across all of SOCOM's forces, he added, to include logisticians, medics and psychological ops personnel. "I'm talking about the full spectrum of SOF operations," Smith said.
Already today, people across the world carry "exquisite" personal devices that can tell someone exactly where they are, he noted.
"None of us worry about maps anymore," he said. "When we go into a new city, we're not carrying any of that information with us. We count on our device to tell us, 'Hey, here's the best restaurant. ... Don't stay in that hotel, try this one instead.'"
Such on-demand information technology would be enormously useful for an operator in Eastern Europe or in the Indo-Pacific region, he noted. A commando would be able to instantly tap into social media feeds to gauge nearby threats or to see what kind of criminal activity is going in the area, Smith said.
Right now, operators who want that kind of information first have to wait for it to be distilled by analysts in potentially a far-off location and then provided as products to the individual warfighter, he said.
"How do we get that to be a real-time information feed at the edge?" he asked. "That's where we're going with hyper-enabled operators, [and we're] looking for your help on that one," Smith told members of industry.
The command sees the concept as the next natural progression after its extensive work developing the tactical assault light operator suit, Smith said. TALOS, which was popularly known as the "Iron Man" suit, was originally envisioned as a way to protect vulnerable commandos that broke down doors during dangerous raids. However, after years of development Smith announced that the command would fall short of its original goal and the suit was not ready for prime time.
"It will not be something that our operators would feel comfortable putting on in a close-combat environment today," he said. "So moving, shooting, communicating in the face of enemy fire, not quite there yet."
While the command has spent a great deal of time focusing on physical capabilities, it plans to place more emphasis on cognitive ability now, he said.
"We don't see a clean break between TALOS and the hyper-enabled operator," he said. "We see it more as a seamless transition from the physical domain to the cognitive domain."
Smith noted SOCOM has established a task force within its science-and-technology division to focus on the hyper-enabled operator, ensuring that it has the "extra manpower" to drive the technology forward.
Col. Alex MacCalman, director of the hyper-enabled operator joint acquisition task force, said multiple program offices are participating in the effort.
"The team is conducting applied research and experimenting with prototypes and architectures to evaluate whether a prototype solves a clearly defined problem," he told National Defense in an email. "This informs our future investment decisions."
While SOCOM announced the concept last year during NDIA's annual Special Operations Forces Industry Conference, the command has been working on related technologies for a long time, MacCalman noted.
"Some could say that we've been hyper-enabling the operator since we fielded the Android tactical assault kit services on a phone," he added. Previous research in areas such as visual augmentation, biomedical monitoring and embedded computing environments are providing the command with prototypes to test concepts.
The hyper-enabled operator idea emerged from the need to adapt to an evolving operating environment, MacCalman said.
"Special operators, along with the rest of the military, will have to operate in a cross-domain environment involving not only the physical domain of land, air, maritime and space but also the virtual domain within computer-generated environments or cyberspace, and the cognitive domain that involves optimizing the human/machine interface," he said.
SOCOM officials have noted that the command intends to move from a focus on counterinsurgency operations to great power competition in support of the 2018 National Defense Strategy.
The biggest technological hurdles the command will have to overcome as it pursues the hyper-enabled operator concept are long-range communications and optimizing data throughput in contested environments and denied areas, MacCalman said.
"The management and distribution of computer processing from the cloud down to edge devices is another area of continuing development, as well as research to understand how immersive technologies affect and benefit human cognition," he said.
In November, Special Operations Command successfully hosted a technical experiment at Avon Park Air Force Range, Florida, he noted. A total of 41 technologies from 39 companies were evaluated.
"Technology experimentation events provide an opportunity for respondents to interact with operational personnel to determine how their technology development efforts and ideas may support or enhance SOF capability needs," he said. It also brings together government, industry and academia.
In May, during the annual SOFIC show in Tampa, Florida, the command plans to hold a "disrupter event" to seek out new approaches to further the hyper-enabled operator concept, MacCalman said. Technologies of interest include: edge computing and analytics; tactical communications and navigation; tailorable human-machine interfaces and protocols; adaptable and flexible sensors; biometric and forensic tools; social network mapping and sentiment measurement tools; interoperability and integration standards/models; heuristic or probabilistic techniques or applications that can speed and enhance decision-making; intuitive mobile applications that support data aggregation and interoperability; and enhanced stand-off identification and characterization, he said.
There are active efforts within SOCOM to develop a data strategy, data governance processes, cloud architecting strategy and next-generation communications in support of the initiative, MacCalman said.
"These efforts will foster a data-centric culture and enable the HEO concept by getting the right information to the right person, in the right place at the point of need," he said.
Industry is already working to advance technology such as the internet of things, smart cities, artificial intelligence and machine learning algorithms for the hyper-enabled operator concept, he noted.
"Technologic advancements, such as AI, ML, computer vision and natural language processing are directly correlated to the requirements levied by the HEO concept," he said.
SOCOM's ability to efficiently and effectively leverage these capabilities across hundreds or thousands of potential use cases requires input from SOF professionals to deliver an end-to-end digitization of business and warfighting processes, MacCalman said.
Increased digitization would reduce operators' workloads for a variety of tasks, allowing them to focus their attention on more high value activity, he noted.
Artificial intelligence will be key for achieving these goals, and the hyper-enabled operator joint acquisition task force intends to embrace it by conducting a variety of experiments with prototypes to rapidly test ideas that can eventually be scaled, MacCalman said.
Additionally, Special Operations Command's establishment of a chief data office and chief data officer solidified the command's commitment to assisting operators through advancements in technology such as AI, he said.
"Fostering data-driven and novel concepts in anticipation of emerging and scalable technologies across the battlefield, SOCOM will foster a continued culture of experimentation and deployment of advanced capabilities to meet a rapidly changing digital environment," he said.
Lisa Sanders, SOCOM's head of science and technology, noted that developing AI technology for the hyper-enabled operator could take a significant amount of time.
The command will need to work through policy questions as it develops the technology, she said. In some cases, it could take 10 years for capabilities to get approved, she said at last year's SOFIC show.
"I do think you are going to see a fairly substantial amount of products that are coming out in the two- to five-year window of time, and then it's the ones that are policy constrained that are going to take us longer" to field, she said.
Smith noted the command is taking advantage of other transaction authority agreements as it pursues the hyper-enabled operator concept. OTAs have become popular contracting mechanisms that help cut through acquisition red tape through authorities granted by Congress. Last year, the command facilitated about eight agreements, he noted.
Topics: Special Operations, Special Operations-Low Intensity Conflict, Land Forces