SALES TAKING OFF: International Market for F-35 Heats Up (UPDATED)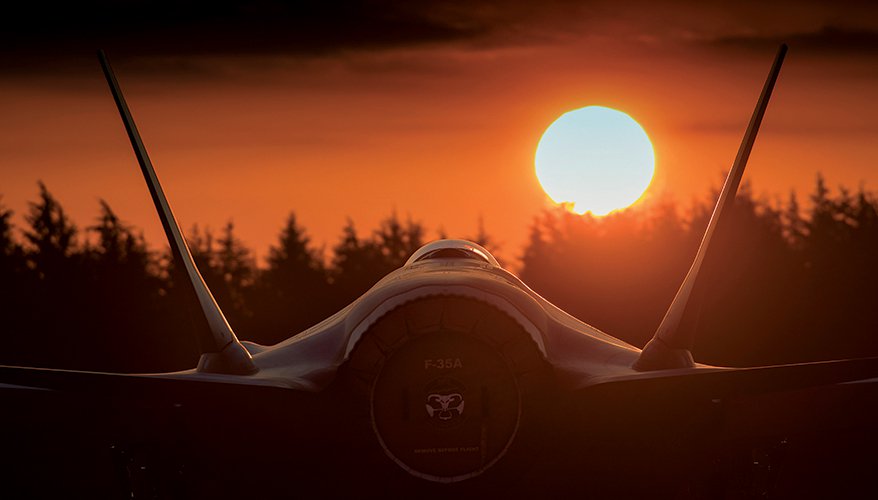 Photo: Air Force
Twelve countries have committed to orders of the F-35 joint strike fighter either as formal partner nations or through foreign military sales. As production of the fifth-generation systems ramp up, the joint program office and manufacturer Lockheed Martin are looking to expand their global footprint even further.
Australia, Canada, Denmark, Italy, the Netherlands, Norway, Turkey and the United Kingdom currently are in formal partnership with the United States on the F-35 program. Israel, Japan and South Korea have made orders through the foreign military sales process. Belgium also recently signed on to purchase platforms.
Vice Adm. Mathias Winter, program executive officer for the F-35 joint program office, said his team is currently examining a number of new potential FMS candidates. These include nations such as Singapore, Greece, Romania, Spain and Poland, he said in written testimony to the House Armed Services subcommittee on tactical and land forces in April.
Additionally, "the F-35 FMS team is also focused on responding to formal requests for proposals from both Finland and Switzerland, with U.S. government response expected in August and November, respectively," he said.
Winter also noted that in December, Japan announced that it plans to purchase an additional 105 aircraft. That will include 63 F-35As and 42 F-35B short take-off and vertical landing platforms. Lockheed Martin and Mitsubishi Heavy Industries operate a final assembly and check-out facility, or FACO, in Nagoya.
"With this anticipated purchase, Japan will be the largest international customer of F-35s with 147 planned aircraft," Winter said.
More than 390 F-35s are currently in the global fleet, Winter said. That number will swell to nearly 500 by the end of 2019. Production will ramp up as operational testing concludes in the fall of 2019 and the program enters full-rate production, he added.
"To prepare for increased quantities, production experts from across the United States government are working with our industry partners to deliver quality parts on time and at affordable costs," he said. "To achieve efficiencies, the program has incorporated a number of performance initiatives and incentives across the entire supply chain to support F-35 production lines in Italy, Japan and the United States."
In November, the F-35 joint program office awarded Lockheed Martin an undefinitized contract action for low-rate initial production Lot 12. That obligated $6 billion — $3.5 billion from the United States and $2.5 billion from international countries — in funding for a total of 255 aircraft. That includes 89 systems for international partners and 60 F-35s for foreign military sales. Deliveries of Lot 12 are scheduled to begin in January 2020.
Undersecretary of Defense for Acquisition and Sustainment Ellen Lord said the F-35 joint program office is in contract negotiations with prime contractor Lockheed Martin regarding the LRIP Lot 12 buy and hopes to have a contract in place by July.
Lockheed has said it is offering the F-35A for less than $80 million per plane by Lot 14, which is lower than the price tag of $89 million per aircraft that was part of the deal signed for Lot 11.
This increased activity bodes well for the future of the aircraft, said Richard Aboulafia, vice president of the Teal Group, a Fairfax, Virginia-based defense and aerospace market analysis firm.
Aboulafia said he was initially concerned that the price tag for the platform would make it an unattractive option for many cash-strapped nations.
There are "a very limited number of customers willing to sign for a $90 million fighter, but they've been doing better than expected," he noted.
Historically, there have been seven or eight global customers willing to pull the trigger on purchasing a similarly priced fighter. There about 30 or 40 nations that are willing to buy a fighter with the same price point as the F-16, which typically costs around $50 million, he said.
"But they've made significant inroads with some customers," he said. Lockheed and the joint program office have been "making the argument that it's OK to have fewer [aircraft] and pay more."
For example, he noted that when Israel signed on as an FMS customer it chose to substantially reduce the number of new aircraft it planned to buy in favor of fewer, but more advanced and costly F-35s.
Overall, the global fighter market has been changing to emphasize the procurement of fewer, but more capable and expensive planes, Aboulafia said. But while that sea change has so far been paying off for Lockheed, the next round of FMS customers will really test the proposition, he noted.
"The real test [is selling to] the Polands and Greeces of the world," he said.
Lockheed Martin sees Europe as a key market opportunity, said Steve Over, director of F-35 international business development at the company.
"Europe is probably the seat of interest for the F-35," he told National Defense. "I see a future in the 2030 timeframe, where, just like the F-16 today is the NATO standard fighter of choice, you're seeing NATO allies recapitalize those F-16s with F-35s."
By the 2030s, Over said he expects there will be more than 500 joint strike fighters in NATO nation inventories.
Poland is a strong area of interest for Lockheed Martin, Over said.
"Poland has recently announced their intent to move forward with an F-35 acquisition, which we're really excited about," he said. Key to that will be working with the Polish government and industry on ways for indigenous industrial participation in the program, he said.
"We're working on that right now with [the] Polish government and Polish industry … [but] those conversations just haven't matured to a level where ... we can divulge exactly where we are on those," he said.
A company spokesperson noted that Lockheed already has a foothold in Poland. Because of its acquisition of Sikorsky — which was completed in 2015 — Lockheed acquired PZL Mielec which is based in the country.
PZL Mielec is Lockheed's largest manufacturing facility outside of the United States. The facility manufactures the S-70i Black Hawk utility helicopter and the M28 twin turboprop aircraft. Additionally, it employs 1,700 people directly and sustains work for 5,000 others in its Polish supply chain, according to the company. Lockheed plans to leverage PZL Mielec's broader knowledge of the Polish defense industry as it pursues an F-35 contract, the spokesperson said.
Industrial participation — where a nation has a stake in building parts or components of a weapon — has become increasingly important as U.S. manufacturers pursue international opportunities. For Lockheed, arranging that is a key strategy, Over said.
"Industrial benefits are an essential ingredient as every nation moves forward to try to purchase the F-35," he said. Whether a country is "looking for direct manufacturing opportunities on the F-35 program or other indirect industrial opportunities, ... Lockheed has a history and a well-established track record of satisfying those types of requirements."
Poland — as a former member of the Warsaw Pact — has long been interested in shucking off its Soviet-era equipment, said Dan Darling, senior military markets analyst at Forecast International, a Newtown, Connecticut-based market consulting firm.
"They are getting rid of everything that is of Russian origin," he said. It is almost guaranteed that the nation will opt for the F-35 as it pursues new fighter jets, he added. Not only have government officials been talking about the system consistently, but the nation has been steadily increasing its defense budget over the years.
Additionally, Warsaw is a strong U.S. ally and the purchase of the F-35 would more closely align it with Washington, he said.
While Europe and Asia are key focus areas for Lockheed, the Middle East may soon be a hotspot should the U.S. government allow the company to sell to partner nations in the region, Aboulafia said.
Historically, there has been a five-year gap between when Israel purchases a high-end U.S.-made weapon system and other Middle Eastern nations can buy it, he noted.
"You're coming up on that and that's going to be really interesting," he said.
Whether or not the United Arab Emirates will purchase the system is still a big question mark, Aboulafia said. Ultimately, it is possible the country may choose to purchase a mix of F-35s and a foreign-made fourth-generation fighter — such as the French-made Rafale — "so they don't put all their eggs in the U.S. basket, which of course is politically very difficult there."
Nations such as Saudi Arabia and the other Gulf states will also likely be interested when the opportunity to purchase the F-35 arrives, he said.
"Given the warmer relations between the Gulf countries and Israel, it's going to be a lot easier these days," he said. It's "no longer the adversarial '70s and '80s dynamic."
However, as the joint program office and Lockheed look to extend the sales of the fifth-generation fighter globally, a political battle over the F-35 is underway between the United States and Turkey.
Turkey is one of the program's original nine partner countries and, according to Winter, currently accounts for 6 to 7 percent of the aircraft's supply chain. But a recent move by Ankara to purchase the Russian-made S-400 surface-to-air missile defense system has put Turkey's future F-35 participation into question.
In a recent op-ed titled, "A U.S. Fighter Jet or a Russian Missile System. Not Both," published in the New York Times in April, Sens. Jim Inhofe, Jack Reed, Jim Risch and Bob Menendez said Turkey will have to choose between the S-400 and the F-35. Inhofe, of Oklahoma, and Reed, of Rhode Island, are the chairman and ranking member of the Senate Armed Services Committee, respectively. Risch, of Idaho, and Menendez, of New Jersey, are the chairman and ranking member of the Senate Foreign Relations Committee, respectively.
"By the end of the year, Turkey will have either F-35 advanced fighter aircraft on its soil or a Russian S-400 surface-to-air missile defense system," the senators said. "Turkey's purchase of the S-400 would be incompatible with its commitments to NATO and reduce its interoperability with allies. Purchasing the S-400 would create an unacceptable risk because its radar system could enable the Russian military to figure out how the F-35 operates."
The senators noted that the S-400 issue has already resulted in the Defense Department suspending some F-35 activities associated with Turkey.
In April, Acting Chief Pentagon Spokesperson Charles E. Summers Jr., said until Turkey forgoes the delivery of the S-400, the United States has suspended deliveries and activities associated with the stand-up of Turkey's F-35 operational capability.
The senators noted that Turkey has legitimate air defense needs and suggested the U.S.-built Patriot system could be an alternative, but Ankara had rejected that offer.
"With the S-400 scheduled to arrive in Turkey in July and the F-35s scheduled to arrive in November, it is time for President [Recep Tayyip] Erdogan to choose," they said. "It is our hope he will choose to abandon the S-400, defend Turkish skies with the Patriot system and save the F-35 arrangement."
Should Turkey not forgo the S-400, sanctions would be imposed via the Countering America's Adversaries Through Sanctions Act, which would hit the country's economy hard, they noted.
"No F-35s will ever reach Turkish soil," they said, adding that the country had planned to purchase more than 100 platforms. "Turkish participation in the F-35 program, including manufacturing parts, repairing and servicing the fighters, will be terminated, taking Turkish companies out of the manufacturing and supply chain for the program."
The lawmakers noted that Turkey already has invested more than $1.25 billion into the joint strike fighter program.
Winter, speaking during the HASC hearing, said that there had not yet been a disruption to the supply chain. Turkish-built parts, as well as those from other partners nations, continue "to flow to not only Forth Worth but to Cameri in Italy and Nagoya in Japan," he said. "What we need to make sure is that any disruption to the supply chain — no matter where it comes from — we are putting in place the appropriate mitigation steps."
Lord recently noted that Turkey's exit from the program could cause problems down the line.
"We see a potential slowing down of some deliveries over the next two years, some potential cost impacts," she told reporters during a briefing at the Pentagon in May. "But right now, we believe we can minimize both of those and are working on refining" that analysis.
While the S-400 issue may be causing headaches in Ankara and Washington, it is unlikely that the impasse will have any negative ramifications on future potential F-35 foreign military sales, Aboulafia said.
"I think other countries are very mindful this is uniquely Erdogan dysfunction," he said. "It really is beyond dysfunctional."
Darling said the situation between the United States and Turkey is an extraordinary circumstance that won't affect the F-35's FMS prospects.
"Everybody who purchases ... through FMS, they are aware of the politics of it," he said. Countries that purchase military equipment from Western nations — such as France, Germany and the United Kingdom — are always at the mercy of foreign suppliers, he added.
Clarification: This article has been updated to note that the F-35A will be offered for less than $80 million per plane by Lot 14, not Lots 12 through 14.
— Additional reporting by Jon Harper

Topics: Air Power, Global Defense Market, International