NEWS FROM SOFIC: Marine Corps Adopts Product for Smartphone Communications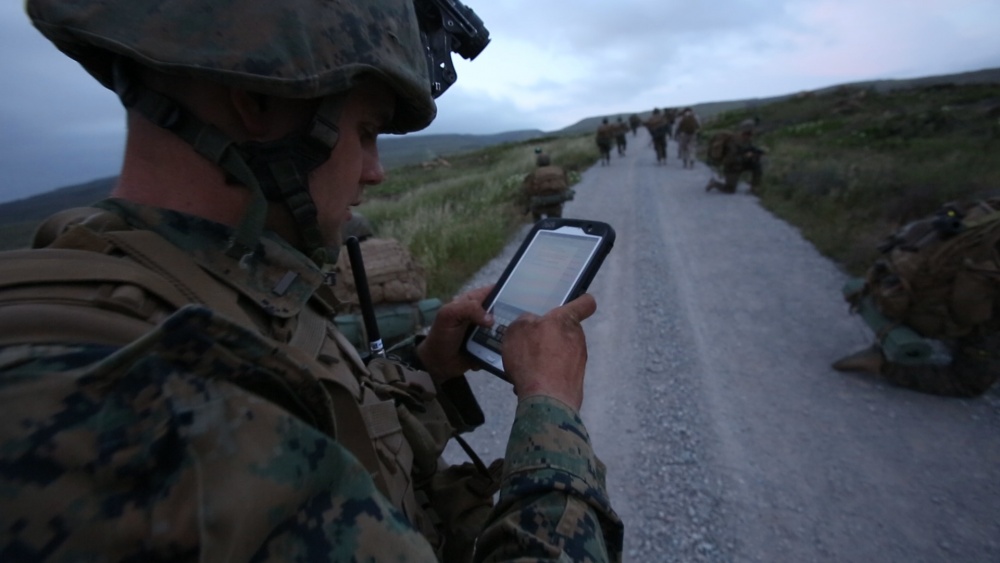 Photo: Defense Dept.
TAMPA, Fla. — The Marine Corps is moving forward with a program to allow its warfighters to transmit classified information via their smartphones and tablets.

"It's really to allow those folks to have the same type of access to information that you and I enjoy as consumers using our smartphones," Jeff Sinclair, vice president of sales at Pacific Star Communications, Inc., or PacStar, told National Defense on the sidelines of the Special Operations Forces Industry Conference, which is hosted by the National Defense Industrial Association.
PacStar is providing its secure wireless command post for the Marine common handheld program. Sinclair said this allows warfighters to have untethered access to secure applications in the field, rather than rely on rolling out cables to set up a traditional terrestrial network.

The five-year indefinite-delivery/indefinite-quantity contract includes up to $48 million for the systems, according to a press release. The primary contractor is information technology company iGov Technologies. Work is slated to be performed in Tampa, Florida.

Each module of the system is individually ruggedized to withstand harsh battlefield conditions, Sinclair noted. This allows the U.S. military to use them in extreme temperatures and helps the system withstand shakes and vibrations. The device is about two and a half pounds, or the size of a "small novel," he said.

It also is designed to be used in ground vehicles and rotary-wing aircraft, he said. "We have airworthiness accreditations for it, and so all of these modules are individually tested and certified and then we put them together in a system, and then that system goes through that same accreditation."

The company was also picked for the Marine Corps' network-on-the-move program, he noted, where it was used on a number of platforms such as mine resistant, ambush-protected vehicles, Humvees and amphibious assault vehicles.
The $10 million contract for the network-on-the-move program was awarded in September 2017, according to a news release.

It can be "tricky" to find a way to ensure that classified information is secure when transmitted into commercial products, Sinclair noted, but the National Security Agency has policies to allow this. The command post system is able to transmit information up to a "top secret" classification level, he said.

"They've set these policies that — if the policies are followed very strictly — it will allow you to use traditional wireless networks," Sinclair said. "The challenge is meeting all those policies and standards that the NSA requires. We spent a lot of time and effort in designing a system that meets all those policies."
Topics: Special Operations, Special Operations-Low Intensity Conflict, Infotech, Information Technology, Battlefield Communications