NEWS FROM SOFIC: New SOCOM Leader Lays Out Command Priorities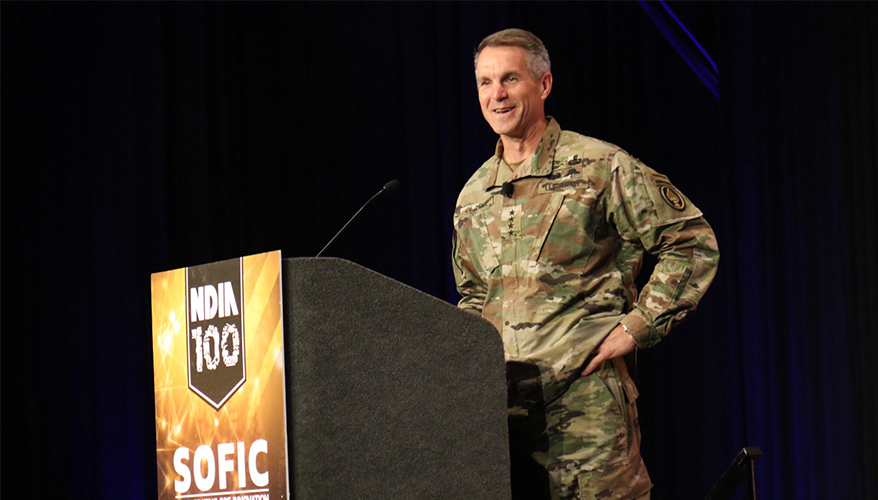 Gen. Richard Clarke
Photo: Melanie Yu/NDIA
TAMPA, Fla. — United States Special Operations Command has five top priorities as the nation's elite warfighters adjust to a new strategic era, the head of the organization said May 21.
"Today, SOCOM is focused squarely on the implementation of the national defense strategy," SOCOM Commander Army Gen. Richard Clarke said at the Special Operations Forces Industry Conference in Tampa, Florida, which is hosted by the National Defense Industrial Association. The document, released last year, identifies China and Russia as the top threats facing the United States.
"This strategy acknowledges the reemergence of great power competition in a global security environment with continuing threats from globally-networked violent extremist organizations, but also a rogue state," Clarke noted during a keynote speech at the annual SOFIC gathering.

Clarke, who took the reins at SOCOM in March after Army Gen. Raymond A. "Tony" Thomas III retired, said his top priority is to ensure the command can "compete and win for the nation" against a variety of challengers.

Special ops forces "counter resident violent extremist ideologies and degrade these organizations' ability to attack America and its interests," he said. "At the same time, we apply our .... capabilities to help the nation prevail in great power competition."

The second priority is to enhance readiness, he noted.

"The foundations of [SOCOM] readiness is our superior assessment, selection, training, education and talent management," Clarke said.

The command could utilize data science to anticipate trends in the recruiting environment and help manage readiness, he added.

"We could use ... data analytics to help us in areas ranging from finding potential recruits for special operations careers, to monitoring readiness and predictability to avoid performance and capacity shortfalls," he said.

The third priority is to innovate to prepare for future threats. Industry will play a key role in this regard by providing new technology, he noted.

"We are reinforcing our efforts to enhance the operator's cognition … by increasing situational awareness, reducing cognitive load and accelerating decision-making," he said. "We will be looking at industry for new and innovative ways to look to bring this reality into the world."
James Smith, acquisition executive for SOCOM, said the command is zeroing in on a number of capabilities, including next-generation intelligence, surveillance and reconnaissance dominance, next-generation mobility, precision fires and effects, data and networks, and biotechnology.

"The challenge for us is how do you get those platforms more relevant in a near-peer competition scenario?" Smith said.
The command's fourth priority is enhancing partnerships, Clarke said.

"Industry can expand and improve our ability in this mission area by developing suites of low bandwidth communication and collaboration tools that allow [SOCOM] to more rapidly and securely advise and enable our partners," he said.

The fifth priority is to "strengthen the force and family," he said.

"We place a high priority on providing comprehensive support to all elements of human capital," Clarke said. "Our goal is to extend care and reduce risks in every part of our formation."

One specific area of research the command is concerned about is "brain health," he said. SOCOM is using new technologies to better understand how the rigors of training and combat can affect the human brain, he noted.

"We will continue to pursue increased human performance by deeper understanding of human physiology and the limits of endurance and performance," Clarke said. "Our programs will focus on 'pre-habilitation' as well as rehabilitation."


Topics: Special Operations-Low Intensity Conflict, Special Operations