SPECIAL REPORT: Special Ops Community Chasing New Ground Mobility Systems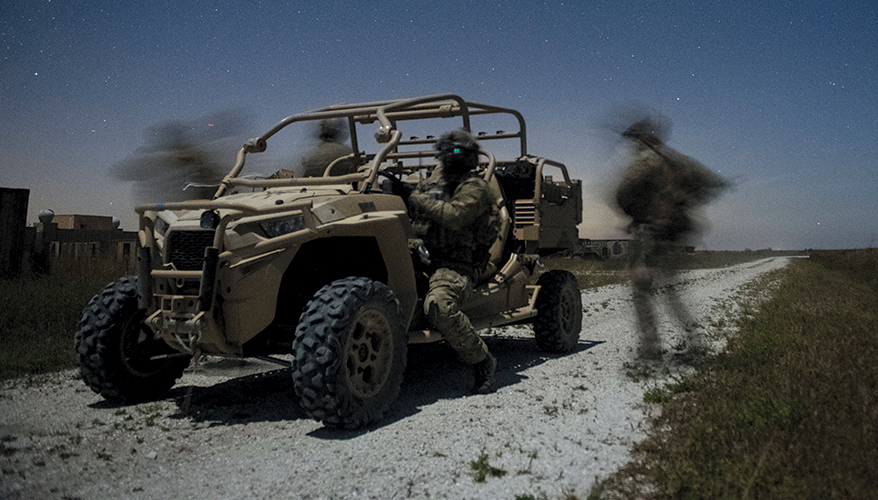 Photo: Defense Dept.
This is part 3 of a 3-part special report on Special Operations Command vehicles.
Officials from U.S. Special Operations Command are pursuing new ground vehicles and enabling technologies to help commandos roll into battle.
More funding is expected for cutting-edge capabilities, noted Logan Kittinger, deputy program manager for the family of special operations vehicles.
"We've typically been focused only on incremental improvements to the vehicles … due to the budget," he said at this year's annual Tactical Wheeled Vehicles conference in Monterey, California, hosted by the National Defense Industrial Association. "But the budget is increasing for us in our ground mobility office, so we need to start moving away from incremental only approaches [and] start looking at game-changing technology."
Marine Lt. Col. Raymond Feltham, program manager for the family of special operations vehicles, noted that the president's fiscal year 2020 budget request calls for more than a five-fold increase in research, development, test and evaluation funding for the command's tactical vehicles.
"What we are trying to do is really leverage our RDT&E," he said. If "we leverage all the goodness that you're doing out here in industry and our sister services, I think really we can go a long way," he added.
Artificial intelligence and autonomy are key capabilities that SOCOM wants for its trucks.
"By 2030, 2035, you're really going to be seeing a difference in the way we fight," Feltham said.
AI could assist with a variety of tasks including operating platforms in environments where satellite-based navigation could prove challenging, he said.
"That is going to … get [forces] in autonomously through machine learning, but also get 'em out when things have gone maybe not the way we wanted them to go in a GPS-denied environment," Feltham said. "That's probably the battlefield that we're going to be facing."
Autonomy could also reduce manpower requirements for logistics and resupply missions, especially when special operations forces are spread out over large areas, noted Army Col. Joel Babbitt, program executive officer for SOF Warrior.
"Let's get out of the paradigm of lots of little vehicles with lots of support people running around vulnerable on the battlefield," he said during a panel discussion at this year's annual Special Operations/Low Intensity Conflict conference in Arlington, Virginia, hosted by NDIA. "Let's instead get vehicles driving themselves."
The first ground mobility platform that SOCOM aims to equip with autonomous capabilities is the light tactical all-terrain vehicle, or LTATV, Kittinger said.
The system is used for a variety of missions including infiltration, reconnaissance and medical evacuation. The two- and four-seat variants can be transported via V-22, H-53 and H-47 aircraft, according to a product description.
Polaris currently holds a five-year indefinite-delivery, indefinite-quantity contract to provide its MRZR trucks. The deal is set to expire in fiscal year 2020, at which point Special Operations Command plans to hold a full and open industry competition for that type of platform, Kittinger said.
The command hosted an LTATV industry day in November, and released a draft request for proposals on FedBizOpps in February.
The special ops community will also be keeping a close eye on the Army's efforts to pursue autonomous capabilities for its next-generation combat vehicles, he said. In March, the Army released an RFP for an optionally manned fighting vehicle.
SOCOM is often the proving ground for new technologies that the larger services are interested in, Kittinger noted.
"We will look to leverage their capabilities to put out in our operators' hands a little bit early to get some operational feedback [and] help define our requirements with that upcoming RFP for this new contract," he said. "We're just really trying to ensure that we embed hooks into the [next LTATV] vehicle to make it autonomy-ready when we're ready to start deploying that capability."
Hybrid-electric technology is another item on SOCOM's wish list. Dedicated funding is already in place for the ground mobility vehicle 1.1 when the platforms are upgraded in fiscal years 2020 and 2021, Kittinger noted.
Babbitt described the GMV as "an oversized dune buggy" that carries small assault teams. A system that can utilize electric propulsion could help commandos be stealthier as they close in on their targets, he noted.
"When it comes to the hybrid technologies, it's really about the last 15 minutes as you're approaching the objective," he said. "If a Prius can sneak up on you, then certainly something that SOCOM has should be able to sneak up on you."
This fiscal year, the command will conduct an analysis of alternatives for new propulsion systems, Kittinger said.
"Is it fully electric? Is it series hybrid [drivetrain where a gasoline engine helps power the electric motor that turns the wheels]? Or is it some combination of something else?
And what are the trade­offs of each?" he said of the options that will be explored. "We've got to do that with our operators to better inform their requirements so we can execute those dollars in FY '20."
Other platforms such as the LTATV could also utilize hybrid-electric technology, officials noted.
Meanwhile, Special Operations Command has several types of vehicles in the concept development stage. One is the next-generation armored ground mobility system, or AGMS.
The legacy armored personnel carrier is based on General Dynamics and Flyer's Pandur platform. It has been in the force for about 30 years, and SOCOM is looking to replace its aging fleet.
Officials would like the next-generation platform to offer protection similar to today's heavily armored mine-resistant, ambush protected vehicles, but still be able to fit in a C-130 transport plane, Kittinger said.
"We're still going to have our base requirement of the transportability," said a SOF official who asked not to be identified by his full name. "That's key for us."
The legacy platform "has been used here in the last couple of years to go out from Fort Bragg in a hurry to other locations in the world," he noted.
The truck can carry about 10 passengers. Operators would like a future system to be of similar size and dimensions, he said.
The next armored personnel carrier also needs to be more survivable. The current AGMS is "lagging" when it comes to ballistic protection and blast protection, he said.
Other desired improvements include enhanced situational awareness, heavy weapons capability and improved power generation for communications equipment and other electronic devices.
Officials hope to start the program in the fiscal year 2022-2023 timeframe after they finalize requirements. SOCOM might leverage other transaction authority agreements for prototypes, which could lead to a follow-on production contract, Kittinger said. OTAs are a contracting mechanism provided by Congress to help cut through bureaucratic red tape and speed up the acquisition process.
However, while vehicles such as armored personnel carriers and MRAPs provide important capabilities, they aren't the most inconspicuous trucks. When commandos want to blend in with the population in their areas of operation, they drive around in non-standard commercial vehicles, or NSCVs, such as heavily modified Toyota Hilux and Land Cruiser SUVs.
"We have a very aggressive payload and a very aggressive off-road mission profile for these vehicles, so that drives a number of different modifications to the platforms," Kittinger said. Those include armor, electric modifications, radios and other communications equipment, and electronic countermeasure systems.
"By the time we're done with these vehicles they are well over 10,000 pounds after we put four SOF operators and their kit and mission payload in there," he said.
The heavy weight burden on the original equipment manufacturer's frames — combined with the pounding they endure during overseas operations — results in the trucks having short lifecycles, officials noted. To get at the problem, SOCOM wants to acquire purpose-built platforms for these types of missions.
"Those things are actually rather expensive, yet we've been treating them more like … disposable" items, Babbitt said. "We are shifting away from that model into a more purpose-built model. In other words, don't buy a vehicle, up-armor it, etc., but rather purpose-build it from the beginning."
The command wants NSCV trucks that will last 10 to 15 years, whereas today's systems last just three to five years, he said.
While the upfront costs of a purpose-built vehicle may be higher, sustainment costs will be significantly lower, resulting in a reduced total lifecycle cost, Kittinger said.
"We're going to move away from the complex engine and vehicle electronics that exist on these Toyota platforms, and … get out of the cyclic nature of OEM model year changes that drive new designs and new testing and ultimately drive our costs and our schedule on an annual basis," he added.
SOCOM wants lighter armor solutions and equipment, a common chassis and drivetrain, and interchangeable exteriors to mimic different types of vehicles commonly found in various areas of operation around the world.
"We're looking for a flexible vehicle type that can change vehicle skins and allow it to change colors on a quick basis, as well as also change … maybe from a truck to an SUV or from one truck to another," Kittinger said.
"This provides us mission flexibility," he explained. "When shifting a vehicle from one [area of operation] to another, I can still have it look like what it needs to look like."
The command plans to leverage OTA agreements for prototyping efforts, and conduct testing and evaluation during fiscal year 2020. A follow-on production contract award is slated for 2021 if the initiative is successful, Kittinger said.
Another concept that is less well defined is a new vehicle that could be internally transported by a V-22 Osprey tiltrotor aircraft. While the LTATV is V-22 transportable, it's basically a commercial system and has a relatively short lifecycle, Kittinger said.
"We're looking at trying to go to a more durable, rugged platform that has some increased capabilities, increased payload, heavy weapons capable" that could fit in a 60-inch space on an aircraft, he said.
The Marine Corps is pursuing a similar capability, he noted. "At the moment, we're not really trying to drive the train on that. We're monitoring [what the Marines are doing] and we'll go from there."
Looking more broadly, capabilities desired across SOCOM's ground mobility portfolio include: lightweight armor; lightweight vehicle components/modifications; advanced tires; low size, weight and power/high output alternators; hybrid-electric systems; alternative fuel sources; autonomy/semi-autonomy; semi-active suspensions; advanced situational awareness; and telepresence for remove vehicle operation and/or situational awareness, according to Kittinger's slide presentation.
"That doesn't always mean that SOCOM is going to be the one driving the train" in these areas, Kittinger said. "But we want to be the proving ground to adopt some of that capability, and we've got the money to do so now."
There is a SOFWERX facility near the command's headquarters in Tampa, Florida, that allows industry to come in and meet with program officials and special operators, he noted. The organization was established in 2016 to connect the SOF community with innovative, nontraditional partners who could offer technology solutions to meet warfighter challenges.
"On a lot of these [ground mobility] capabilities, that's where I see us employing their expertise and their manpower to set up these types of events and learn what industry has to offer," Kittinger said.
Part 1: New Special Operations Undersea, Surface Vehicles on the Horizon
Part 2: Special Operations Command Upgrades Air Delivery Vehicles
Topics: Special Operations-Low Intensity Conflict, Special Operations