SPECIAL REPORT: New Special Operations Undersea, Surface Vehicles on the Horizon (UPDATED)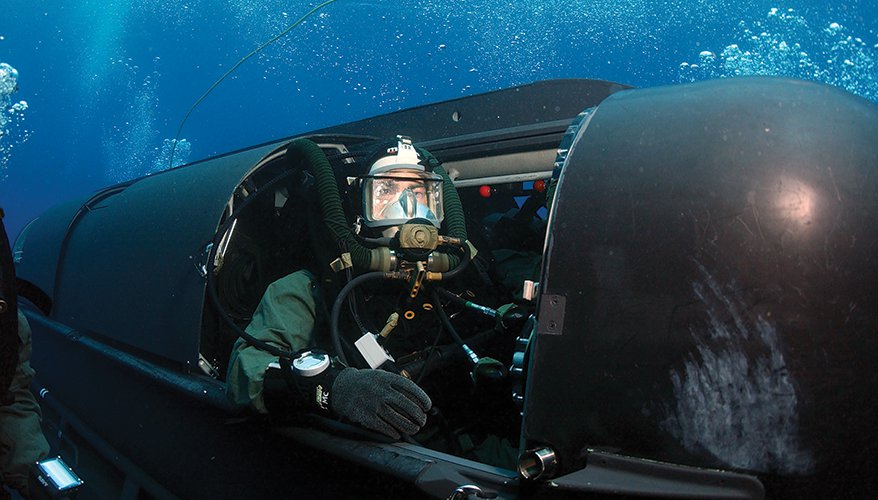 Photo: Navy
This is part 1 of a 3-part special report on Special Operations Command vehicles.
On a deserted beach half a world away, Navy SEALs — elite commandos tasked with completing some of the United States' most sensitive military missions — silently emerge from the waves and approach their targets. Their mode of transport, an underwater vessel capable of being ferried by submarine, loiters in the sea awaiting their return.
Watercraft — both underwater and on the surface — provide special operators with a key technological advantage: the ability to quickly, efficiently and covertly conduct missions from the sea. While commandos as of late have become closely associated with conducting operations on land thanks to the wars in Iraq and Afghanistan, a command-wide pivot to great power competition will increase the need for these maritime systems as operators turn to the water, experts have said.
Special Operations Command is currently undergoing two major modernization efforts for its underwater systems — the shallow water combat submersible and the dry combat submersible. Both platforms are key to moving SEALs through oceans and seas.
Capt. Katherine Dolloff, program executive officer for maritime systems at the command, said SOCOM has over the past year taken delivery of the first two production systems for the shallow water combat submersible program which is meant to replace aging MK-8, Mod 1 SEAL delivery vehicles.
"The SWCS represents a significant improvement over the legacy … [system] in several areas," she told National Defense in an email. "SWCS brings increased payload and range, updated sensors, an improved navigation system and a modernized command-and-control architecture to permit the rapid integration of new technologies."
SEALs are transported "wet" with the system, requiring the use of protective suits. The vehicles can be transported via a dry deck shelter attached to a submarine.
The first two production platforms were used to conduct the program's initial operational evaluation, Dolloff said. Three more systems are in production with delivery of the next two scheduled later in fiscal year 2019 and the fifth following in early fiscal year 2020, she added. In total, Special Operations Command plans to purchase 10 shallow water combat submersible vehicles.
Bryan Clark, a senior fellow focusing on naval issues at the Center for Strategic and Budgetary Assessments, a Washington, D.C.-based think tank, noted the platform is a one-for-one replacement of the legacy systems. Additionally, there have been a number of improvements in terms of speed and loitering time.
"The battery is a major innovation," he said. The system uses lithium-ion batteries which are considered to be efficient but have also been a cause for concern due to the possibility of them catching fire. For the Navy, it has long been cautious about such systems, particularly for submarines.
However, "the battery in the new version of the SEAL delivery vehicle … [is] approved for maritime use and is approved to be carried in the vehicle on the submarine," he added. "It went through a pretty rigorous certification process."
SOCOM is also in the production phase of the surface-launched dry combat submersible vehicle, or DCS, Dolloff said.
Jim Smith, acquisition executive for the command, noted that the program — which includes the procurement of three systems — is going "extremely well." The vessel is being manufactured by Lockheed Martin and United Kingdom-based Submergence Group.
"It's actually on its way across the Atlantic right now from Great Britain over to Florida," he told members of industry during the National Defense Industrial Association's annual Special Operations/Low Intensity Conflict conference in February. "We're going to put it in the water here in Florida and get SEALs on it and start testing out the first one."
Navy Lt. Phillip Chitty, a spokesperson for the command, confirmed that the vehicle has since arrived in the United States but declined to specify the exact location where it is currently being tested.
The system provides an advantage over the shallow water combat submersible in that it allows operators to remain dry while within the vehicle, said Tom Callender, a senior research fellow for defense programs focusing on naval warfare and advanced technologies at the Heritage Foundation, a Washington, D.C.-based think tank.
"Even just sitting there [in a SWCS], you can get easily fatigued from the fact that you're just sitting in this cold water," he said.
The dry combat submersible is bigger than the shallow water combat submersible, he noted. SWCS is roughly 7 meters long and the dry combat submersible is about 12 meters long and four times as heavy.
The dry version "allows them to be warmer, more ready, less fatigued," Callender said. It also has an increased range over the SWCS.
Smith noted that the requirements document for the dry combat submersible was written four to five years ago. While the command has received much of the technology it desired with the new system, the vessel still needs more interoperability with Navy submarines.
"We're still interested in that," he said. "We're still teaming with the Navy on that. That's a long-term objective that we haven't lost sight of."
In the future, the command may need to approach how it buys such systems in a different way, Smith noted.
The dialogue the command had with industry as it pursued the DCS was, "'Hey, I want you to build me a submersible and then we'll kind of put some stuff inside of it,'" he said.
However, "the dynamic has got to change in the way you think about our requirements and the way that we propose our requirements."
The next time SOCOM buys a dry combat submersible it needs to convey that it wants a system that is primarily a sensor that can operate underwater while also carrying SEALs, he noted.
"It fundamentally changes our design paradigm if we think of this thing as a computer that happens to operate underneath the surface of the water," he said. The key performance parameters "for the dry combat submersible were all about 'Iron Triangle' and capacity for a number of crew people." Iron Triangle refers to the military's need to balance payload, performance and protection.
"If I were writing the KPPs for the next dry combat submersible I might change that around to be much more about what information am I trying to get out of that vessel?" he said.
SOCOM is also pursuing new surface watercraft, Dolloff noted. It is currently looking for a replacement for its combatant craft heavy vessel which is used for the insertion and extraction of special operators.
"The current combatant craft heavy grew out of a technology demonstrator effort by the U.S. Navy," she said. "Incorporating lessons learned from the operation of this craft over the past five years, U.S. Special Operations Command determined that an improved version of this platform could greatly increase USSOCOM's capabilities in the maritime domain."
The command is looking for a craft that is capable of launching and recovering larger payloads and possesses an enhanced command, control, communications, computers, cyber-defense, combat systems, intelligence, surveillance and reconnaissance suite, or C6ISR, she said. It would also like the system to have improved range while incorporating a state-of-the-art hull design and power plant.
The command has not yet decided on a replacement plan timeframe, she added.
In February, SOCOM released a solicitation on FedBizOpps for a combatant craft heavy mark 2, or CCH MK2, capability collaboration event that would "assess the current state of the art and industrial capability to design a new craft or modify an existing design to meet the requirements" for the new vessel.
"The CCH MK2 is expected to be a diesel-powered craft capable of open-ocean transit and well-deck interoperability with the ability to insert and extract SOF forces and host, clandestinely launch, and recover smaller manned and unmanned surface and subsurface systems," the document said.
The solicitation noted that the outcome of the event could result in additional collaborations focused on the development of the platform.
The command is also upgrading the medium-variant of its combatant craft, Dolloff noted.
The modifications will provide enhanced situational awareness to the operators as well as upgraded communications and computer systems, she said. "Future upgrades include enhancements to improve operator environmental control and integration of enhanced deterrent capabilities."
President Donald Trump's fiscal year 2020 budget request asked for $58.9 million in procurement funding and $45.2 million in research, development test and evaluation funding for SOCOM underwater systems. Additionally, it included a request for $33 million for combatant craft systems procurement and $27.4 million for RDT&E.
Undersea and surface vehicles will be critical for Special Operations Command as it pivots toward great power competition, Clark said.
SOCOM "is coming off its highs in terms of investment after the wars in Iraq and Afghanistan," he said. "They're trying to rebalance now to ... deal with the challenge that Africa is posing and trying to make themselves more relevant to … great power competition."
The 2018 National Defense Strategy indicated that both Russia and China are now peer competitors with the United States.
Much of the Pentagon's RDT&E investment is focused on countering Moscow and Beijing, he noted. The longer range, longer endurance next-generation underwater SEAL delivery vehicles could be useful against China as operators would have to launch from farther away.
However, "a lot of this investment in new combatant craft might be more focused on ... the Russia scenario where you're dealing with operations in the Baltics, for example," he said.
Correction: This story has been updated to correct a typo regarding dry deck shelters.
Part 2: New Special Operations Undersea, Surface Vehicles on the Horizon
Part 3: Special Ops Community Chasing New Ground Mobility Systems
Topics: Special Operations-Low Intensity Conflict, Special Operations