NEWS FROM ITEC: Army Beefing Up its Cyber Training Infrastructure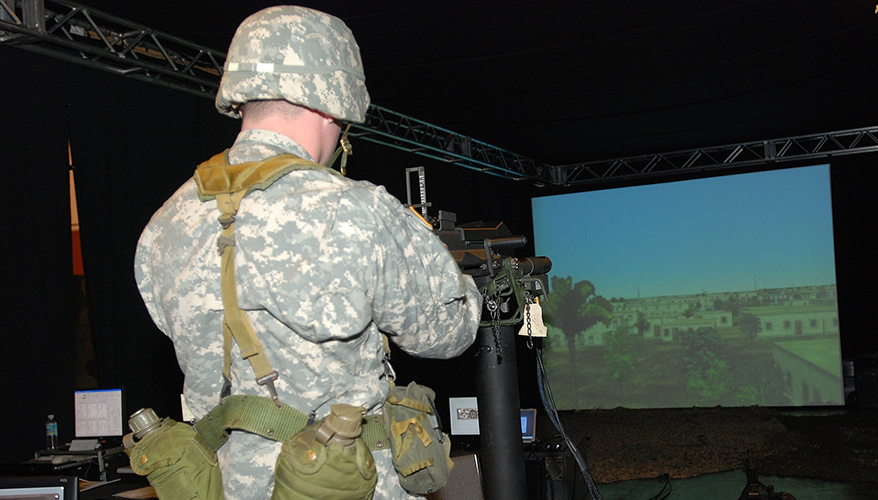 Photo: Army
STOCKHOLM, Sweden — The Army office in charge of developing training and simulation systems is creating a "cyber range" in Orlando, Florida, where those engaged in network offense and defense can hone their skills.

The program executive office for simulation, training and instrumentation has stood up a new product manager office for the Persistent Cyber Training Environment, PEO STRI's leader Brig. Gen. Michael Sloan said May 14.

The Army is the acquisition lead for the Defense Department for cyber training. PEO STRI is setting up a "national cyber range" where U.S. forces and their allies can conduct "in-the-box" exercises where they are attacking and defending in a simulated cyber realm, Sloan said at the ITEC conference in Stockholm, Sweden, co-sponsored by the National Training and Simulation Association.

It will be stood up in Orlando near PEO STRI headquarters, he said. "This is a really big deal for us."

"The cyber threat is changing ... and it is forcing us to look at how rapidly we can stay ahead of the cyber training environment," Sloan said in a keynote speech. The Pentagon must outpace the threat "before it catches us and shuts us down," he added.
Meanwhile, the Synthetic Training Environment program is still PEO STRI's top acquisition priority, he said. The Synthetic Training Environment is a subset of soldier lethality, one of the Army top six modernization priorities. The initiative calls for soldiers in all echelons to engage in 20 bloodless battles before they ever see real combat and to do so with realistic virtual training and other methods.

The other five modernization priorities are: long-range precision fires, next-generation combat vehicle, future vertical lift, the network, and air-and-missile defense.

The Synthetic Training Environment cross-functional team, which is under the new Army Futures Command, recently moved from Fort Leavenworth, Kansas, to Orlando to better coordinate with PEO STRI, Sloan said.

Army leadership is doing what it can to reform its acquisition practices and PEO STRI is part of that, he said.

"We have a great ability to get requirements approved very rapidly, get funding, then get after prototyping very rapidly to inform requirements. It's a very different way of doing business than we have done in the past," he said.

"We are fully nested with the Army Futures Command — more and more every day," Sloan said. He speaks often with the command's leader, Gen. John M. Murray, which is not the regular way of doing business in the Army, he noted. Normally, one-star generals rarely speak with four-star generals, but now it happens all the time.
"We are working through requirements, making sure we are answering [Murray's] questions before he signs off on a requirement," Sloan said. "We're not waiting 12 months to approve a requirement." It now takes about two months, he added.

"We're removing a lot of barriers to bureaucracy," he noted. Sloan's office is using other transactions authority agreements to do rapid prototyping. OTAs allow military acquisition officials to go from a development contract to a production contract as long as they held a fair competition. PEO STRI will be announcing three new OTAs for new products and services in the next 60 days, Sloan said.

"We're looking for nontraditional partners with the capabilities that they have and we're going after them with these other transaction authorities that Congress has given us," he said.
Topics: Training and Simulation, Cyber, International, Global Defense Market