WEB EXCLUSIVE: Dunford Knocks Tech Companies that Work with China, Not Pentagon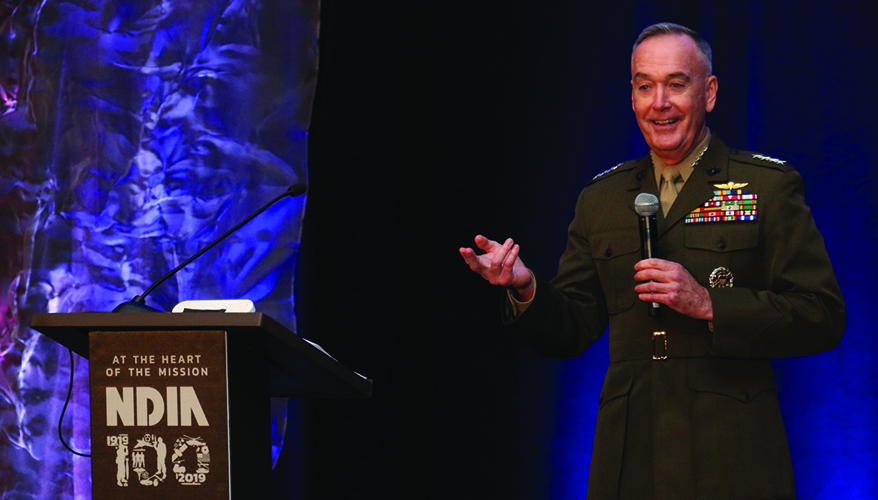 Marine Corps Gen. Joseph F. Dunford, Jr.
Photo: Melanie Yu / NDIA
High-tech companies that refuse to work with the United States military but at the same time pursue commercial opportunities with China are eroding the United States' competitive military advantage, said the chairman of the Joint Chiefs of Staff May 10.

"There are industry partners — global corporations — that don't necessarily cooperate fully with the United States, with the Department of Defense," said Marine Corps Gen. Joseph F. Dunford, Jr. "In their own mind, they rationalize that their ethos is not consistent with what we do."

Dunford said he has a hard time reconciling that a U.S.-based company would do business with China — where the government employs a concept called civil-military fusion that instructs private sector companies to share information about new technologies with the military — but not work with the United States.

"That intellectual property is going to benefit the Chinese military," he said during his Dwight D. Eisenhower Award acceptance speech at a dinner in his honor hosted by the National Defense Industrial Association in Arlington, Virginia.
While Dunford did not call out any one company by name, Google last year controversially withdrew from participation in a U.S. military artificial intelligence effort known as Project Maven after more than 3,000 employees signed a letter objecting to it on ethical grounds. At the same time, however, Google operates an artificial intelligence center in China. Project Maven — which focused on developing software that could sift through drone video footage and then alert analysts to items of interest — served as a pathfinder project for the Pentagon as it worked to better integrate AI into its operations.
During a recent interview with National Defense, Dunford said he "took that personal" when Google pulled out of the effort.
U.S. companies that share militarily useful technology with competitor nations should be held accountable, Dunford said.

"As we think about the future, [and] we think about those individuals in the United States who benefit from our system, who benefit from our values, I think there has to be some responsibility and accountability in terms of who they do business with," he said.

Dunford noted that the United States' competitive advantage has eroded over the last several years as advanced adversaries such as Russia and China have beefed up their own militaries.

They "are actively working on capabilities to undermine our ability to project and obviously to operate freely across all domains," he said.

The United States' ability to maintain its technological edge over any potential adversary is very much dependent on its relationship with the defense industry, he noted.

"I'm very mindful of the power and the relationship between the Department of Defense" and industry, he said.

Dunford's tenure as the 19th chairman of the Joint Chiefs of Staff ends in October. President Donald Trump has nominated Army Chief of Staff Gen. Mark Milley to succeed him. The nomination requires approval from the Senate.
Topics: Defense Department, Emerging Technologies