JUST IN: Allied Naval Leaders Warn of New Age of Mine Warfare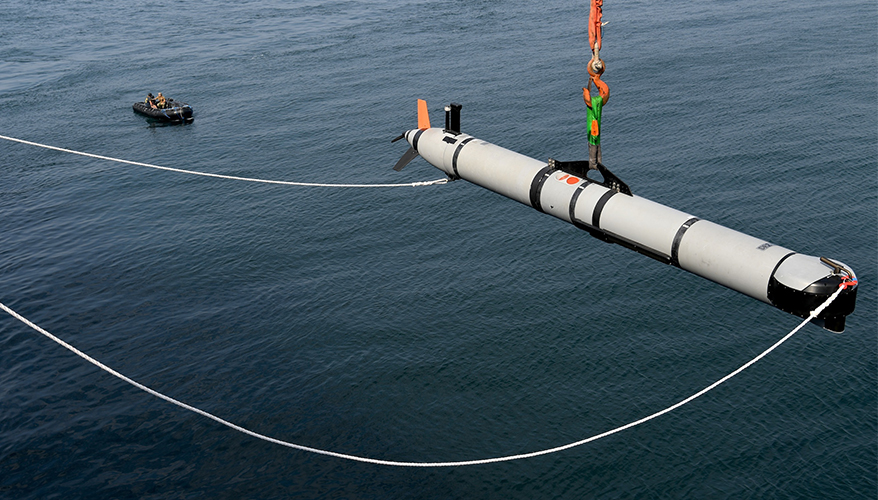 An unmanned underwater vehicle launched from a Royal Fleet Auxiliary landing ship dock during a mine countermeasures exercise
Photo: Navy
STOCKHOLM, Sweden — Potential adversaries have taken note of how effective improvised explosive devices were in Iraq and Afghanistan and may try the same tactics at sea, naval leaders said May 13.
"Mines are a type of asymmetric warfare. They are cheap. They are easy to place. They're a nuisance and they are out there," Frank DiGiovanni, deputy director of the expeditionary warfare division of the U.S. Navy, said at the Undersea Defense Technology symposium in Stockholm, Sweden. They are not just a military problem as they can threaten commercial sea traffic and impede free trade, he noted.
"They're lethal, they are cheap, they're numerous and the technology is getting more sophisticated," he said.
His office is developing a strategy for both offensive and defensive mine warfare, he added.
There are three important goals to improve counter-mine warfare technology, DiGiovanni said. Navies must improve the speed of clearing mines, the accuracy of their detection systems, and they must reduce the cost of operations, he said.
Other questions include the potential role of unmanned underwater systems to defeat the threat and whether sonar is still the best sensor, DiGiovanni said. "Can we rethink the way we do mine countermeasures?" he asked.
Artificial intelligence could be pared with a kinetic countermeasure to automatically search and destroy mines, but he noted that applying lethal force without a "man in the loop" makes "a lot of people nervous."
Currently, the U.S. Navy uses electronic warfare to conduct what he called "barrage jamming." It is applying "brute force" to the problem, but he wondered if this could be carried out in a more sophisticated manner.
The location of the conference on the edge of the Baltic Sea was not lost on panel participants. The shallow, but murky waters straddle East and West. The thousands of islands and their channels are said to be "paradise" for submarines and those laying mines and "hell" for those charged with sub-hunting and counter-mine warfare. There are still an estimated 50,000 mines remaining in the waters from World War I and World War II, Rear Adm. Jens Nykvist, chief of the Royal Swedish Navy, said in a keynote speech at the conference.
"There is an increase in the mine threat particularly in the shallow waters of the Baltic Sea," he said. Some 2,000 to 4,000 boats and ships traverse the sea on a daily basis, which means more targets for mines. The maritime traffic also causes a lot of clutter when trying to detect potential adversaries, he said.
Capt. Herman de Groot, commanding officer of the submarine service in the Royal Netherlands Navy, said whatever the technical solutions are to countering sea mines, they must be viable during an "all out war." He has seen a lot of technologies out there that purport to solve the counter-mine problem that may work great during exercises, but may not be the best solution in real-world scenarios. "If all hell breaks loose, we still have to do our job," he said.
The question is whether the ethical boundaries that have prevented nations from indiscriminately laying sea mines are eroding. De Groot says there are schisms is almost every society now where some would oppose it and others would be for it.
"I don't think it is a threat we can ignore," said DiGiovanni. It will depend on how a potential adversary feels about the lives the mines may take and how threatened they feel. "If you look at conflict in Iraq and Afghanistan over the past 18 years, then you see how effective that particular piece of warfare has been," he said.
There has always been "dynamic tension" in the U.S. Navy between the so-called "blue water Navy" and the "littoral Navy," DiGiovanni said. But most conflict has taken place in the littorals where ports are located and shipping takes place. That is where sea mines are placed.
Commodore Michael Houghton, director general of future submarines for the Australian Department of Defence, added that international norms that prevent sea mines need to be strengthened.
Rear Adm. Odd Werin, director of Naval Systems at the Swedish Royal Navy, said it would be a very difficult decision to launch sea mines offensively, but he could see it happening if they were smart systems where one to 10 mines could do the work of thousands of indiscriminate mines. "It is something very appetizing to my mind," he added.
Topics: Undersea Warfare, Mine Warfare