NEWS FROM SPACE SYMPOSIUM: Bezos' Blue Origin Wants Air Force to Delay Rocket Program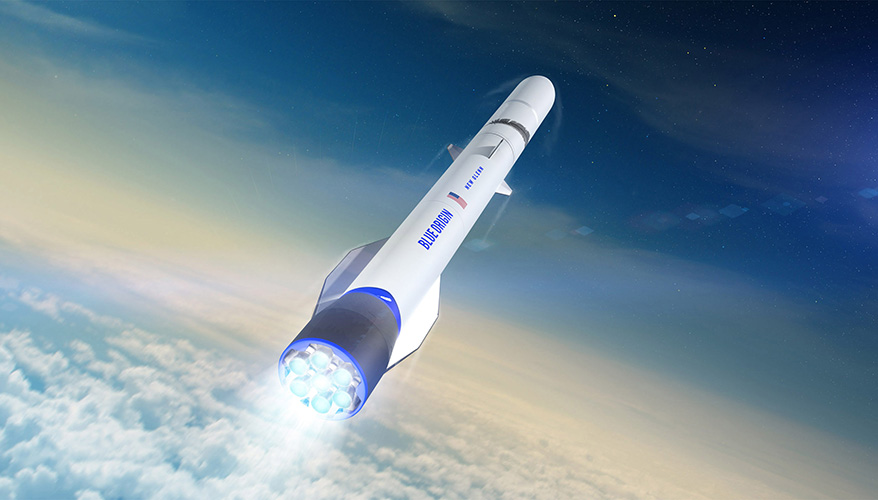 New Glenn rocket concept
Art: Blue Origin
COLORADO SPRINGS, Colo. — With less than three years remaining before a congressional deadline to end U.S. dependence on Russian-made rocket engines, one of the competitors in an Air Force program developing a next-generation launch system is asking for a delay in the contract award.

Four contractors — Northrop Grumman, SpaceX, Blue Origin and the Boeing-Lockheed Martin partnership United Launch Alliance are competing in the National Security Space Launch Program, with the Air Force expected to downselect to two providers in 2020. The program became necessary when Congress decided to end by 2022 dependence on the RD-180 engine, which is manufactured in Russia and powers ULA's Atlas V rocket.

Northrop Grumman, Blue Origin and ULA have been given funding spread out over five years to develop their new rockets, start manufacturing processes and prepare launch facilities. The Air Force anticipates issuing contracts for about five national security launches per year to two of the companies.

ULA is developing the Vulcan Centaur, its follow-on to the Atlas V. Blue Origin, founded by Amazon billionaire Jeff Bezos, is entering its New Glenn rocket. Northrop Grumman is developing a launch system called OmegA. SpaceX, the only one of the four to forgo the development funding, is expected to enter its family of reusable Falcon rockets. Blue Origin is also supplying its BE-4 engine for the Vulcan's first stage making it both a partner and a competitor to ULA.

Meanwhile, Blue Origin is asking that the Air Force delay awarding the phase 2 contract and postpone the downselect for a year to give it — a new entrant — a chance to catch up with the more established competitors. That caused an awkward moment at a press briefing at the National Space Symposium April 8 when Blue Origin CEO Bob Smith, who was participating in a panel with other ULA partners — was asked why he needed more time.

"Competition is good and we welcome the competition. The thing we want to make sure that we have is actual hardware that we can go evaluate. It just seems premature. We can probably delay and have the same level of competition and have better insight," he said.

ULA CEO Tony Bruno, standing nearby at a podium, was asked how he felt about the matter.

"I am confident in the maturity of the field," he said. The development program began in 2014, he noted. The Air Force put together a thoughtful acquisition strategy that will end with the nation no longer being dependent on the RD-180, he said.

"Let's get on with it and get it done. That's where I'm at," he said.

Kent Rominger, vice president of strategic programs at Northrop Grumman, said during a separate briefing about the status of its OmegA launch system, that allowing a delay would let his competitors catch up.

"I want to see, if anything, it accelerated. From day one, we designed [our] system to meet the schedule," he said. The 2022 deadline is rapidly approaching, he noted. "We are big proponents of keeping it on schedule."

Northrop Grumman is confident it can launch its first rocket by 2021, Rominger said. Work on a new launch system began when he was with ATK, which was then acquired by Orbital Sciences. Orbital ATK was in turn acquired by Northrop Grumman in 2018.

"Given the circumstances [and] the deadlines, we designed this thing to be developed very quickly and with low risk starting with proven high-level technical readiness and flight proven hardware," he said.

After the phase 2 award, the two providers will do eight certification launches, two each for medium powered rockets in 2021 and two each for heavy lift around 2024.

However, some of these companies may still be winners even if they do not make it into the second round. ULA selected Blue Origin's BE-4 rocket engine for the Vulcan's first stage and Northrop Grumman's GEM 63XL for the solid rocket motor.

Aerojet Rocketdyne's RL-10 upper-stage engine has been selected by both ULA and Northrop Grumman for their launch systems.
Topics: Space