Contractors Vie to Build Navy Helicopter Trainer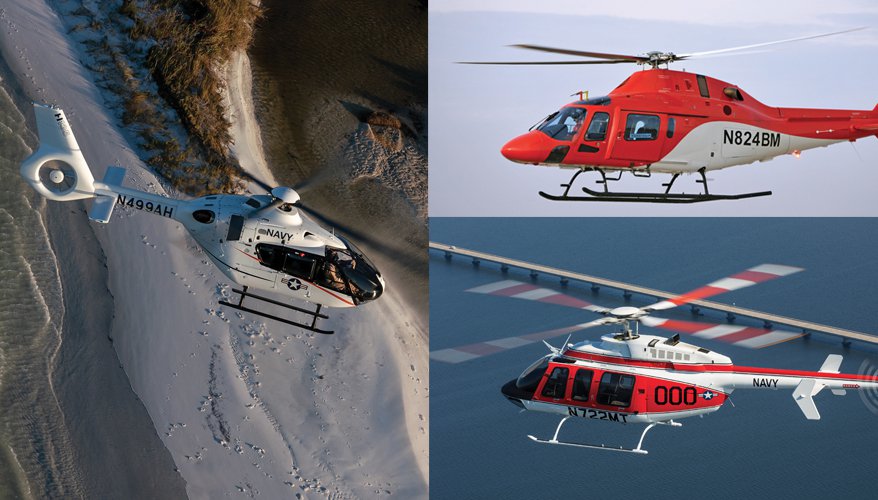 Clockwise: Airbus H135, Leonardo TH-119, Bell 407GXi
Photo: Airbus, Leonardo, Bell
The Navy has kicked off a highly anticipated competition to replace its legacy TH-57 Sea Ranger helicopter trainer, and industry is lining up to bid for the program.
The legacy platform is used by the Navy, Marine Corps and Coast Guard. The Navy has sent multiple requests for information to seek industry input and finalized its requirements for the replacement in a request for proposals issued in January.
Companies that have publicly announced an intention to bid for the program include Bell, Airbus and Leonardo.
The TH-57 trainer is "experiencing obsolescence, diminishing manufacturing sources and material shortages, and increasingly expensive operating costs relating to aging aircraft issues," stated the House Armed Services Committee markup for the fiscal year 2019 National Defense Authorization Act. Pilot shortfalls due to these issues could impact readiness, the document said.
The Navy requested $261.2 million in the base budget to fund 32 aircraft in fiscal year 2020, according to budget justification documents. Budget projections include acquiring 31 in fiscal year 2021, 31 in 2022 and 15 in 2023.
The notice for the request for proposals stated the service plans to award one firm, fixed-price contract to procure 130 aircraft. Contract award is slated for the first quarter of fiscal year 2020. Proposals are due in early April.
According to documents, the new trainer must be able to operate in temperatures ranging from -2 degrees to 102 degrees Fahrenheit. The helicopter must be Federal Aviation Administration certified and able to fly at 115 knots true air speed at cruise airspeed and capable of flying at 80 knots when the doors are opened or removed. The aircraft must be instrument flight rules certified, the document stated, meaning it must meet requirements to fly in low-visibility conditions where relying on instruments for navigation is important.
Additionally, the contract includes a ground-based training system, documents stated.
Bell, the manufacturer of the TH-57, is offering its 407GXi, which is an upgrade of the current training helicopter. The TH-57 platform is a derivative of Bell's Jet Ranger 206.
The 407 line has about 4.1 million flight hours and Bell has produced nearly 1,600 of the aircraft, Carl Forsling, the company's business development manager, said in an interview.
Because Bell is the incumbent manufacturer for the program, it will provide for an easier transition from the legacy system, he said.
"Being that it's a derivative — or an evolutionary development — from a 206 platform, their existing technician [and] mechanic base is going to be able to switch over from the [TH-57] to the 407" more easily, Forsling said.
A single-engine aircraft has lower operating costs than a twin-engine, he said. A twin-engine has additional complexity and weight, he added.
"That has the potential to increase … operating costs, but also some second-order effects as far as ... reliability issues," he said. "They have to have an aircraft that turns on and flies every single time every single day. From a reliability, maintainability, lifecycle cost management [viewpoint], we think [a single engine is] the right solution."
The 407GXi has a glass cockpit as well, which allows trainees to learn basic helicopter functions before performing more complex techniques, said Scott Clifton, Bell's director of global military business development.
"You can teach them systems management, and basically it's a reinforcement from what they learned in their primary flight training," he said. "That prepares them adequately for more levels of complexity as they go through the helicopter syllabus."
Airbus is offering its H135 trainer and is the only company that has publicly announced offering a twin-engine helicopter.
The company's strategy is to leverage its experience providing the U.S. Army with more than 430 twin-engine UH-72A Lakotas, said Scott Tumpak, vice president of military programs for Airbus Helicopters. The Lakota supports the Army's initial entry rotary-wing training at Fort Rucker, Alabama, he noted. The company was able to deliver the first aircraft within six months.
"It has been a strong success so far," Tumpak said. "We're looking to apply that same successful template to the U.S. Navy and its needs for student throughput for its primary training."
Tumpak said both the Army and Navy are already following a trend of adopting twin-engine aircraft, such as the Sikorsky CH-53 Sea Stallion, and it "makes sense to train how you fight."
Operating a twin-engine helicopter can be more costly, he said, but that's not always the case, depending on the type of aircraft. The Army switched from a single-engine trainer to the twin-engine Lakota, he noted.
"In our mind, if you look at the complete system … a twin is more cost efficient over the lifecycle," he said.
According to the company's website, the H135 can be fitted with a night-vision goggle-friendly cockpit and has a 4-axis autopilot. It has a maximum speed of 150 knots per hour and a hover out of ground effect of 440-plus pounds at 6,600 feet.
Airbus chose Pratt & Whitney's PW206B3 engine for the helicopter in March, according to a company news release. The H135 aircraft family has more than five million flight hours, the announcement noted.
"Pratt & Whitney engines power a large portion of the H135 fleet flying in North America, and we feel this choice reinforces the H135 as the best-value solution for the Navy's initial entry rotary-wing pilot training requirement," Chris Emerson, president of Airbus Helicopters and head of the North America region, said in the release.
Leonardo is pitching its TH-119 helicopter, which has a PT6 engine and 1,000 shaft horsepower, Andrew Gappy, the company's TH-119 program manager, told reporters in a teleconference. The system is built to handle future training requirements to provide the Navy with "room for growth," he said.
"The PT6 not only enables that growth, but it enables students to go out, and as they're learning — especially in the early stages of flight training where they're learning how to hover [and] learning basic airmanship — it gives them the margin to make a mistake or have a bad day behind the controls and continue to train," he said.
Gappy said Leonardo sees the TH-119 as a single-engine aircraft that has twin-engine characteristics, which are expected to provide system redundancy. The helicopter also has a Genesys Aerosystems cockpit.
The cockpit allows for a student and an instructor pilot to work while a second student sits in an observer seat to "learn while they're not actually at the controls," he noted.
The company decided to pursue this strategy rather than bidding a twin-engine helicopter similar to its AW109 Trekker because Leonardo thought it was a more efficient path for the Navy's needs, he said. The service does mostly overland training, he noted.
Additionally, Leonardo's assessments concluded that single engines are about 20 to 25 percent less expensive per hour to operate, he said.
The aircraft is also robust enough to handle students' mistakes while training, he noted.
Leonardo has delivered several TH-119 helicopters to the Portuguese Air Force, he said, which plans to use them primarily for training.
As that platform "starts to gain traction … [it] will become more and more attractive," Gappy said. "The 119 has found a nice amount of interest as a training helicopter and what we call a 'full spectrum training helicopter'" that can meet all the training syllabus requirements in one configuration.
Gappy suggested the services began integrating twin-engine aircraft into their training fleet because there is a lack of options for single-engine aircraft that are fully instrument flight rules (IFR) certified. The TH-119 would be the first one to be certified in decades, he said.
"We're not asking for any sort of reduction in the requirement," he noted. "We're not asking for any waivers. We are meeting the full FAA requirements for IFR flight."
Leonardo is anticipating FAA certification for the TH-119 by the end of April, he said.