BREAKING: Army Modernization Leader Asks for Industry's Help Solving Robotics Challenges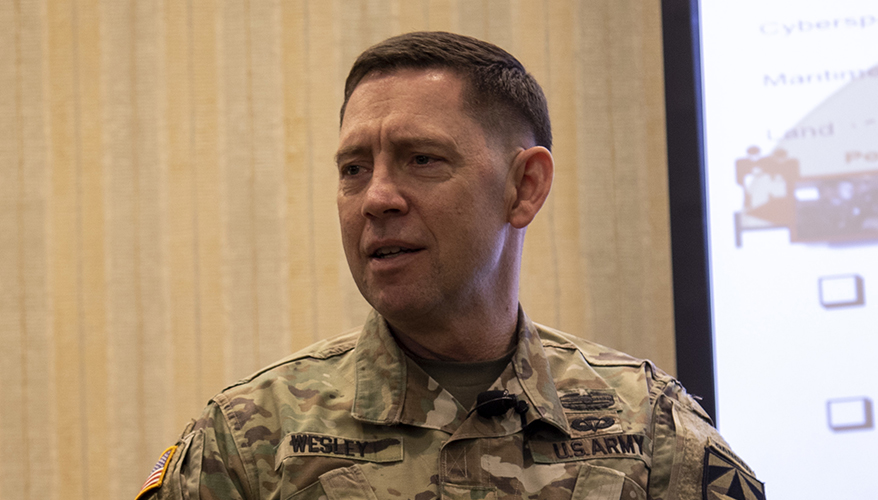 Lt. Gen. Eric Wesley
Photo: Army
COLUMBUS, Ga. — A top Army modernization official is asking for industry's help as the service faces challenges he believes can be conquered using advanced ground robotics technologies.

There are four capability sets where the Army is in need of assistance: lethality, stand-off, penetration and convergence, said Lt. Gen. Eric Wesley, deputy commanding general for the futures and concepts center at Army Futures Command, which is spearheading the service's highest priority modernization efforts.
Lethality and stand-off capabilities both relate to the problems associated with putting soldiers within range of enemy forces while attempting to maintain control of key terrain, Wesley said April 24 during a keynote address at the National Defense Industrial Association's Robotics Capabilities Conference and Exhibition.

"Lethality and stand-off creates a need to close the gap, and that's where robotics would be prevalent," he said. Unmanned systems can give the Army the ability to keep troops out of harm's way, while still maintaining the firepower necessary to hold adversaries at bay, he noted.

The technology could also help the service penetrate sophisticated enemy defenses, which the U.S. military expects to face in an era of great power competition, Wesley said.
"When you have got an anti-access, area-denial capability that [must be confronted] ... what do you put in there to start penetrating and dismantling their systems? To what degree can that be robotic?" he asked.
Convergence capabilities are needed for multi-domain command and control of unmanned platforms across the military services, he explained.
The Army's pursuit of a new optionally-manned combat vehicle is just one example of the service's efforts to leverage these types of emerging technologies.
Going forward, robots need to utilize artificial intelligence and machine learning to make decisions in faster and more efficient ways while on the battlefield, Wesley suggested.
To get after these challenges, the Army wants to work with nontraditional companies in technology hubs such as Silicon Valley, he noted.

Wesley spoke to Google's decision to stop providing the Pentagon AI capabilities for analyzing drone footage that could be used to target adversaries overseas. The company's participation in Project Maven was met with criticism from employees and academics, thousands of which signed a petition asking the tech giant to cancel its contract with the Defense Department.

Wesley said he understands workers questioning the consequences of their efforts, but potential adversaries don't share their ethical concerns about employing this type of technology for military advantage.

"If you're expecting China or Russia to wrestle with that question … don't hold your breath," he said. "They are employing [AI] now without that type of debate going on."

"Like it or not, artificial intelligence is coming to the battlefield," he added. "Do we want to wrestle with the problem now, or allow it to come to the battlefield delivered by our peers?"
Topics: Army News, Robotics, Robotics and Autonomous Systems, Land Forces