JUST IN: Navy Wants Its Own 'Holodeck' Simulator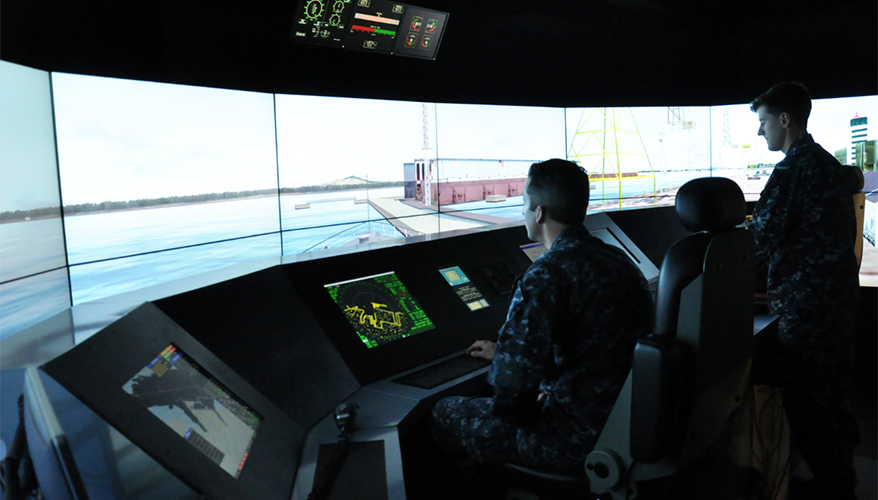 Photo: Navy
The Navy is investing in new simulators as it works to implement a variety of recommendations following two deadly ship crashes in 2017. Meanwhile, the service is envisioning future technologies inspired by science fiction, the vice chief of naval operations said April 16.
The USS John McCain and USS Fitzgerald were each involved in deadly collisions between June and August 2017. In response, the Navy launched a comprehensive review and a strategic readiness review to examine what went wrong, said Adm. Bill Moran. The service established a Readiness Reform Oversight Committee that was tasked with implementing recommendations from the reviews.
"We chose to set up this oversight committee not to be your classic oversight committee, i.e. trying to control everything from Washington, D.C., but to make sure that we were in a position where we could pace the changes that were recommended," he said during remarks at the Center for Strategic and International Studies, a Washington, D.C.-based think tank.
In total, there were about 117 recommendations from the two documents, plus guidance from other organizations such as the office of the inspector general, he noted. The Navy reduced that list down to 111 recommendations, removing some that were duplicative.
Of those 111 recommendations, 91 of them have an "implemented today" status, he said. "In other words, we've assigned funding, we've started the build process, we've executed the training, we're doing more training."
However, the Navy will need to wait a year or two before the efforts are complete to assess whether they have been useful or not, he noted.
Moran said he has seen great progress, particularly in the training realm. The Navy is investing in sorely needed simulators for its surface fleet, he noted.
"[I was] very disappointed when I went out to the fleet," he said. "In almost every location that I went around to, the simulation capability for the surface force was well below what I'm used to in the aviation community. … That was my baseline understanding of what simulation can do for reps and sets and putting people under stressful conditions without putting the platform at risk."
After dissecting the McCain and Fitzgerald crashes, the Navy came to the conclusion that one of the main issues was that there was poor communication between the bridge and the combat information center, Moran said.
In response, "we bolted on CIC simulation to the existing bridge simulators that are in the fleet, and that is helping the instructors teach basic communications," he said.
However, the Navy does not have the capacity to execute these types of simulations as much as the fleet needs, he said. To meet that demand, the service has a fully funded plan to build new navigation, seamanship and ship-handling trainers that can provide "eyewatering" capabilities, he said.
Moran said the Navy could use something along the lines of Star Trek's fictional "Holodeck" technology to produce realistic environments for training purposes.
"We need a Holodeck for our ships," he said. "[You can] get a Conex box, you can load it off the pier onto the ship … and in that Holodeck box, you can go in as an engine man, as an STG [sonar technician], you name it, and swipe your ID card" to get in, he explained.
From there an entire workstation would emerge where a sailor could work on their reps and sets in real time, he said.
"That's probably a vision a little too far, but I'll tell you the way things are moving, I'm not so sure," he said.
Moran noted that the littoral combat ship already employs a powerful simulator, but that capability must be pushed out to the rest of the fleet. "You should have that for every ship class in the Navy, or at least be able to reconfigure a simulator to mirror or mimic the ship that you're going to" deploy sailors on, he said.
The initiative will require the Navy to set up new facilities at its bases in San Diego and Norfolk, Virginia, to house simulators, Moran said.
These systems "will make the biggest difference over time in terms of proficiency [and] experience" for sailors, he said.
Moran was recently nominated to be the next chief of naval operations, replacing current CNO Adm. John Richardson who is reaching the end of his tenure. Moran will need to be confirmed by the Senate. His confirmation hearing is slated to be held in the coming weeks.
Topics: Navy News, Simulation Modeling Wargaming and Training