ROBOTICS AND AUTONOMOUS SYSTEMS
Spending on Drones Projected to Soar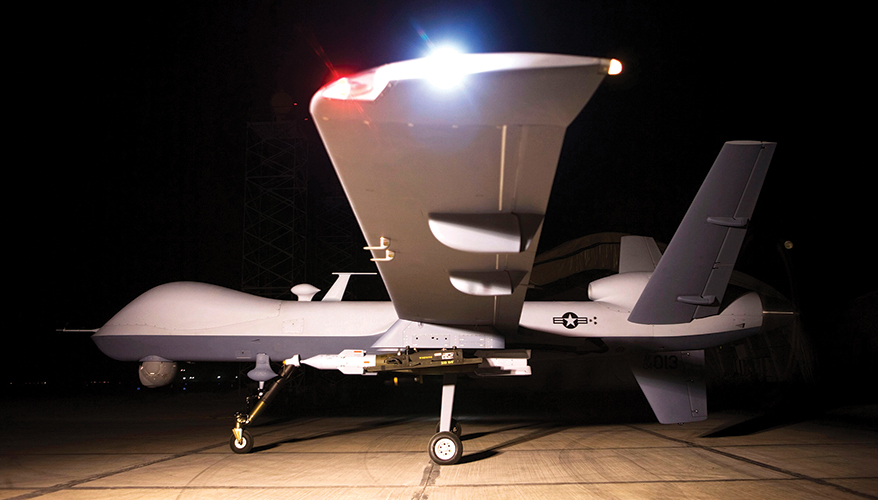 MQ-9 Reaper
Rinze_200@f-m.fm
The Pentagon is expected to ramp up its investment in unmanned aerial vehicles in the coming years as new capabilities come online and the U.S. military prepares for high-end fights against advanced adversaries.
The president's fiscal year 2020 defense budget request included $3.7 billion in new spending on unmanned/autonomous systems technology and $927 million for artificial intelligence and machine learning projects.
There will be many opportunities for the U.S. military to more widely utilize drones, said retired Lt. Gen. David Deptula, dean of the Mitchell Institute for Aerospace Studies.
Deptula compared the United States' current UAV capabilities to manned platforms in the 1930s before World War II and the subsequent jet age transformed aviation technology.
"There is enormous potential for the future, not just with combat aircraft," he said during a panel discussion on Capitol Hill. "When you look at cargo aircraft, you look at tanker aircraft, there's absolutely no reason why those aircraft can't be unmanned."
There will also be a shift from remotely piloted aircraft to much more autonomous systems, he noted.
Global spending on unmanned aerial vehicles by the world's militaries is projected to more than double in the coming years, with the United States leading the way, according to analysts.
Worldwide military UAV production is expected to exceed $90 billion from 2018 and 2027, with $40.4 billion coming from Pentagon procurement, said Phil Finnegan, director of corporate analysis at the Teal Group.
Finnegan is the co-author of the Teal Group report, "2018/2019 World Military Unmanned Aerial Systems: Market Profile and Forecast."
Global UAV production is projected to more than double from $4.9 billion in 2018 to $10.7 billion in 2027, a nine percent compound annual growth rate. Pentagon procurement spending is expected to grow from $1.6. billion to $3.9 billion annually, with a total research-and-development investment of $21.5 billion over that period, he said.
Medium- and high-altitude long endurance systems and unmanned combat aerial vehicles, or UCAVs, will dominate the market, he added.
"You are going to see an upsurge in UCAV spending," Finnegan said. "As the United States decides exactly what it's going to do about developing UCAV capabilities, that is going to help drive it. And there may be systems that come out of the black [budget] that will help drive that spending too."
Smaller tactical drones are going to be a much smaller portion of the market because "they just don't cost nearly as much," he added.
Topics: Robotics, Robotics and Autonomous Systems, Air Power