NEWS FROM SPACE SYMPOSIUM: Tracking Objects in Space Both Easier, More Complicated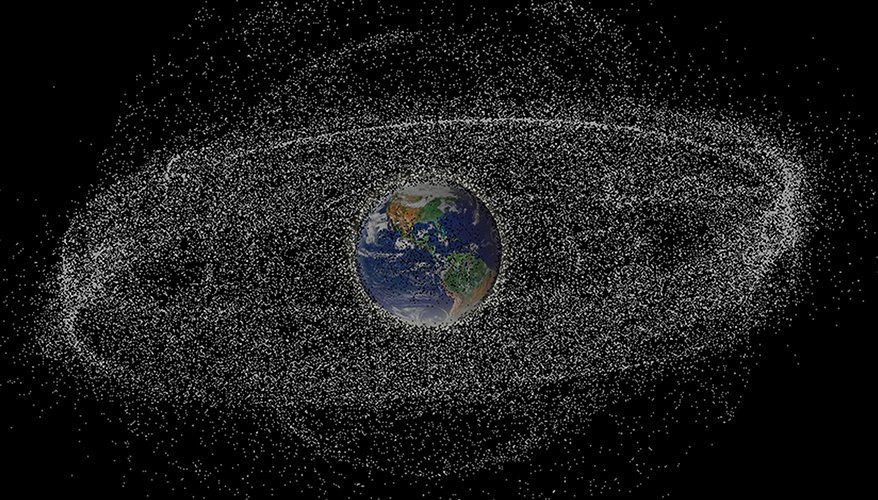 Art: Lockheed Martin
COLORADO SPRINGS, Colo. — Air Force Chief of Staff Gen. David Goldfein invited the air chiefs from a half dozen U.S. allies to Colorado on April 11 specifically to talk about the increasingly concerning realm of space.

The main topic of conversation amongst the chiefs when they gather for a private meeting will be space situational awareness, Goldfein told reporters April 10 at the Space Symposium.

Many nations, including allies and "emerging partners" operate satellites. Understanding what is happening in space is a natural area of cooperation, said Air Force Secretary Heather Wilson.

Threats include everything from solar flares to space debris and possible weapons in space placed there by adversaries. For example, last year what was previously thought to be a piece of so-called space junk was spotted suddenly moving near a U.S. satellite.

"If a piece of debris starts to move it's no longer debris, it is a potential threat. If a satellite starts to change it's orbit we need to think about where it is going and why," Wilson said.

One piece of the space situational awareness architecture is the new space fence, an Air Force-operated radar placed at Kwajalein Atoll in the Marshall Islands.

Wilson said when the space fence reaches its initial operating capability later this year the service will go from tracking about 24,000 objects to 100,000. The Air Force tracks objects the size of a softball now. Space fence will be able to track debris as small as a marble.

The space fence is only one system. Space situational awareness is a system of systems and includes allies. That adds up to hundreds of sensors. The Air Force earlier in the day signed an agreement with Poland to cooperate in space situational awareness, Wilson said. Being part of a network is a "tremendous benefit to our allies and to us," she added.

The space fence data will be fed to a space operations center at Vandenberg Air Force Base in California. There it is combined with data from some 300 sensors and made into a common operating picture produced by software known as iSpace.

The Lockheed Martin-designed system was created because the catalogue of what was needed to be tracked was exploding, said Scott Norr, director of operational command and control at the company's rotary and mission systems division. That not only included the vast amount of space junk, but the hundreds of new small satellites being launched, he added.

The software tracks an object multiple times through the space fence — also built by Lockheed Martin — and combines the data from other radars and sensors such as optical telescopes and radio frequency to understand its nature, vectors and do "conjunctive analysis," military speak for collision avoidance.

When a new satellite is placed in orbit it is added to the catalogue and conjunction analysis is carried out to see if it may collide with any other known object over a certain period of time. If it is possibly nefarious, it is more closely tracked, Norr said.

Something classified as debris has a predictable track. What happens if that suddenly maneuvers? That is a red flag. The system uses predictive analytics to send alerts to operators that appear on their screens.

Another problem is de-orbiting. "What comes up must come down," Norr said. Many objects fall back into the atmosphere. Most burn up, but iSpace can also predict if they are going to survive re-entry and where they might strike the Earth. "Our algorithms have been best in breed in being able to predict that," he added.

Lockheed Martin is looking to license an exportable version of iSpace to foreign governments and may have announcements for its first non-U.S. customer in the coming months, Norr said.

Wilson said the Air Force and its allies need "near real-time situational awareness of the entire space realm out to [geosynchronous orbit]. It is a real part of what it will take to defend this domain."
Topics: Space