Joint Light Tactical Vehicle Program Could See Cuts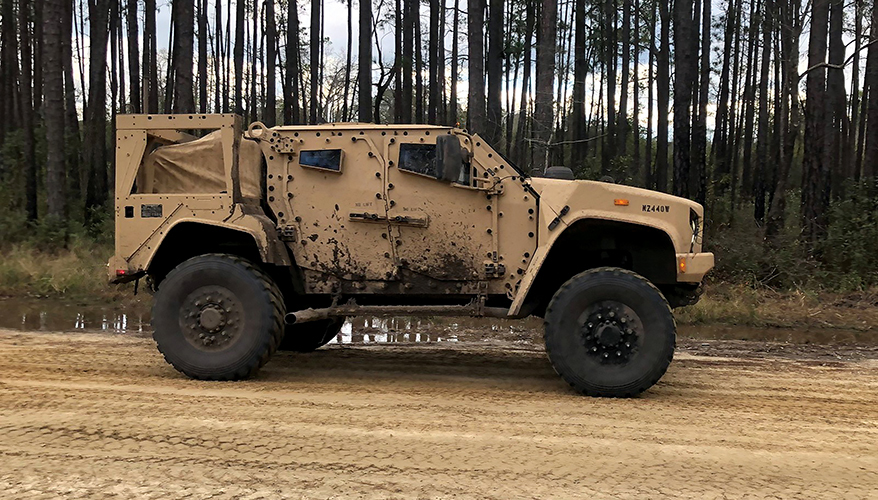 Photo: Defense Dept.
Army leaders have been vocal about the need to redirect money to pay for their top six modernization priorities, raising questions about whether the joint light tactical vehicle program will be fully funded.
The service plans to purchase nearly 50,000 JLTVs over the next 20 years, with an estimated program cost of $28 billion. The platform is intended to replace about half of the Humvee fleet.
Over the next five years, the Army plans to redirect about $25 billion toward its top modernization initiatives: long-range precision fires; next-generation combat vehicle; future vertical lift; the network; air-and-missile defense; and soldier lethality. Details will be included in the fiscal year 2020 budget request, which is expected to be released in mid-March.
The JLTV doesn't fall neatly into any of those categories. However, Tim Goddette, the Army's program executive officer for combat support and combat service support, said he's still confident there will be sufficient funding for the project.
"Right now, I think … it's strongly supported," he told National Defense. "We don't see any indication that we're going to waiver from going to that 50,000 number."
But T.J. Stapleton, president of Stapleton & Associates, anticipates reductions in spending.
"How do you pay for the next-gen combat vehicle or mobile protected firepower?" he asked during a panel at the National Defense Industrial Association's Tactical Wheeled Vehicles Conference. "You have to cut [back on] existing programs like JLTV."
He noted that the vehicles are expected to make up about 50 percent of the Army's tactical fleet.
"My sense is [the mix] is going to be different," he added. "It's going to be a lot more Humvees at the end of the day … because the JLTV is expensive."
Meanwhile, the Pentagon's Director of Operational Test and Evaluation Robert Behler identified shortcomings with the platform, and the Army has delayed its full-rate production decision.
"All JLTVs are not operationally suitable because of deficiencies in reliability, maintainability, training, manuals, crew situational awareness and safety," the DOT&E office said in its 2018 annual report, which was released in January.
Oshkosh Defense, the prime contractor on the program, defended its work on the project.
"Extensive testing has proven that the Oshkosh JLTV meets or exceeds all contractual requirements for protection, mobility, reliability, availability, and maintainability and fuel economy," a company spokeswoman said in a statement. "This tough, highly dependable platform will provide a vehicle that the warfighter can count on to complete the mission and return home safely.
"None of the issues identified in the DOT&E report involved contractual requirements, and we expect no delays in fielding or future production," the statement added.
An Army spokesman said the service is addressing concerns raised by the test and evaluation office.
"The issues identified during the [JLTV] program's multi-service operational test and evaluation either have been or are near complete in being successfully resolved," he said in a statement.
The production vehicle demonstrates compliance with the program's current requirements, he noted.
Soldiers and Marines have also identified "a limited number" of improvements that could be made to the vehicle, causing Army leadership to request additional information about improvement options, he said.
"By conducting these assessments early, the Army can understand the capability and cost related to cutting a few potential changes into production as soon as possible," the spokesman said. "This approach minimizes the cost and quantity of vehicles we might need to retrofit, even while still beginning to move this new capability into the field. We expect to conduct these assessments as quickly as possible."
The service aims to make a full-rate production decision this spring, he said, although some observers have speculated it could be further delayed.
Topics: Tactical Wheeled Vehicles, Land Forces, Army News