WEB EXCLUSIVE: Analysts Bash Idea of Buying F-15X Fighters for Air Force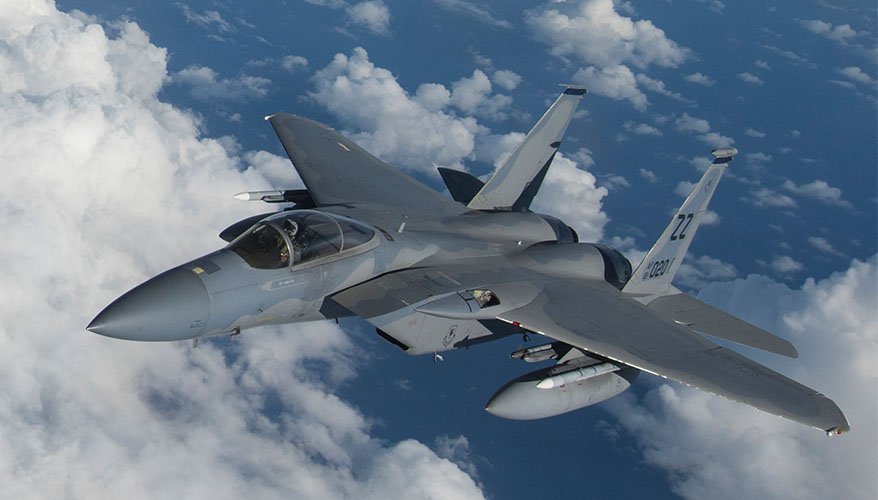 F-15C
Photo: Air Force
The Pentagon's fiscal year 2020 budget request is expected to include funding for a souped-up version of the F-15 fighter jet. But procuring the fourth-generation aircraft would be unwise as the United States faces growing threats from advanced adversaries such as China and Russia, analysts said March 6.

Bloomberg News
, citing anonymous defense officials, recently reported that the 2020 budget blueprint, which is expected to be released next week, will include eight F-15Xs, as well as six fewer F-35 joint strike fighters than previously planned.
The Lockheed Martin-built F-35 is a fifth-generation aircraft with stealth capabilities that is expected to be the centerpiece of the Air Force's future fleet. Service leaders, including Air Force Secretary Heather Wilson, have said that the 2020 budget proposal that they originally submitted to the office of the secretary of defense did not include funding for any fourth-generation fighters, suggesting that any request to purchase Boeing-built F-15Xs would be forced upon them by OSD leadership.
"The F-15X is a very capable airplane. The number of munitions it can carry, the range of it is really up there," John Venable, senior research fellow for defense policy at the Heritage Foundation and a former fighter pilot, said during a panel discussion in Washington, D.C., hosted by the Mitchell Institute for Aerospace Studies.
The F-15X would likely be less expense to procure than the F-35, he noted. However, it might not fare well against advanced air defenses, he warned.
"If you went back and bought a fourth-generation [plane] … it's going to be around for 30 to 35 years," he said. "In places like on the fringes of Syria, Afghanistan, certainly northern Africa, they will be able to operate for the next 10 years, I think, pretty well. Beyond that you're not going to be able to use them, I don't think, in many other environments."
China and Russia are investing in their own next-generation fighters, he noted.
"If I'm a Chinese J-20 or Russian Su-57, I'm the ninja that's going to be sent after those [U.S.] assets … to take them out," Venable said. "This is where the F-15X I think falls short. It would not be able to survive in that environment and it will not be good for the long term. … It is not a good investment for the Air Force to make."
Last week, during a meeting with reporters at the Air Force Association's Air Warfare Symposium in Orlando, Florida, Gen. Mike Holmes, commander of Air Combat Command, said buying F-15Xs as part of the Air Force's mix of new platforms might be a more affordable way to beef up the service's fighter fleet.

"We're pretty confident to say that we can go cheaper getting 72 airplanes [per year] with a mix of fifth- and fourth-gen than ... if we did all fifth-gen," he said.
However, Mark Gunzinger, a senior fellow at the Center for Strategic and Budgetary Assessments and a former Air Force pilot, said procurement and sustainment costs aren't the only price tags that should be considered when deciding which aircraft to purchase.
"You have to think more broadly about costs," he said during the panel. "What if we have to fight China? What if we have to fight Russia? What might the cost be in terms of attrition, in terms of us failing in a mission and so forth? You have to think about that as well."
The panel discussion coincided with the release of a new Mitchell Institute policy paper titled, "The Force We Need: Key Factors for Shaping the Air Force for the Future."
Retired Air Force Lt. Gen. David Deptula, dean of the Mitchell Institute, said the Air Force is already behind the curve when it comes to transitioning to a fifth-generation fighter force. Only 17 percent of the current force consists of stealthy F-35s and F-22s, he noted. The rest are fourth-generation planes.
The 2018 national defense strategy calls for refocusing the Pentagon's strategic planning and acquisition programs on potential conflicts with peer competitors such as China and Russia. China is fielding two fifth-generation fighters, Deptula noted. In this context, the Defense Department should prioritize beefing up its F-35 fleet, he said.
"If you're going to be the lead pilot in the first [U.S. military] aircraft that goes into a double digit surface-to-air missile, highly defended environment and you've got a choice: You can be in an F-35, or you can be in an F-15X, which one would you want to be in?" he asked. "You'd bet your ass [you would want to be flying a joint strike fighter], which is what you're going to be doing."
As of press time, Boeing had not provided comment.
— Additional reporting by Mandy Mayfield
Topics: Air Power, Air Force News, Budget, Defense Department