JUST IN: Army Leaders Reassure Industry About Upcoming Program Cuts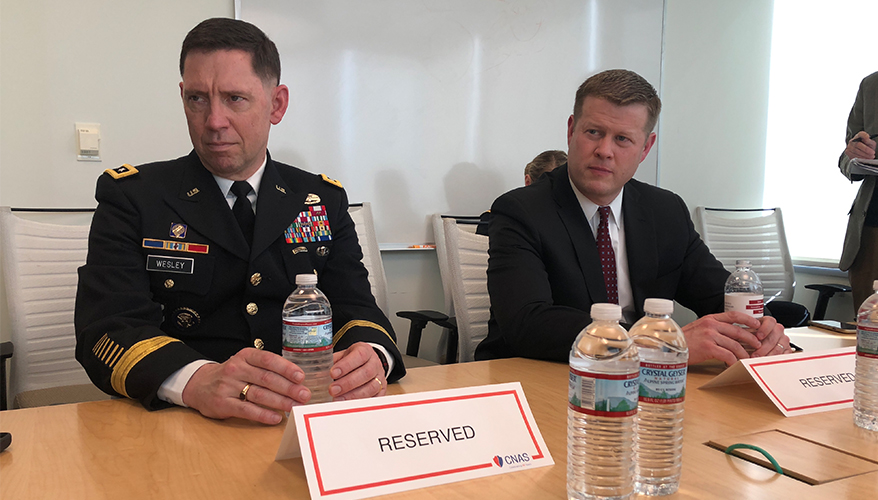 Lt. Gen. Eric Wesley, left, and Ryan D. McCarthy, right, speak to reporters.
Despite an impending budget realignment that will result in major cuts to legacy Army programs in favor of new modernization efforts, service leadership is reassuring industry that opportunities still abound.
"We'll see some substantial moves that will be made by the Department of the Army to finance … [our] ambition in the future," said Undersecretary of the Army Ryan D. McCarthy in regard to the service's fiscal year 2020 budget plan.
The Defense Department is expected to release its budget by mid-March. The Army has indicated that it plans to cut a variety of programs in order to finance its top modernization priorities, which are: long-range precision fires, next-generation combat vehicle, future vertical lift, the network, air-and-missile defense and soldier lethality. Their development is being spearheaded by the service's new Futures Command, which is based in Austin, Texas.
The Army plans to align north of $30 billion toward these categories, he said during remarks at the Center for a New American Security March 4. That will include $22 billion in program cuts and terminations and $8 billion in cost avoidance efforts, he added. The service has so far remained tight-lipped about which specific programs will be on the chopping block.
While this may cause trepidation among industry, McCarthy noted that companies shouldn't be fearful.
"There are billions of dollars of opportunities across all of these portfolios," he said. "It's not like we're reducing topline [funding numbers] or walking away. There's an immense opportunity in this" future years defense program.
Lt. Gen. Eric Wesley, deputy commanding general for futures and concepts at Army Futures Command, said while the realignment may create anxiety among industry members such overhauls will not become commonplace.
"This is somewhat of an anomaly," he said. It is based on a variety of coalescing factors including the 2018 national defense strategy; the Army's 2028 vision which will require the service to meet force structure, organizational, training, equipping and leadership goals to better meet the threat posed by competitors such as Russia and China; and its new multi-domain operating concept that emphasizes how the service will compete, penetrate, disintegrate and exploit adversaries in the future.
In the past, the Army has been criticized as having a "Chinese menu" of equipment it wanted but couldn't properly articulate the reasons why, Wesley said.
"Well, now you've got a lot of things coming into alignment, we have a concept, we have a threat, … [we have] the NDS and leadership who were willing to make hard cuts to focus the Army on the things that we absolutely must have," he said.
Transparency will be key as the service makes cuts, McCarthy told reporters during a press gaggle. The service already puts a premium on communication with industry and McCarthy — along with other service leadership such as Chief of Staff Gen. Mark Milley, Secretary Mark Esper, Vice Chief Gen. James McConville and Acquisition Executive Bruce Jette — meet every Monday for dinner with a leader from industry.
"Some of these companies have a sense of what's coming, others do not," he said. "We will communicate very robustly with them, … [discuss] the explanations as to why [we are making cuts] but also to show the immense opportunity that exists where many of them compete and to show the path we're trying to go."
McCarthy added there will be a "lot of conversations to be had here in March and April."