Border Wall Funding in the 2020 Defense Budget?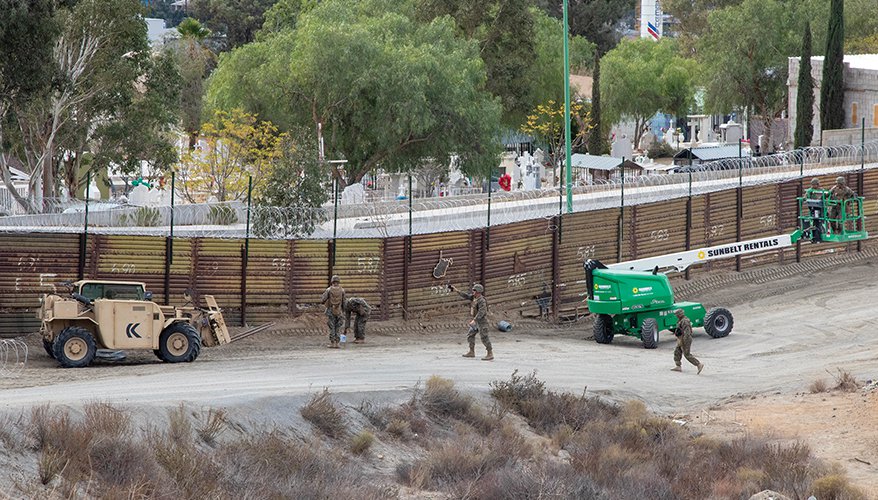 Photo: Defense Dept.
Rumors are swirling that the Trump administration will include money to build a wall on the Southwest border in its fiscal year 2020 defense budget request, a move that would likely encounter stumbling blocks on Capitol Hill, analysts say.
Construction of a strong barrier across the U.S.-Mexico border has been a centerpiece of President Donald Trump's political platform. So far, Democrats in Congress have not heeded his demands for robustly funding the project — which has been estimated to cost upwards of $20 billion — through Department of Homeland Security appropriations.
Mackenzie Eaglen, a defense analyst at the American Enterprise Institute, said she's heard that anywhere from $5 billion to $12 billion in homeland security funding — including for a border wall — could be included in the Pentagon's 2020 budget blueprint, which is expected to be released in mid-March.
Such a move would violate "the spirit of the accounting system and the budget process and the [congressional] committee jurisdiction," she said during a panel at the Center for Strategic and International Studies.
Opposition from lawmakers would likely ensue.
"I heard … there's going to be money in [the 2020 Pentagon budget] for the wall, which is a nonstarter which is just going to further complicate any kind of [defense appropriations] bill to get done this year," Bruce Hock, vice president of government affairs for SAIC Corp. and a former Senate Armed Services Committee staffer, said during a panel at the National Defense Industrial Association's Tactical Wheeled Vehicles Conference.
Mark Cancian, a senior adviser at CSIS, expressed doubt that lawmakers would directly fund wall construction through Defense Department accounts. However, Trump has declared a national emergency as a budget gimmick to shift money that had already been set aside for military construction projects, which could change the equation.
"If Trump declared a national emergency and diverted unobligated MILCON funds to a border wall — and the order was not held up in the courts — then … I think DoD would backfill those [previously planned military construction] projects in the FY 2020 [budget request] and Congress would approve them," Cancian said in an email before Trump's announcement.
"They are service priorities … and the members of Congress in whose districts the projects would be built will push for them to go forward," he added.
As of press time, the White House press office had not responded to a request for comment.
Topics: Homeland Security, Budget, Defense Department