NEWS FROM AUSA GLOBAL: Army Sharpens Focus on Multi-Domain Warfare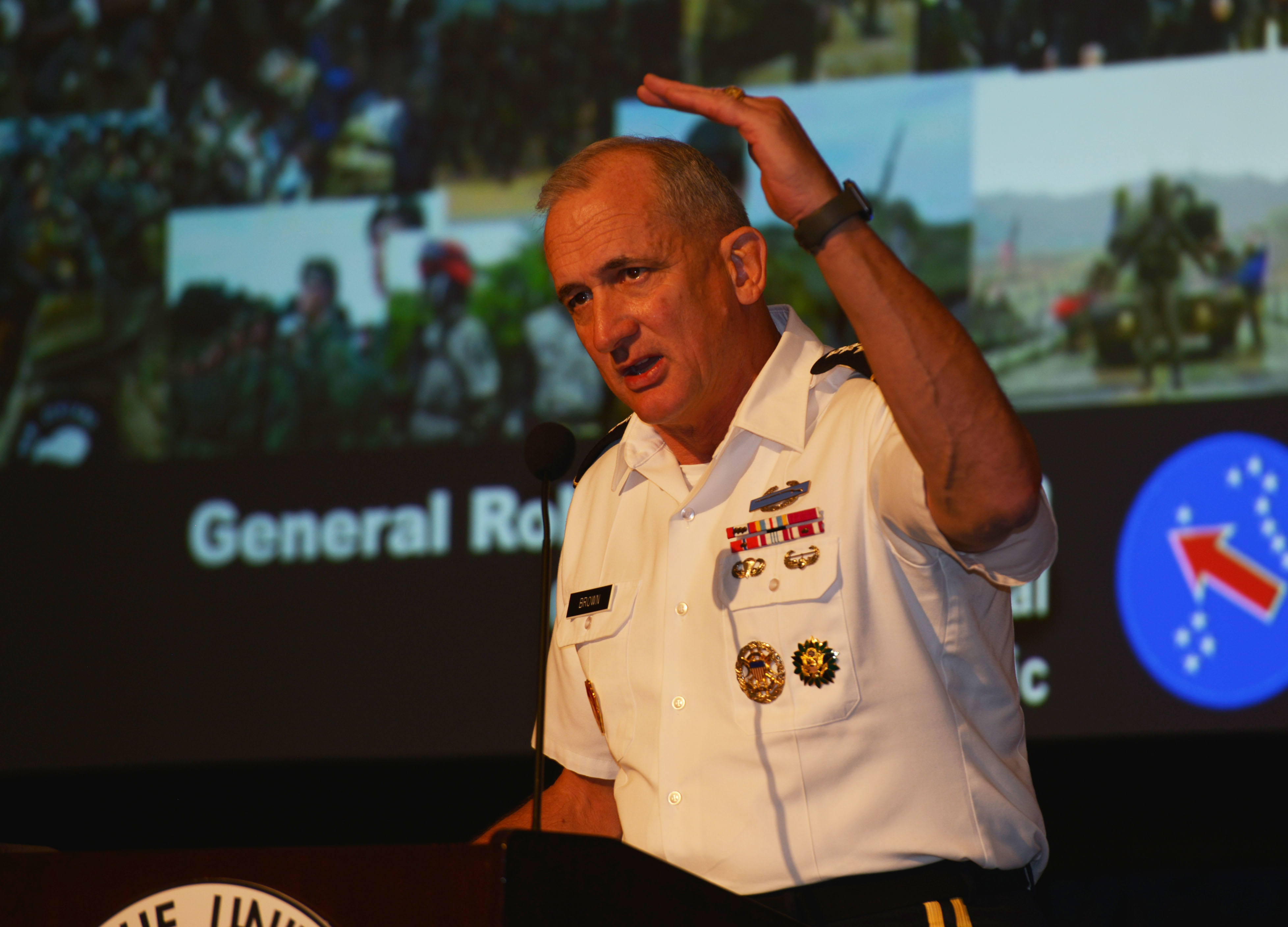 Gen. Robert Brown, U.S. Army Pacific commanding general, at the 2018 LANPAC conference.
Defense Department
HUNTSVILLE, Ala.
— The Army is pushing to integrate new capabilities into its units as part of its effort to prepare for multi-domain battles, according to a top service official.
The service has been preparing for a "multi-domain" environment that requires the Army to operate in air, cyberspace, land, maritime, space and the electromagnetic spectrum.
To do this, the service has stood up a unit — the intelligence, information, cyber, electronic warfare and space (I2CEWS) battalion — as part of its multi-domain task force pilot program. A space officer is the commander, Gen. Robert Brown, commanding general of U.S. Army Pacific, said March 27 during a keynote speech at the Association of the United States Army Global Force Symposium in Huntsville, Alabama.
According to his presentation, the detachment consists of four companies that can penetrate enemies' anti-access/area denial defenses. The the 17th Field Artillery Brigade has already experimented with the concept during warfighting exercises in the Pacific. The service plans to continue with the concept in Europe this year.
Brown said eventually all Army units, such as Stryker brigade combat teams and armored brigade combat teams, will have to expand their capabilities to fight threats such as unmanned aerial vehicles, drone swarms and electronic warfare attacks.
"All formations will have to become multidimensional or they will be irrelevant in the future," he noted.
The Army is two years into a four-year plan, he noted, and wants to develop a concept that allows the military services to work more closely. For instance, an adversary attempting to avoid Navy attacks could be hit by an Army land-based missile.
"That gives you more options against the adversary. Anyone would want more options. It allows you to present multiple dilemmas" to the enemy, he said.
The multi-domain task force must be able to maneuver to advantageous positions and quickly adapt to different environments, he noted.
"Maybe … you would always need a certain capability. It might be provided by your allies and partners, and so you may not need it … but it could be a different scenario depending on where you are," he said.
The goal is to have an Army with so many capabilities that there would be "nobody foolish enough to go against us," Brown said.
Topics: Army News, Expeditionary Warfare, Space