JUST IN: Army Leader Asks Industry for Support During Upcoming Budget Battles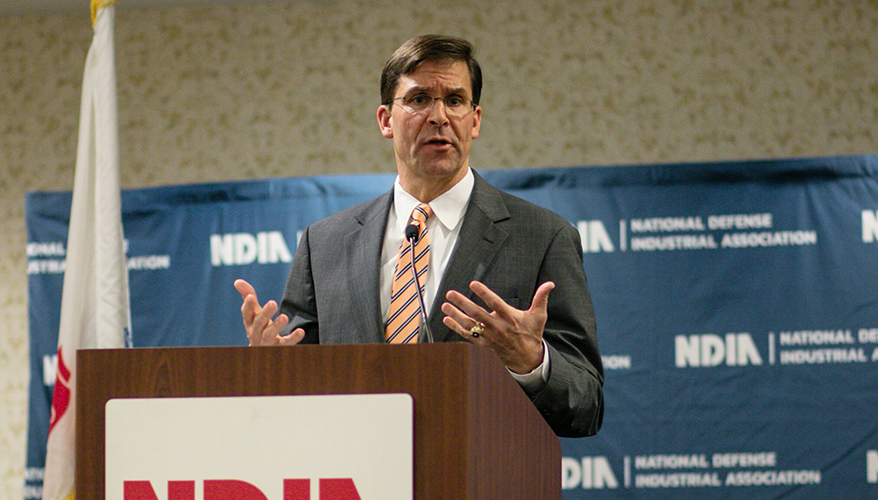 Secretary of the Army Mark Esper
Photo: Melanie Yu / NDIA
Army leaders are preparing for opposition to their new spending plans, as the service tries to move away from legacy platforms and put more money into next-generation systems.

The Army is proposing to eliminate, reduce or delay 186 programs to free up more than $30 billion over the next five years to pay for its top six modernization priorities: long-range precision fires; next-generation combat vehicle; future vertical lift; the network; air-missile defense; and soldier lethality.

"Our legacy combat systems, designed for high-intensity conflict, entered service when I first joined the Army in the early 1980s," Secretary of the Army Mark Esper said March 25 during remarks at a meeting in Arlington, Virginia, hosted by the National Defense Industrial Association.

"While they dominated in past wars, incremental upgrades to some of these systems are no longer adequate for the demands of future battlefields," he said. "We must accelerate to the next generation of technology now before Russia and China outpace us with their military modernization programs."

The Trump administration's fiscal year 2020 budget request would boost Army research-and-development funding by about 10 percent while reducing funding for procurement by 1.5 percent relative to 2019 spending levels, he noted. By fiscal year 2021, the service hopes to be spending more on new systems than it does on upgrading existing platforms.

"As we move into the out years, we'll continue to … scale back on many legacy upgrades so that we can start to harvest our [science and technology] investments as new systems come online," he said.

However, some contractors and lawmakers might oppose such a diversion of funding, he acknowledged.

"My ask of all of you is … that you focus less on resisting cuts to legacy programs, and more on future growth opportunities," he told members of industry.

More than $57 billion in the future years defense program — which covers fiscal years 2020 through 2024 — is dedicated to the modernization priorities that are being spearheaded by the new Army Futures Command, he noted.

"The companies that best position themselves to pursue these new programs have the opportunity to be part of the development of the next generation of Army systems — new vehicles, new weapons and new platforms — that will be with us for decades to come," he said. "The Army is moving out rapidly to equip the force for the future conflicts and we want all of you to move with us."

Defense budgets are expected to be strained in coming years, he noted, meaning the Army will have to fight to reallocate funding as it pursues modernization.

"I meet with members of the House and Senate regularly, and by and large most expect flat or declining budgets in the years ahead," he said. "When I testify to Congress during the upcoming posture hearings … my message will be clear: Every line in the Army's budget request was selected to enable our implementation of the national defense strategy … to prepare for war against great power competitors, and to do that we must modernize.

"The FY '20 budget is the linchpin of the Army's modernization efforts," he continued. "I and the rest of the Army's leadership will fight hard for this budget and we hope that you will support us."

Esper was asked if he expected resistance from lawmakers whose districts produce legacy systems that are on the chopping block in the service's fiscal blueprint.

"Yeah, I mean I worked on the Hill long enough to know that there will be some members" who will oppose it, he said. "Generally, my feedback has been very positive, but there are the eaches [who are concerned about it], and I understand why and we'll just have to engage with those folks and help explain what we're doing and why we are doing it."

Modernization funding across the future years defense program would include: $13.2 billion — including almost $2 billion in fiscal year 2020 — for next-gen combat vehicles; $4.7 billion — including $800 million in 2020 – for future vertical lift aircraft systems; $12.5 billion — including $2.3 billion in 2020 — for the communications network; $8.8 billion — including $1.4 billion in 2020 — for air-and-missile defense capabilities; and $6.7 billion — including $845 million in 2020 — for soldier lethality equipment such as the Integrated Visual Augmentation System and Next-Generation Squad Weapon, Esper said.