Industry Touts Advanced Power Systems for Navy Ships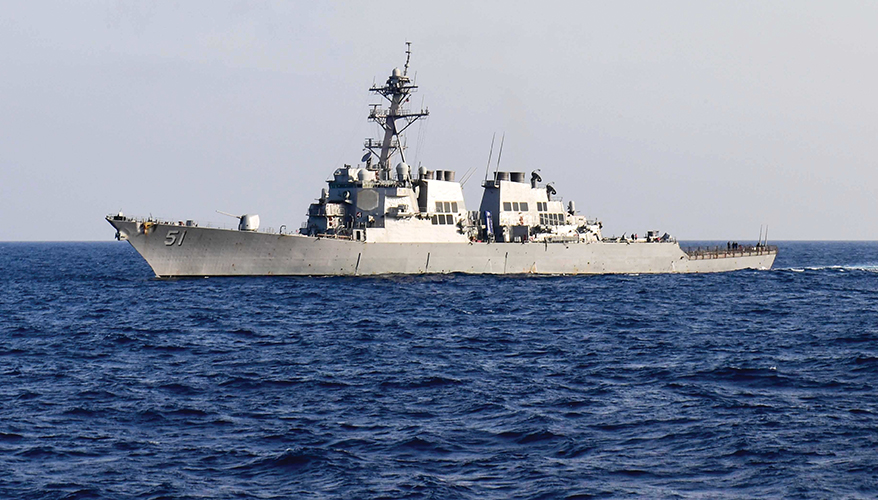 USS Arleigh Burke (DDG-51)
Photo: Navy
Defense contractors are investing in alternative propulsion and power systems as the Navy develops and upgrades its fleet of warships.
Leonardo DRS, which is currently building its second generation hybrid-electric propulsion system for the Coast Guard's new offshore patrol cutter, is touting its technology as the wave of the future.
Three major advantages of hybrid-electric propulsion for Navy ships include: greater fuel economy, lowered maintenance costs and quieter vessels for advanced warfare operations, said Jamie McMullin, senior director of business development for Leonardo DRS' naval power systems.
"Our hybrid-electric drive can bring the U.S. Navy real warfighting capability … and then you get all the benefits of fuel economy and less operation on engines and more space in the ship," he said in an interview.
The electric systems' quiet nature makes it advantageous for anti-submarine warfare, noted Clive Wilgress-Pipe, director of business development for Leonardo DRS' naval power systems.
The company is interested in integrating the system onto the Navy's next-generation frigates.
The service initiated the FFG(X) program in 2017 to build 20 guided-missile frigates. Although the department has yet to determine the exact specifications of the vessels, it has awarded five companies contracts for conceptual ship designs, according to a Congressional Research Service report titled, "Navy Frigate (FFG[X]) Program: Background and Issues for Congress."
Selected designs were all based off of mature ship designs from either U.S. or foreign naval vessels.
The shipbuilding companies chosen include Austal USA, Lockheed Martin, General Dynamics' Bath Iron Works, Fincantieri Marine and Huntington Ingalls Industries.
Of the five conceptual designs, only Fincantieri's includes a hybrid-electric drive solution, Wilgress-Pipe said. Although there are various benefits to hybrid-electric propulsion, it can be difficult to convince industry players to get on board with the new technology, he noted. One reason is that shipyard workers aren't acquainted with the new technology.
"They know very well how to do mechanical systems, they've done lots of them, they understand it," he said. However, they "are just not that familiar with the electric drive type solution."
Another reason the Navy could be hesitant to make the shift is that its primary focus is on warfighting, and hybrid-electric engines have been considered by some to be just fuel-savings technology, Wilgress-Pipe said.
"When we talk to the Navy … they understand the benefits of it, but I think there's been a mischaracterization in the past as it being just a fuel savings type reason for" integrating the hybrid-electric engines, he said.
Shipyard workers have also found that they are able to meet mandated requirement lists without integrating the hybrid-electric drive systems that are foreign to them, he noted.
"The government has a basic specification and the shipyards can sit there and, go, 'OK, we read the specification and we can provide the ship on the specification doing what we know,'" Wilgress-Pipe said.
Installing the hybrid-electric drive system created by Leonardo DRS onto the forthcoming frigates would come out at essentially a zero net cost to the Navy, Wilgress-Pipe said.
"One of the benefits for FFG(X) is that some of the mechanical systems can be eliminated, and that in and of itself would fund the hybrid-electric drive," he said.
One system that could be removed is the controllable pitch-propeller, McMullin said.
"The cost of the hybrid-electric drive is less than that [of the] controllable pitch-propeller, which you can eliminate when you pull a hybrid-electric drive [on board]," he said.
The U.K. Royal Navy integrated a hybrid-electric drive onto its Type 26 frigate and eliminated its controllable pitch-propeller, McMullin noted. It faced no increase in acquisition cost and saved a large sum of money across the fleet, he said.
Other foreign navies have picked up on the technology, Wilgress-Pipe said. Leonardo DRS is currently providing the technology for the South Korean Navy's FFX II and III frigate programs, he said. South Korea has also indicated that it will be looking at a hybrid-electric drive for its next-generation frigate program, he added.
The program can be used by the U.S. Navy as an indicator that the hybrid-electric system would be successful in the FFG(X) program, Wilgress-Pipe added.
"We have a reference that is already at sea that the Navy can look at," he said.
Naval Sea Systems Command Commander Vice Adm. Thomas Moore told reporters in February there is no doubt in his mind that the service's future surface combatant will likely have electric drive propulsion.
"We are headed toward an era of electric drive," he said. "We're going to get out of steam turbines [and] diesels as the most efficient way for us to drive ships."
Meanwhile, Rolls-Royce has developed an alternative to diesel-generated power to supply electric power to the Navy's DDG-51 Arleigh Burke-class destroyers.
The company's AG9140 gas turbine, which is a configuration of three generators, is onboard all DDG-51 vessels, according to Sam Perez, vice president of customer relations for the Navy at Rolls-Royce North America.
"These generators are very, very reliable," Perez said. "They're very quiet and they're very efficient to operate."
Each of the generators provides the ship around 3,000 kilowatts of power, with a total of 9,000 kilowatts of capacity across the three generator array, he noted.
The system powers critical equipment onboard the ships including radars, sensors and combat instruments. The power source's hushed operating capabilities also help the DDG-51 vessels meet one of their primary missions — anti-submarine warfare, Perez said.
Diesel engines are, in general, louder than gas turbines and can put out frequencies that are lower than a gas turbine, he said. "Lower frequencies propagate for longer distances and higher frequencies don't propagate as long," he noted.
"The fact that you don't have any diesel engines onboard and your power is generated by these very quiet, sound-isolated, gas turbine generators makes it an ideal platform to go and do the anti-submarine warfare mission," Perez noted.
Bringing gas turbine generators on board the DDG-51 ships rather than diesel generators aligns with the expertise of personnel that are serving on the vessel, said Richard Partridge, chief of naval systems for Rolls-Royce.
"In terms of skill sets and the engineering skills onboard, you already have a lot of gas turbine qualified and trained engineers and technicians," he said.
Another benefit is an improved power density.
Partridge noted that the overall shift to marine gas turbine technology started in the 1960s.
"Marine gas turbines started to displace steam turbines, boilers and also in some navies, diesel engines, because gas turbines provided a much enhanced power density," he said.
Power density is still a driving factor for the adoption of gas turbines, as opposed to diesel engines, he added. "For DDG-51s that is certainly a big part of the ... picture as well."
DDG-51 flight III destroyers have a higher power demand than legacy vessels and will receive an upgraded version of the AG9140 generator, the AG9160.
"Instead of 3,000 kilowatts per generator, we're going to up that to 4,000 kilowatts per generator," Perez said. "The generator set fits in [roughly] the same footprint as the 9140."
The first flight III ship, USS Jack H. Lucas, is already under construction and is set to be delivered in fiscal year 2023, Capt. Casey Moton, program manager for DDG-51, told reporters during the Surface Navy Association's annual symposium in Arlington, Virginia.
The new missile defense radar systems, developed by Raytheon, will be supported by the upgraded gas turbine generator, according to Rolls-Royce.
"Overall, the primary purpose of flight III … is to field the SPY-6 [air-and-missile defense] radar," he said. That will provide significant improvements in ballistic missile defense, he noted.
The company also sees its products eventually supporting laser weapons, Perez said.
"We're at the threshold of directed energy weapons systems and … you're going to have to have a lot of power available in order to use" them, he said. "We believe that an integrated power propulsion plant is the solution set that provides you with the agility and flexibility to accommodate those future weapon systems."
Moving forward, Rolls-Royce is also looking to integrate its power solutions into other new ship classes, including the FFG(X) program, Perez said.
"Whether it's a gas turbine solution or a hybrid solution for some of the FFG(X) offerings that are up there, … we believe that we have a solution set that we can tailor for any of the propulsion needs that the Navy has now and for the future," he said.
Perez noted that Rolls-Royce also designs and manufacturers diesel engines, so the company is not biased against them.
"We believe diesel engines are great, as well as gas turbines," he said.


Topics: Navy News, Shipbuilding