JUST IN: Air Force to Expand 'Pitch Days' Concept for Industry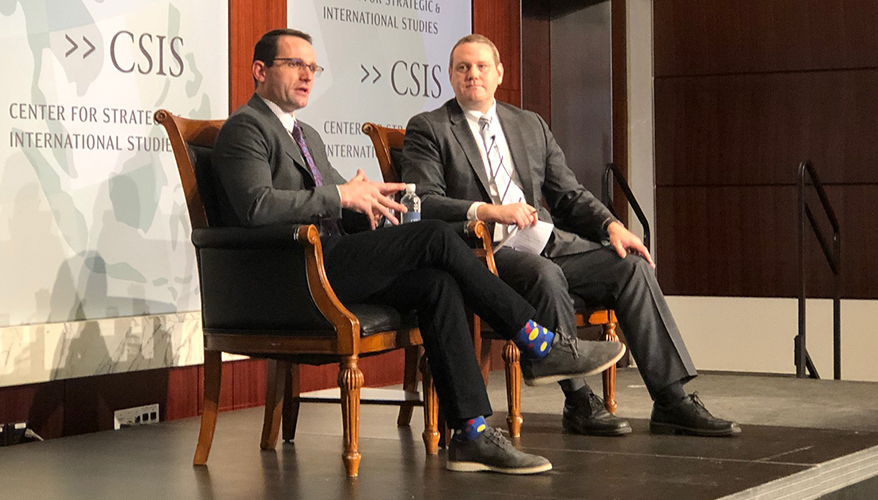 Will Roper, assistant secretary of the Air Force for acquisition, technology and logistics, left. Andrew Hunter, a defense expert at the Center for Strategic and International Studies, right.
Photo: Yasmin Tadjdeh / NDIA
The Air Force — coming off its first "pitch day" in New York City — plans to expand the use of the new concept to attract nontraditional companies to work with the service, a top official said March 15.
Last week, Air Force officials engaged with 51 companies that could help meet their needs, said Will Roper, assistant secretary of the Air Force for acquisition, technology and logistics. The service had whittled those companies down from an original pool of 417 businesses. The Air Force planned to invest up to $40 million into the effort to get companies on contract quickly.
The focus of the event was products that could further national security in air, space and cyberspace with an emphasis on battlefield air operations technologies, digital technologies and command, control, communications, intelligence and network capabilities, according to the Air Force.
Companies were allowed 15 minutes to make their pitches, Roper said during remarks at the Center for Strategic and International Studies, a Washington, D.C.-based think tank. The firms got 10 minutes to present and Air Force officials used the final five minutes to ask questions.
"We picked companies that we thought connected with our mission," he said. "They walked out of their pitch, signed a half page contract and were paid in less than 15 minutes on average. The fastest we did was three [minutes]."
Service officials were able to use their government credit cards to facilitate the purchases, he noted.
Now the Air Force wants to expand pitch days across the country, Roper said.
"I [have] pushed this authority out to the field," he said. Service officials are "going to be running events locally where we do acquisition and even in cities where we don't have presence. … We need to have presence if there is a technology innovation spark in that city."
Roper said every program executive office, Air Force base, sustainment center or depot could host their own events.
"I'm a big believer in creating tools instead of rules for the workforce," he added. "Here's a tool [and] I'm going to try to energize our team to take it and run with it, and I'm going to be excited to see what they do."
Roper has also spoken with the defense industry about collaborating on pitch days with the service, he added.
"If a company didn't connect with us ... [but] connected with the defense prime, then they're still kind of in our orbit. There's still a chance for us to benefit from their work," he said.
Roper noted that Secretary of the Air Force Heather Wilson — who recently announced her imminent retirement after she was tapped to be the next president of the University of Texas at El Paso — is expected to announce which city the next pitch day will be in.
The service plans to eventually hold a "Pitch Bowl," Roper said. The event would be "the equivalent of the Super Bowl of pitch events where the winners out in the field get to come in for a truly game-changing investment from the Air Force — their big chance to 'productize' their idea and impact our mission," he said.
The service must learn how to work with new, innovative companies at scale "because if we don't then the burgeoning startup community that continues to push technologies, that is changing the world will not be fully connected with us," he said.
Roper noted that while he was excited to see all the technology showcased at pitch day, he was particularly intrigued by artificial intelligence platforms.
"I am desperate for the Air Force to operationalize AI," he said. "It is ironic that the first two letters in Air Force are A [and] I yet we have so little of it."
Roper noted that some companies had technology that allowed images to be automatically detected and could project patterns based on historical data. That would have implications for intelligence analysis.
Those types of technology "make you really excited because as we get back into competing with peer powers, we can't have so many airmen looking at computer screens, looking at video," he said. "I see huge potential for us to use that kind of technology, so the airmen aren't looking for objects of interest, they're being shown objects of interest and then they can take the next step."
The Pentagon has made significant investments in artificial intelligence over the years. It launched its pathfinder AI effort, Project Maven, to help tip-and-cue drone video analysts to objects of interest. Last year, it stood up the Joint Artificial Intelligence Center which is meant to lead many of its top AI projects.
Topics: Air Force News, Air Power