JUST IN: Pentagon Plans to Cut Procurement, Boost R&D in 2020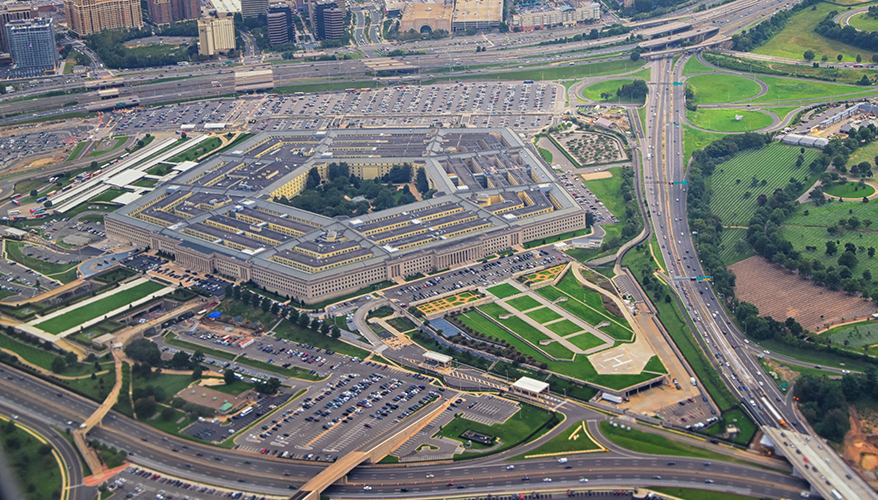 Photo: iStock
The president's fiscal year 2020 budget request for the Defense Department would reduce procurement of existing systems while increasing research-and-development spending as the Pentagon pursues new technology to take on advanced adversaries.
The Trump administration is asking for $718 billion for the Pentagon, including a whopping $164 billion in overseas contingency operations funding, also known as OCO, and $9.2 in "emergency spending" for border wall construction and post-hurricane reconstruction efforts, according to budget documents released March 12.
The documents note that $98 billion of the OCO funding is for base budget needs. Putting base money in OCO accounts, which aren't subject to 2011 Budget Control Act caps, is a long standing gimmick that the executive branch and Congress have used in recent years to get around military spending limits.
The proposed topline would be see a $33 billion boost relative to what was enacted in fiscal year 2019, a gain of 4.9 percent in nominal terms and 2.8 percent real growth when accounting for inflation.
The Army would see the largest budget increase of $12.5 billion. The Air Force and Department of the Navy — which includes the Marine Corps — would see gains of $11.8 billion and $9.9 billion, respectively. Defense-wide accounts would decrease by $930 million.
The administration is asking for a total of $750 billion in defense spending, which includes nuclear weapons programs and various projects carried out by the Department of Energy and other agencies. That is $34 billion, nearly five percent, more than was enacted in 2019.
Officials said the 2020 budget request reflects a renewed focus on great power competition with adversaries such as Russia and China.
"The national defense strategy has made it very clear that to preserve the peace, we must be prepared for the high-end fight against peer competitors," David Norquist, the Pentagon's acting deputy secretary of defense, told reporters during a briefing at the Pentagon. "Future wars will be waged not just in the air, on the land or at sea, but also in space and cyberspace, dramatically increasing the complexity of warfare. This budget reflects that challenge."
It includes the largest research, development, test and evaluation funding request in 70 years, Norquist noted.
"We have increased … RDT&E and we have decreased procurement to reflect our focus on modernization," Deputy Undersecretary of Defense (Comptroller) Elaine McCusker said.
Under the budget blueprint, RDT&E funding would grow by more than $9 billion to $104.3 billion, nearly a 10 percent boost relative to 2019, according to budget documents.
That includes $12.4 billion for the Army, $46.1 billion for the Air Force, $20.4 billion for the Department of the Navy and $25.4 billion for defense-wide projects.
Spending on emerging technologies highlighted in the budget documents include: $3.7 billion for "unmanned/autonomous projects to enhance freedom of maneuver and lethality in contested environments;" $927 million in artificial intelligence/machine learning investments for initiatives like the new Joint Artificial Intelligence Center and advanced image recognition; $2.6 billion for hypersonic weapons development; and $235 million for directed energy capabilities to support implementation of directed energy for base defense, enable testing and procurement of multiple types of lasers, and increase R&D for high-power density applications.
Meanwhile, total procurement across the department would decrease by $4.2 billion, or about three percent relative to 2019, to $143.1 billion. The decrease is largely driven by reductions in procurement quantities for the F-35 joint strike fighter, C-130 cargo aircraft, AH-64 Apache helicopter and KC-46 tanker, according to budget documents.
The Army would see a $1.3 billion cut in procurement, while the Army and Department of the Navy procurement accounts would essentially stay flat with only $66 million and $64 million growth, respectively. Defense-wide programs would face a $3.1 billion decrease.
Cyber capabilities would see $9.6 billion in spending across the department to support offensive and defensive cyber operations, cybersecurity technology and cloud computing initiatives. That is an increase of about 10 percent over 2019, according to Army Lt. Gen. Anthony Ierardi, director of force structure, resources and assessment on the Joint Staff.
For procurement and RDT&E, space systems — including launch, satellites and support — would receive $11.9 billion, a $2.6 billion jump. About $72 million would resource the initial establishment of a new United States Space Force that President Donald Trump is calling for, according to budget documents. Total spending on the space enterprise would total $14.1 billion, a 15 percent increase relative to 2019, Ierardi said.
Aircraft programs would receive $57.7 billion, a $2.5 billion increase compared to 2019. That would including 78 F-35s, which are being acquired by the Air Force, Navy and Marine Corps — a decrease of 15 joint strike fighters compared to the number procured last year. The budget also includes $1.1 billion for eight F-15EX fighters, a souped-up version of legacy F-15 platforms.
Ground systems would receive $14.6 billion, about $1.3 billion less than 2019. That includes $1.6 billion for more than 4,000 joint light tactical vehicle that the Army and Marine Corps are buying.
Shipbuilding and maritime systems would receive $34.7 billion, a $1.6 billon bump.
Missiles and munitions investment would total $21.6 billion, a $900 million increase. High priority munitions such as the joint air-to-surface missiles, long range anti-ship missile, standard missile-6, joint direct attack munition, Hellfire and small diameter bomb are fully funded at the maximum production rate, budget documents noted.
Missile defense and defeat systems would get $11.6 billion in acquisition accounts, a $400 million drop. However, there will be a total of $13.6 billion for these types of capabilities once spending on related initiatives are factored in, McCusker said.
Nuclear programs would receive $31 billion in funding including $14 billion for next-generation systems such as the B-21 bomber, Columbia-class submarine and ground-based strategic deterrent.
Command, control, communications, computers and intelligence systems would get $10.2 billion, a $200 million increase.
Science and technology efforts would grow $400 million to a total of $14.1 billion for initiatives such as AI, offensive and defensive hypersonic capabilities, directed energy and quantum sciences.
Mission support activities would receive $70.9 billion.
In a move that is certain to be controversial, the budget request includes $3.6 billion for border wall construction, as well as another $3.6 billion to backfill construction projects that were delayed in 2019 because money was reprogrammed for Trump's promised border wall after he declared a national emergency, McCusker said.
Analysts have attacked the idea of including money in the Pentagon budget to build barriers on the U.S.-Mexico border.
American Enterprise Institute defense analysts Mackenzie Eaglen and Rick Berger said the border wall funding was "inappropriately included," adding that the "real budget" for defense would be about $743 billion excluding the $7.2 billion for wall funding and backfilling delayed military construction projects.
"That's basically just growth with inflation from 2019, and it continues a flat spending trajectory for years to come," they said in a note to reporters.
Looking longer term over the course of the future years defense program, the Defense Department topline would see relatively slow nominal growth, decreasing to $713 billion in fiscal year 2021, before increasing to $727 billion in 2022, $742 billion in 2023 and $747 billion in 2024, according to budget documents.
Eaglen and Berger also criticized the Pentagon's focus on R&D while cutting procurement.
"This strategy continues years of cutting existing weapons programs for the promise of future technological breakthroughs," they said. "The military not only requires more advanced weapons to compete with Russia and China, but also needs immediate recapitalization for decades-old equipment. Carrying out the national defense strategy requires both military capacity and capability."
Topics: Budget, Defense Department, Acquisition, Acquisition Programs