NDIA POLICY POINTS DEFENSE DEPARTMENT
Nonlethal Weapons Offer Victory, De-Escalation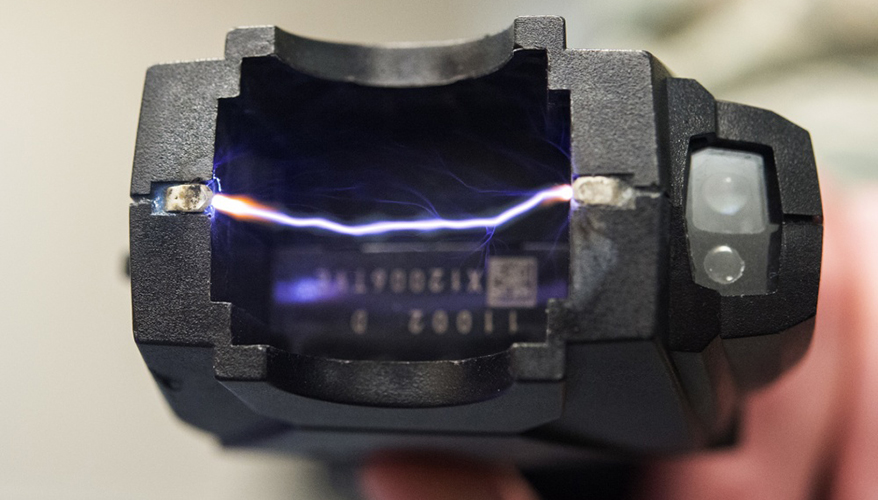 Photo: Defense Dept.
"The greatest victory is that which requires no battle." - Sun Tzu

In 1995, U.S. troops protected United Nations forces withdrawing from Somalia by using nonlethal weapons to both subdue hostiles and prevent conflict escalation. In doing so, they exemplified both the value and viability of alternate, nonlethal options for the warfighter.
However, the most recent guidance from former Secretary of Defense James Mattis instead directs defense policymakers to adhere to traditional concepts of lethal effectiveness and efficiency as imperatives for weapons acquisition programs.
With lethality as the guiding principle, the policymaking community may overlook programs that produce highly effective, nonlethal tools that warfighters can employ to prevent conflicts and limit irreversible impacts. One such initiative, the joint nonlethal weapons program — under the Defense Department and administered by the Marine Corps — provides critical resources for the research, development and production of nonlethal weapons. In doing so, the program presents the U.S. military and allied nations an opportunity to save lives and taxpayer money both at home and abroad by defusing flashpoints and preventing costly escalations. Unfortunately, overemphasis on "lethality" in defense acquisitions threatens the joint nonlethal weapons program.
With an explicit focus on developing and fielding nonlethal equipment, the program has been a backbone of Defense Department efforts from 1997 onwards to develop options designed to induce flight or incapacitate a target without lasting detrimental effect. Unlike traditional weapons platforms — whose lethal impact on targets form the basis of their rated effectiveness — nonlethal weapons provide the essence of "lethality;" that is, a means to achieve direct and efficient conflict resolution with minimal strategic or human risk. Accordingly, decision-makers should judge nonlethal weapons by a different metric.
However, low funding levels over the last decade demonstrate defense policymakers' lack of understanding or interest in the value of these systems. Such technologies are not limited to the traditional standbys of bean-bag guns, tear gas grenades and Tasers. Newer tools, including directed energy platforms that incapacitate targets through sonic or thermal energy, can also be employed to de-escalate delicate situations. Nonlethal weapons offer solutions to minimize the violence necessary to contain a volatile situation that might explode with the introduction of lethal weapons. In doing so, they can both prevent loss of life in the moment and, by preventing escalation, decrease the possibility of these scenarios reoccurring.
As opportunities increase for nonlethal technologies to offer creative alternatives, the department needs to re-examine the program's prioritization to ensure it is adequately funded to deliver value across a range of defense challenges.
In today's complex, interconnected world, the line between civilian and combatant blurs, scenes of violence flash instantaneously worldwide, and the hearts and minds of populations become a critical battle space both at home and abroad.
In this context, the ability to neutralize suspected threats with precision and without inflicting permanent harm may prove decisive in determining tactical, operational and strategic success or failure. Such capabilities offer a reliable means for governments to pursue de-escalation, and in turn deliver better, more stable long-term outcomes to crisis situations. Nonlethal weapons proved incredibly valuable to U.S. patrols in Iraq and Afghanistan; the ability to quickly subdue suspected hostiles in a marketplace or a crowd greatly reduced the chance of fatal injuries to both warfighters and local civilians alike.
Additionally, U.S. investment in nonlethal weapons could deliver more humane security capabilities to allies and partners. Many developing nations find themselves ill-suited to deal with protestors. In one tragic example, Nigerian forces shot more than 140 protestors with live ammunition in an unnecessary escalation. Providing nonlethal capabilities to allied and partner nations dealing with civil and sectarian strife could reduce fatalities and de-escalate unrest using minimal force.
When the U.S. does not offer these capabilities, it loses its ability to influence how those systems are used, while our competitors may impose no such limitations in their technology sharing. Moreover, new types of applications for nonlethal technologies continue to emerge from such competitors: Russia reportedly installed new nonlethal optical technologies on its warships to induce blindness, hallucinations and vomiting in enemies targeting the vessel.
In prioritizing nonlethal weapons research, the Defense Department gains the added benefit of studying such challenging scenarios before U.S. warfighters encounter them in the field.
Investing in nonlethal weapons technologies will provide return on investment by saving both lives and money in the long term. Thus, neglecting the joint nonlethal weapons program funding based on lack of lethal effect is shortsighted. To ensure the U.S. military and its partners can prevent unnecessary conflict escalation, and given the many benefits leading-edge, nonlethal options can provide for warfighters, the Trump administration should increase funding for the program.
Crisis, conflict and war take place on a broad spectrum. Accordingly, warfighters need to have the capabilities and equipment to best operate wherever they find themselves on that spectrum. Defense leadership should learn from history and invest in nonlethal capabilities to enable American warfighters to achieve Sun Tzu's precept by using nonlethal systems to preclude unnecessary battles.

Zachary Kronisch is a junior policy fellow at the National Defense Industrial Association.

Topics: Government Contracting Insights, Government Collaboration, Defense Department, Research and Development