After Some Bruises, Navy Learning to Accelerate Acquisition Priorities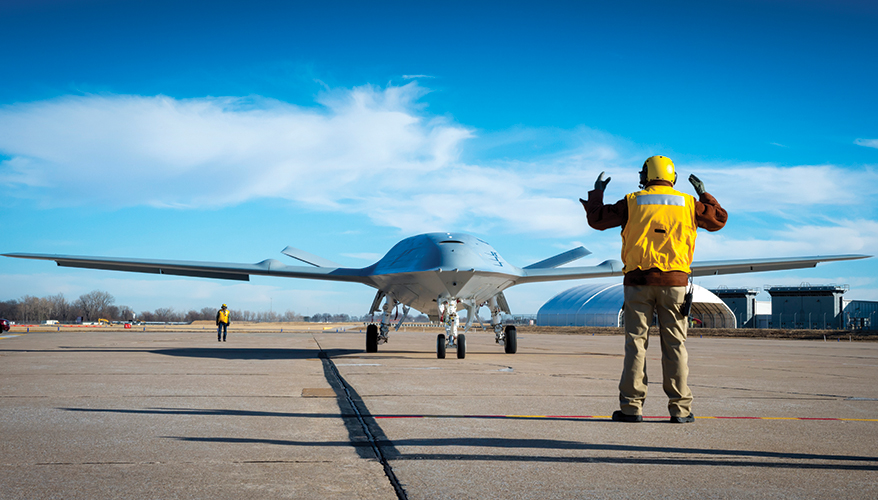 MQ-25 unmanned aerial refueling tanker
Photo: Boeing
The Navy is leveraging rapid acquisition authorities provided by Congress to push out new weapons faster.
The fiscal year 2016 National Defense Authorization Act had multiple provisions aimed at speeding procurement, Rear Adm. James Kilby, director of warfare integration at the office of the chief of naval operations, said during a panel discussion hosted by the Surface Navy Association. "After that language hit the streets, the OPNAV staff and the secretary produced instructions about how we would deal with accelerated acquisition."
Kilby was referring to OPNAV instructions provided in March 2017, which detailed the Navy's push to cut through bureaucratic red tape as it pursues new capabilities. The Navy established two different paths for high priority initiatives, including rapid prototyping, experimentation and demonstration (RPED) projects and the maritime accelerated capability office.
Section 804 of the 2016 NDAA allows for "mid-tier acquisition" to rapidly prototype technologies that complete fielding within five years of requirements approval. Under Section 806, the secretary of defense can waive certain regulations for technologies of high priority.
The accelerated acquisition process kicked off with "a lot of bumps and bruises," Cmdr. Todd Philips, of the Navy appropriations matters office, said during the panel.
"It has evolved from [the fiscal year 2017 presidential budget request], where we had a miserable rollout … to where we are today," he said. "But I really do think we're at a much better place."
The 2017 directive stated that RPED projects would be geared towards capabilities that do not already have a materiel solution. The service would use prototyping and demonstration to determine an acquisition strategy. The maritime accelerated capability office would focus on capabilities that already have a potential solution.
The Navy updated the accelerated acquisition process in October 2018. Initiatives that are designated as "accelerated" are priorities for funding and have an opportunity to compete for rapid prototyping, experimentation and demonstration money, according to the document. Initiatives that qualify for this designation must have near-term warfighting urgency. The document also removed the maritime accelerated capability office. A board of directors would designate which initiatives should be prioritized.
Kilby noted there are millions of dollars in research and development not tied to a specific program of record. Instead, the money is geared toward fast-tracking acquisition priorities.
"That's a big deal," he said, noting that this is indicative of the trust lawmakers have for the Navy's intent to carry out accelerated acquisition.
The service is also delegating acquisition authorities down to program managers and program executive officers to speed up the process, noted Rear Adm. Douglas Small, program executive officer for integrated warfare systems. This applies to both acquisition category programs and accelerated acquisition efforts, he said.
"Just removing entire layers of oversight and really empowering people to be able to go off and deliver is going to … speed up a lot throughout the system," he said.
William Bray, deputy assistant secretary of the Navy for research, development, test and evaluation, added that this allows the Navy to make acquisition decisions quickly.
However, Kilby cautioned against designating too many capabilities as accelerated acquisition initiatives.
"There's a process to go before the CNO and say, 'This program is up for graduation for the following reasons,' and he approves it or does not approve it. …We're learning as we go through this, but we wanted to stay focused on the most important things for a reason."
Because of this, the maritime accelerated acquisition initiative is focusing only on "those programs which we hold dearest," he noted. These include the MQ-25 Stingray unmanned aerial refueling tanker, two standard missile variants, two laser systems and numerous unmanned undersea vehicles, he said.
For example, James Geurts, assistant secretary of the Navy for research, development and acquisition, in a prepared statement to the Senate Armed Service Committee in December 2017, said the initial capability of the SM-2 Block IIIC active medium-range missile is expected to be fielded three years earlier than previous programs.
According to the October update, the process consists of four steps, which include: validation of the requirement and review of candidate materiel options; acquisition and funding strategy; execution; and disposition. After an operational need is identified and reviewed, an assessment team has 30 days to report on options that may meet the need.
Sixty days are then provided to develop an acquisition strategy. The strategy must include program information, an acquisition approach, a timeline for fielding the capability, RPED funding objectives and information about past efforts.
The Navy has monthly meetings, Kilby said, noting that it is important for involved parties to remain on the same page.
"We review a quad chart for every program every month and we discuss the specifics of that program," he said. "Then we communicate that at the appropriate level to the Hill so we can maintain alignment and intent."
Bray said he hopes to reach a point in which a faster acquisition process is the norm for all capabilities.
"How do we mainstream a lot of the things we're working on?" he said. "How do we get to the point where accelerated acquisition is not special? It's the way we operate, the way we do things."
Although Congress has granted the military additional leeway for accelerating acquisition, there is still scrutiny because there are lawmakers who want to ensure the services are utilizing money effectively, Philips noted.
"The appropriators are still looking at everything through the same lens that they always have," he said. They focus on "the purpose, time and amount of funds."
"They want to make sure that we're using the dollars in an appropriate manner," he added.
The Navy is also using other transaction authority agreements for rapid prototyping, Bray said. For instance, the Naval Undersea Warfare Center in Newport, Rhode Island, has an OTA consortium dedicated to undersea capabilities, he noted.
Small said the Navy wants to consider how systems would work in an operational environment. For example, the service is examining how to integrate a laser on top of a ship rather than on developing the laser itself.
"We're going after a laser technology that already exists," he said.
The Navy is also examining how it can use the small business innovation research program to speed up acquisition, Rear Adm. David Hahn, chief of naval research, said. The program — established in 1982 — provides for federally funded research for companies with 500 employees or less.
"We inside the Navy take program dollars and invest in small businesses to the tune of $300 million to $400 million a year," Hahn said. "You add that up over time, that's a significant investment."
Kilby encouraged industry to reach out to the service before providing information to lawmakers.
"It can also be, frankly, harmful if the appropriators or the authorizers get some stray voltage that doesn't match up to the story — they're going to go to all-stop and they're going to want to get to the bottom of it and figure it out," he said.
However, the accelerated acquisition efforts have helped communication between Capitol Hill and the Navy, said Rear Adm. Ronald Boxall, director of surface warfare.
Previously, Congress would receive different information on programs during hearings because of "communication mismatches," he said. "We weren't aligned as an enterprise going over."
This concern was also reflected in a report accompanying the Senate Appropriations Committee's fiscal year 2019 spending bill. The report noted the Navy requested $1.4 billion for accelerated acquisition programs, which was 150 percent above the amount enacted for fiscal year 2018. The committee, however, recommended just $1.2 billion for the programs.
In the report, lawmakers acknowledged that the Navy is pushing to organize how it pursues accelerated acquisition. However, they were "concerned by repeated instances" in which accelerated acquisition designation has led to "imprudent program management decisions."
Because of this, the committee directed the Navy to provide a report detailing how it would manage its acquisition strategies and money. The service was also tasked to provide a strategy for each accelerated program with the president's 2020 budget request. The Navy comptroller would need to "certify that the fiscal year 2020 president's budget fully funds such acquisition strategies, to include the associated test requirements identified in the test plan for each program," according to the report.
Additionally, lawmakers told the service to identify any training requirements needed for the acquisition process.



Topics: Navy News, Acquisition, Acquisition Programs