BREAKING: Army Realigning $25 Billion to Fund Modernization Priorities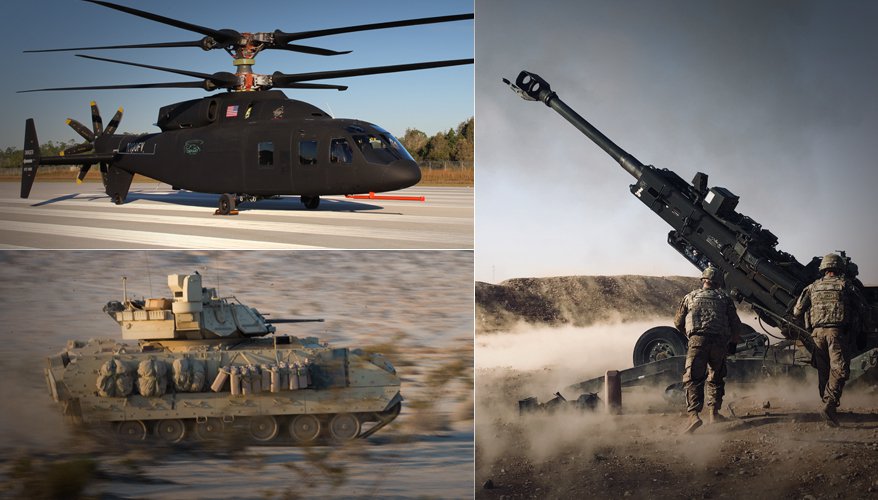 Photos: Sikorsky-Boeing, Army
The Army's fiscal year 2020 budget request will reflect its intent to reduce, eliminate or delay programs in favor of its top modernization priorities, according to the service's top civilian leader.
In the 2020 budget blueprint — which is expected to be released mid-March — the service shifted "the dollars dramatically into the future next-generation projects defined by our cross-functional teams," Army Secretary Mark Esper said Feb. 8 during a panel discussion at the Center for Strategic and International Studies in Washington, D.C.
These priorities fall under the Army's new Futures Command that was first announced in October 2017. They include: long-range precision fires, next-generation combat vehicle, future vertical lift, the network, air-and-missile defense and soldier lethality. Eight cross-functional teams were established to pursue these initiatives. Esper said there are at least 31 programs that fall under these categories.
The service met its goal of developing a five-year spending plan that realigns $25 billion to fund the highest-priority modernization efforts, Esper told reporters after the panel.
These types of funding shifts will be part of a long-term trend, he suggested.
"This is going to be a process that continues on and on," Esper said. "We've got to keep sharp pencils and constantly look to the future because dollars are tight. Congress is watching. We need to be good stewards of the taxpayers' generosity. We need a plan for the future. We cannot cling to the past."
Esper said he and Army Chief of Staff Gen. Mark Miley assessed which programs and initiatives did not need additional funding. Some projects contained unnecessary upgrades, had a high production rate, or were too similar to systems they already had, he noted.
"There are no bad programs ... [but] some are more important than others," Esper said.
While these divestments are mostly focused on the acquisition budget, in the fall the service began to examine ways to realign training, installation, sustainment and personnel dollars for future years, he noted.
Navy Secretary Richard Spencer said his service is also reviewing its portfolio to determine what systems it needs to acquire to modernize its force. The fiscal years 2018 and 2019 budgets helped set "the foundation for readiness," he said during the panel. The Navy is trying to move fast to prepare for future fights.
"We have money, we have plans — we cannot buy time," Spencer said. "That is the biggest stressing point that we have right now."
Air Force Secretary Heather Wilson noted the benefit of having appropriations bills passed on time for fiscal year 2019. The service was able to execute about 25 percent of its budget within the first quarter, she said.
"You're able to do new-starts with programs," she added. "The budget and the topline is important [but] getting it on time is important."
Topics: Budget