SPECIAL OPERATIONS-LOW INTENSITY CONFLICT
NEWS FROM SO/LIC: Special Operations Command to Request Big Boost to S&T Budget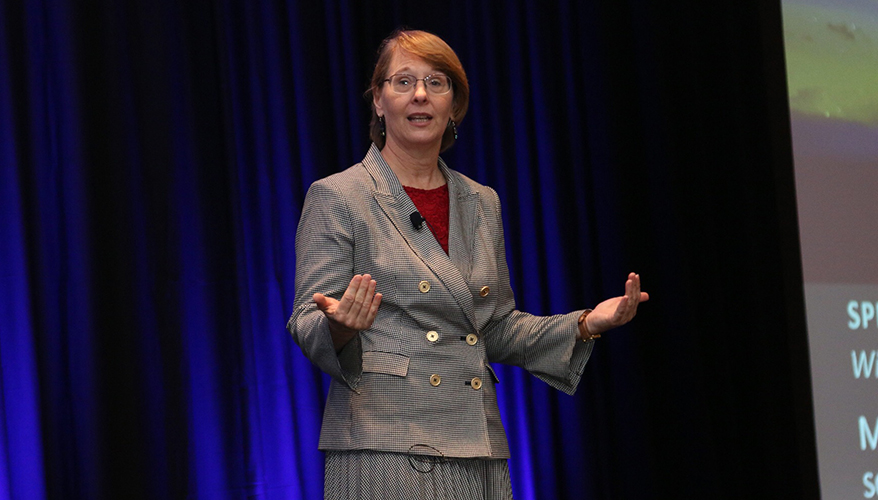 Lisa Sanders
Photo: NDIA / Melanie Yu
Special Operations Command wants to substantially increase funding for its science and technology division over the next five years, an official said Feb. 7.
"The S&T budget is going up," said Lisa Sanders, director of SOCOM's science and technology division, during remarks at the National Defense Industrial Association's Special Operations/Low Intensity Conflict Symposium and Exhibition in Arlington, Virginia. "There has been an intentional investment … on behalf of the command in order to ensure that we are truly providing capability that can deliver that next-generation effect that we think we need to have."
In a presentation slide, Sanders displayed top level SOCOM acquisition, technology and logistics funding numbers throughout the future years defense program that will be submitted as part of the president's fiscal year 2020 budget request. The president's budget — which was originally scheduled to be released in early February — is likely to drop by the middle of March.
The command plans to ask for more than $3.6 billion in the FYDP for AT&L. In fiscal year 2020, $821 million is proposed; $749 million for fiscal year 2021; $671 million in fiscal year 2022; $677 million in fiscal year 2023; and $698 million in fiscal year 2024, according to the slide.
While the bulk of that will go toward budget activity for technology insertion, S&T is asking for $130 million in fiscal year 2020; $148 million in fiscal year 2021; $157 million in fiscal year 2022; $160 million in fiscal year 2023; and $164 million in fiscal year 2024, according to the slide which broke down figures by budget activities for technology development, advanced technology development and technology insertion.
The technology insertion accounts have "a lot more money in there because that's where you're doing testing, that's where you're doing certification," Sanders said. "We are trying to make that initial investment with S&T to get ready for that transition into the programs of record and we want to make sure that the money that we spend does have a way to get there."
Sanders noted that S&T accounts are up substantially from just a few years ago when they hovered around $35 million per year.
The S&T division plans to focus much of its efforts going forward on four areas, Sanders said. These include tactically relevant situational awareness platforms; communication and navigation systems for all environments; tailored lethality technologies; and biotechnologies, she said.
The division — which works largely in applied science — endeavors to transfer technology to program executive offices within three to five years, she added. It works mostly with systems that are between technology readiness levels four through seven.
SOCOM S&T has previously invested in areas such as night-vision goggles, body armor and armaments, Sanders added. "We are making a substantial difference in the capability of the warfighter," she said.
Topics: Budget, Special Operations, Special Operations-Low Intensity Conflict