AIR WARFARE SYMPOSIUM NEWS: Sec. Wilson: New Air Force S&T Strategy 'Very Close to Being Done'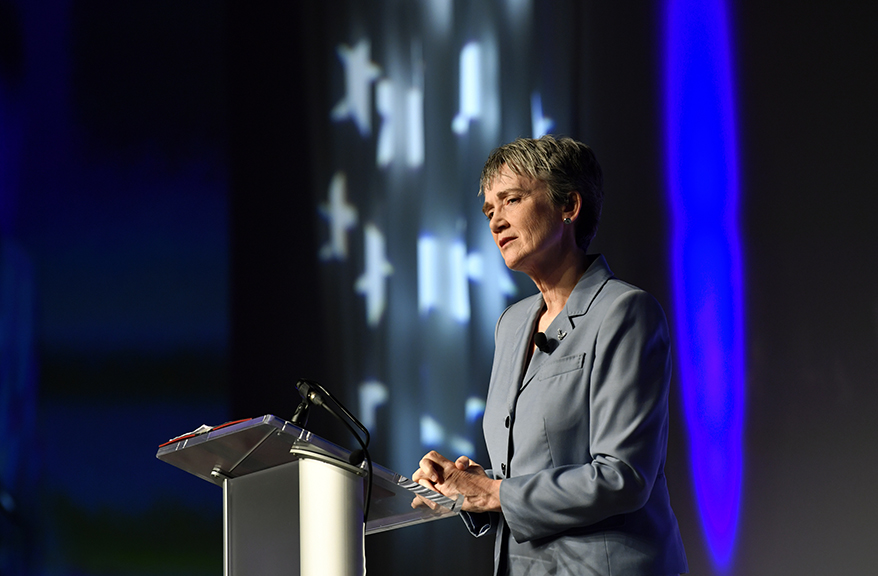 Photo: Defense Dept.
ORLANDO, Fla. — The Air Force's new science-and-technology strategy will be released soon, Air Force Secretary Heather Wilson said Feb. 28.
The S&T blueprint was expected to be rolled out last fall, but it was delayed.
"It's actually very close to being done. … We are in the last steps of wrapping it up," she said during the Air Force Association's Air Warfare Symposium in Orlando, Florida.
The study, which was launched after Wilson became secretary in 2017, aims to reinvigorate the service's research enterprise to ensure U.S. military dominance in air and space.
"We need to prioritize and manage our research and development differently," she told reporters at the symposium during a roundtable discussion.
When asked what exactly the Air Force intends to change when it comes technology, Wilson replied: "Stay tuned."
The service has been asking airmen to think outside the box, she noted.

"Part of it was getting people to know it was OK to think differently — getting enough people involved just to make people comfortable and not say, 'Alright what does the secretary want for an answer?'" she added.
Meanwhile, sequestration is set to kick in again unless Congress lifts the 2011 Budget Control Act spending caps for fiscal years 2020 and 2021. Wilson noted the last round of sequestration had a negative impact on the Air Force's S&T investments.

There was "not only a reduction in … what we were doing — from the size of our research portfolio, particularly basic and early applied research — but a lot of it was kept in house," Wilson said. The service is now taking steps to reach out to the commercial sector and nontraditional partners as it pursues new technologies.
"There's more research and development being done outside of the national security space than there is being done inside it," she said.