AUSTRALIAN AIRSHOW NEWS: Royal Australian Air Force Gives Joint Strike Fighter High Marks So Far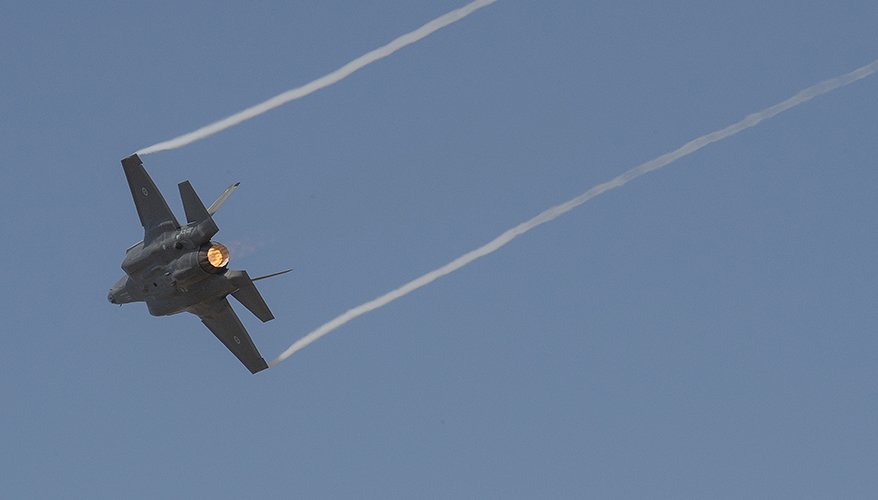 An F-35 takes to the skies at the 2017 Avalon Australian International Airshow.
Photo: Lockheed Martin
GEELONG, Australia — With two F-35A joint strike fighters now in country, and eight more stationed in the United States, the Royal Australian Air Force is beginning to put the fifth-generation aircraft through its paces as it moves toward full operational capability in 2023.

"There are still some challenges in the F-35 space, but they are well documented and there are no surprises there," Air Commodore Mike Kitcher, commander of the Royal Australian Air Force's Air Combat Group, said Feb. 26 at Avalon — the Australian International Airshow. "It is actually better than I expected it to be by now," he added.

"When you talk to the young men and women who are flying that aircraft, there is no chance they want to go back to a classic Hornet or Super Hornet," he said.

The Royal Australian Air Force is currently undergoing a validation and verification program as the first of its 72 F-35As are delivered. That process includes maturing tactics, learning the autonomic logistics information system — and mostly importantly — integrating the aircraft with other Australian platforms such as its F/A-18E/F Super Hornets, E/A-18G Growlers, Navy destroyers and P-8 maritime patrol aircraft.

"Integrating our joint strike fighter capabilities with our other [Australian Defense Force] capabilities is a key part of validation and verification," Kitcher said.

Australia has had personnel training on the new aircraft in the United States, including pilots and maintainers, as early as 2014. It has eight F-35s at Luke Air Force Base, Arizona, and two that arrived at RAAF Base Williamtown in December. Its pilots have flown a total of 2,600 hours and 1,700 sorties. Fifteen RAAF pilots have been trained and more are in the pipeline, Kitcher said.

Australia will take delivery of two more of the jet fighters in April and four more by the end of 2019 for a total of eight, plus two more to be sent to Luke AFB, he added. The RAAF expects to have 30 aircraft in the country by the end of 2020 with two full squadrons replacing its legacy Hornets, or "classic Hornets" as the RAAF calls them. Its total buy will be 72 planes, all of which should be stationed in the country when they reach full operational capability, which is expected by 2023, he added. It is beginning to train its first F-35 maintainers and air crew in country.

Kitcher acknowledged that with only two aircraft in Australia, it is premature to say that "everything is under control." As the nation works through the validation and verification program, there will probably be some surprises, he said. "But that is par for the course when it comes to cutting edge technology."

There have been concerns about the global supply system. "Getting parts to Williamtown in Australia might prove slightly different to getting parts to — for example — Luke Air Force Base in Phoenix, Arizona, but so far we are doing pretty well," Kitcher said.

The F-35's operational mission planning system was also a cause for concern. Like the autonomic logistics information system, it is a complex component that the RAAF is not used to working with, Kitcher said. "If you get that wrong, the aircraft doesn't do too much. ... So far we have been getting that right for the missions we have been flying."

RAAF Air Vice Marshal Leigh Gordon, head of the joint strike fighter division, said a maintenance facility is being stood up so tasks such as fixing, testing and modifying engines can be done locally with Australian contractors.

As a partner nation in the program, Australian contractors can compete globally with other F-35 customers for component maintenance contracts. They received 343 out of a possible 388 such contracts in the latest round, building on 64 they had received in the first round. Australian contractors have received a total of $1.3 billion in F-35-related contracts so far, Gordon said.

"That is a really great example of the strength of Australian industry and its competitiveness in the global sphere," Gordon said.

As is the case in the United States, the F-35 program in Australia has critics, who have mainly focused on the program's costs, currently at $89.2 million for each F-35A. The focus on the aircraft at the show, with its picture being featured on posters and on almost all the exhibition's publicity, attracted a handful of protestors outside Avalon's gates, who displayed a "Scrap the F-35!" banner.

With the Australian government's push to bolster its indigenous defense manufacturing base, prime contractor Lockheed Martin and the RAAF are focusing their message on the number of jobs the program is bringing to the nation. Lockheed Martin's F-35 static display featured booths for about a dozen subcontractors who are working on the program and a video of local workers talking about what they do to support the joint strike fighter. Fifty Australian companies have participated in the program so far, which will result in 5,000 jobs over the next few years, according to an Australian Department of Defence information packet distributed at the show.

Only 360 F-35s have been produced out of a planned 3,000-plus aircraft, so there is a long way to go and many more chances for local contractors, Gordon noted. The RAAF intends to help Australian companies win more awards, he said.

"My team is really focused on — in my words — maintaining the road for that industry program," Gordon said. The RAAF needs to work to make its local industry more competitive in sustainment programs, he added.
Topics: Air Power, International, Global Defense Market