AUSTRALIAN AIRSHOW NEWS: Boeing Exploring Potential International Market for its T-X Trainer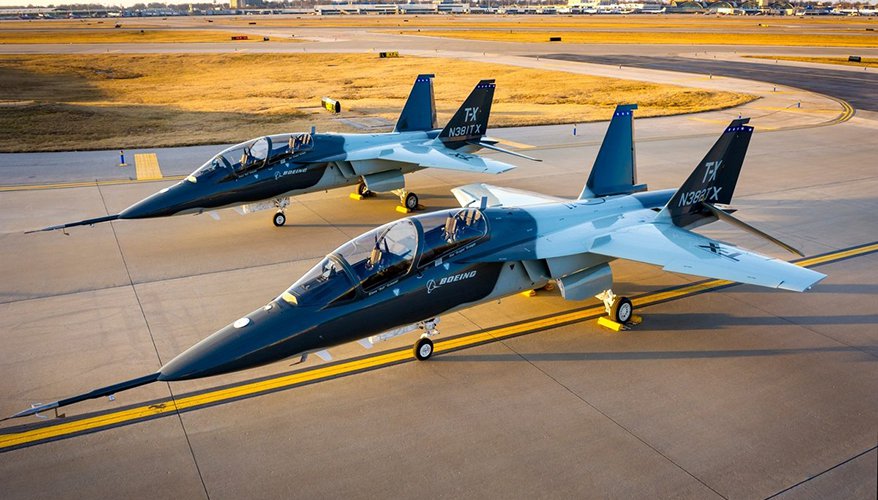 Boeing T-X trainers
Photo: Boeing
GEELONG, Australia — While it has only been about five months since Boeing won the U.S Air Force's T-X jet trainer competition, the company is already exploring foreign sales opportunities, one of its executives said Feb. 26.

Boeing and its partner Saab won the competition to replace the Air Force's aging T-38 jet trainers in September with a clean sheet design. The service needed to replace the 1970s-era aircraft because it was becoming more difficult to maintain. It also needed a trainer that was a better match for its fifth-generation F-22 and F-35 fighter jets. Initial operating capability for the new platform is currently slated for 2024. The Air Force needs 351 trainers.
Thom Breckenridge, Boeing vice president of international sales, strike surveillance and mobility, came to Avalon — the Australian International Airshow — to drum up interest in the aircraft.
Breckenridge said Boeing could not comment on when it could start delivering T-Xs for international customers. Priority No. 1 is delivering the first system to the U.S. Air Force, he noted.
"We're very eager to work with customers internationally to figure out what works best for them in terms of where other international deliveries can fit on that timeline," he said. Boeing has been in discussions on the T-X with several potential international customers, although Breckenridge declined to name them.

"We really do see a fit and need for this globally, across fleets — really all over the world, not any specific region," he said.
The T-X has a flexible design that can accommodate different needs, he pointed out, and part of the discussions with potential international customers is to find out exactly what modifications they may require, he said.

Meanwhile, Boeing has a 90-year history of working in Australia and has more employees there than any other country outside the United States, he noted. "We're committed to continuing to work with the [Royal Australian Air Force] and we are very focused on discussion with the RAAF about T-X," Breckenridge said. "That is part of the reason why I'm here."

While there are no requests for proposals for a new Australian trainer yet, there is a requirement, he said.

Air Commodore Mike Kitcher, commander of the Royal Australian Air Force's Air Combat Group, at an F-35 briefing later in the day, threw a wet blanket on Boeing's aspirations to sell T-Xs in Australia — at least for the time being. The RAAF is happy with its current trainers and probably won't start the process of looking for a new one anytime soon, he said.

"I think you might find that the PC-21 is fairly close to a fifth-generation basic training aircraft," he said of the Swiss-made turboprop aircraft manufactured by Pilatus Aircraft Ltd. Australia currently flies BAE System' Hawk 127 jet trainer, which it is not looking to replace until the next decade, or perhaps the decade after that, he added.

"As an operational commander, I'm not too worried about the Hawk delivering young men and women suitable to train on the F-35," Kitcher said.
Topics: Air Power, Training and Simulation, Air Force News