VIEWPOINT RESEARCH AND DEVELOPMENT
Rivals, Allies Trying to Harness U.S. Innovation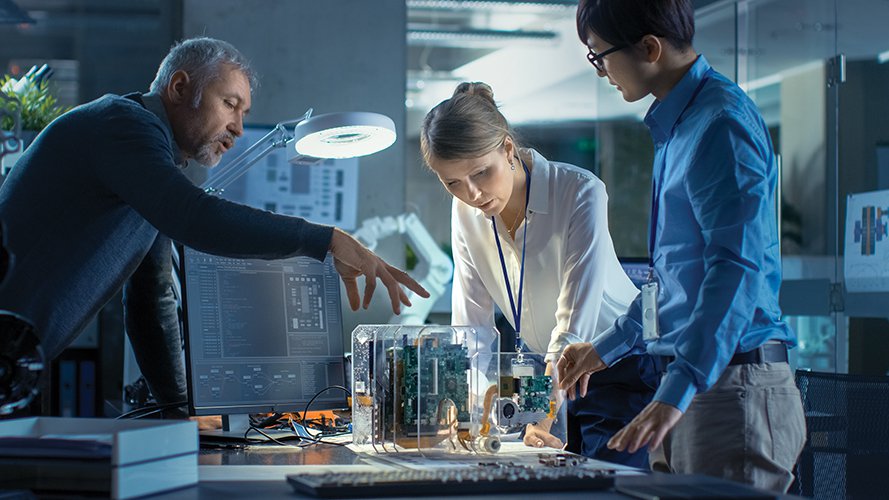 Gorodenkoff Productions OU
Have you ever considered why U.S. armed forces have enjoyed a technological battlefield advantage for so many years? Perhaps it's just good fortune, or maybe divine favoritism, or possibly an insatiable curiosity coded into our DNA.
In reality, the advantage results from various entities — academic institutes, government agencies, industry and the user community — unknowingly and yet intentionally working together to realize the nation's drive toward innovation.
In the United States, we are blessed with numerous technical universities, from the Massachusetts Institute of Technology and Georgia Institute of Technology on the East Coast to Stanford University and the California Institute of Technology in the West, with many other exceptional schools in between. These universities form the foundation of our tiered technology development process.
Government laboratories and agencies bridge the academic-to-defense gap, constituting a second step in the development process. Government-funded research encourages cooperation between scholarly institutes and research centers. Some of the more intriguing and thought-provoking research activities are in the defense arena, where young minds are drawn to tackle the art of the possible: stealth technology, silent propulsion systems, hypersonic weapons and so forth.
With a solid understanding of the physical sciences and the art of the possible, the Defense Advanced Research Projects Agency and other governmental agencies shoulder the costs of further exploring promising technology. DARPA, though not a production facility, brings defense technology to fruition by sponsoring requests for proposals to demonstrate the feasibility of certain enabling technology; DARPA was the genesis of the internet, GPS and stealth technology.
If the armed services recognize the potential benefit of a particular technology — it fulfills operational requirements — DARPA initiates a move from research to services for possible integration into next-generation systems and battlefield architecture.
When this happens, industry seizes on the promising research and further matures the technology. Industry differs from the other two tiers — academic institutes and government laboratories — in this innovation process in that it must provide investors acceptable returns on their investments. Companies must efficiently select initiatives to which they will apply their limited research-and-development dollars; therefore, industry relies on technology road maps at the system, subsystem and component levels.
Each piece of a weapon system, from space to undersea applications, has a technology road map that leads to new innovations; for example, aircraft skin moved from aluminum alloy to polymer-based radar-absorbing material, radar advanced from flat-panel mechanical to conformal electronically scanned antennas, and imaging progressed from electrical optical to multispectral. These road maps are a vital part of the innovation cycle and one way industry ensures warfighters continue to realize a technological advantage.
Road maps are living documents, twisting and turning with user requirements and technology development. To integrate road maps into the business structure, all involved parties must spend considerable time identifying near-term and far-term objectives. Once thoughts are captured and documented, industry goes back to academic and government entities to solicit thoughts and adjust where each road map leads, restarting the innovation cycle.
It is essential for companies to initiate a cycle of road map reviews and adjustments because minor changes to core technology today can yield much different systems 10 years out; therefore, successful companies continuously review their road maps to ensure they are focusing on the latest art of the possible.
In this final sequence, user community input is crucial. In defense, views of stakeholders diverge because the battlefield is strikingly dissimilar to the laboratory. It's not unusual for the user community, that is, operators, to comment on engineering's lack of appreciation for the field environment users and their equipment are subject to daily.
On the flip side, engineering often mentions that operators do not understand the technology and the immense effort required to develop products. Successful companies acknowledge the different views and strive to bring all parties together in a robust, collaborative work environment. Users and engineers require each other to be successful.
Industry and operators together quantify the potential benefits and forecast potential production quantities. The internal rate of return is easily computed and, accordingly, budgetary fund allocation by both industry and government can be optimized.
Many now warn that our nation's edge in technology is eroding. Much of their concern can be traced to limited defense funding in research and development. PricewaterhouseCoopers reports that the U.S. defense industry spent less on R&D in 2017 than any other U.S. business segments. Much of this can be explained by the congressional sequestration mandate, which drove prioritized support for near-term sustainment and force readiness versus advancing state-of-the-art technology, and industry scrutiny of R&D expenditures in the face of reduced revenue streams.
Further complicating matters is that our successful tiered approach for fielding state-of-the-art equipment is well known around the globe, and numerous nations — some with conflicting interests — are working diligently to replicate this process. Outside U.S. borders, other nations are also developing distinguished technical scholars who perform research in modern, well-equipped facilities, such as the United Kingdom's University of Cambridge, the Technical University of Munich, Saint Petersburg University in Russia, Peking University and the University of Tokyo. We must applaud these accomplishments because, as nations work to elevate their educational institutions, the consequent effects should also raise the standard of living and provide a healthier environment for the citizens of those nations and around the world.
Integrated development naturally evolves into government-sponsored research, such as that being done at the Defense Evaluation and Research Agency in the United Kingdom, NATO Science and Technology Organization in France, and Japan's New Energy and Industrial Technology Development Organization. Russia and China have similar government-funded institutes. Virtually all these organizations and many others function under a charter that fuses civil and military research much like our DARPA does. Foreign R&D institutes have witnessed the success of DARPA and are working to emulate it.
Because various nations now replicate our process of research and development, it seems only logical to assume that soon potential adversaries will be at parity with U.S. forces on the battlefield. But to push the state of the art beyond its current limits is risky, and most nations are critical of the time and money spent in such endeavors. Russia and China prefer to obtain technology by clandestinely acquiring intellectual property. It is not unusual to find new-generation weapon systems in potential adversaries' inventories just a few years after Western nations have successfully fielded such systems.
The cyber domain, with all its many benefits, has become another tool for capturing IP. Cyberattacks to steal sensitive data and disrupt the U.S. defense industry occur more frequently with each passing day. When defense contractors unveil a state-of-the-art weapon system, the cyberattacks on those companies intensify. According to leaders in defense, cyberattacks are persistent and sophisticated enough to imply they are state sponsored. Thankfully, industry works diligently to firewall IP and safeguard defense secrets.
This understanding of how U.S. defense technology evolves from one generation to the next and how other nations either replicate the U.S. process or pirate critical technology brings us to a final point. One element that is difficult to quantify yet crucial to preserving the battlefield advantage is entwined into the character of the nation's people: we are risk-taking innovators. This inherent characteristic of Americans — that anything is possible — is a distinctive attribute not found to the same degree among other peoples.
U.S. academic institutions, government entities and industry actors encourage risk taking, with the understanding that failure may result but that it carries no stigma. "If at first you fail, try, try again" echoes through the halls of laboratories and research facilities. Our educational system has been criticized — and to some degree that criticism is warranted — when students score below those of other nations; however, rote memorization does not nurture probing minds.
We do teach specifics, details and facts that must be memorized, but we truly value inquisitive thinking and curiosity in young people. We want all individuals to continually ask why, to confront perceived boundaries and barriers, to seek the means to push beyond the status quo. This is a trait of unlimited value to U.S. society and, in turn, to national security.
The process of cooperative development among academic institutes, government agencies, industry and operators has evolved and, when coupled with our innovative spirit, successfully incubates promising technology. U.S. optimism about a lasting battlefield advantage, however, must be tempered because it is less than it was in the past. We as a nation must preserve our technological eminence by committing unwaveringly to financially supporting basic and applied research and promoting inquisitive thought.
Whether innate curiosity and compulsion toward innovation are the result of divine favoritism, DNA, or sheer good fortune, who's to say. These enduring qualities reside strongly in the citizens of our nation, and for that we can be grateful.

John C. Johnson (jjohn4236@yahoo.com) is a retired Air Force colonel and former vice president and general manager of the electronic systems sector at Northrop Grumman.