Army Pursues Device to Mitigate Internal Bleeding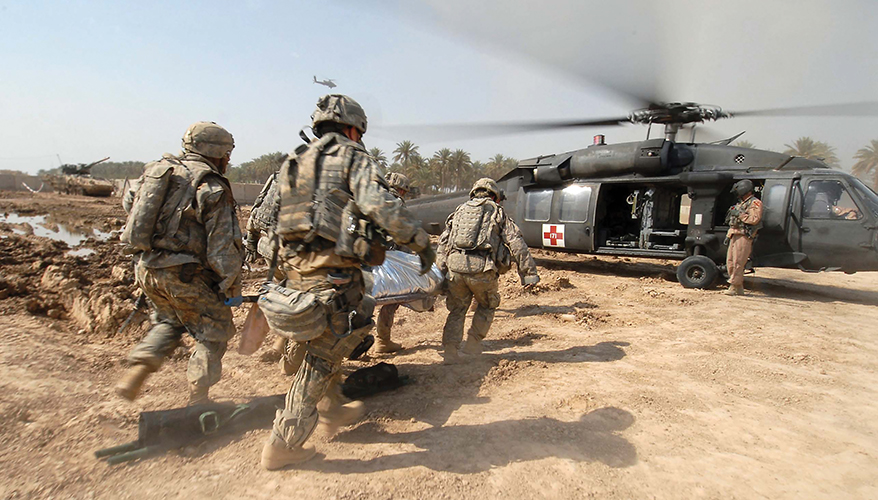 Photo: Defense Dept.
The Army is funding a new initiative to expand a pilot device that can potentially help stop internal bleeding on the battlefield.
Army Medical Research and Materiel Command and the Medical Technology Enterprise Consortium (MTEC) chose Critical Innovations LLC for the project, which has a ceiling value of $654,043, according to a news release.
Bill Howell, chief operating officer of MTEC, said most deaths on the battlefield are caused by excessive bleeding. About 10 years ago the military began providing tourniquets and hemostatic dressings geared towards compressing exterior wounds, he noted.
"They reduced the [total number of people] killed in action from that," he said. But "what they don't have a solution for is if you have penetrating wounds into the body, which you can't compress very well."
During the first Gulf War, there was a drug called Factor VII, which was an injectable solution intended to spur internal clotting, he said. However, it was discontinued due to negative side effects, he noted.
Howell said MTEC and Critical Innovations' new device is a small tube that contains a material with polymers that resembles foam. After inserting the device into an open wound, the foam helps blood coagulate and puts pressure on internal bleeds.
Pigs are being used as the primary test subjects because of their biological similarity to humans, he said.
"The pigs are, amazingly enough, the best animals to be able to simulate humans," he said. "Using pigs are very indicative of what would happen within humans."
If results from these initial tests are positive, the project would move to human testing in two years, he noted. The project team wants to eventually advance the device to technology readiness level 4, which would result in a method that would allow for field delivery.
The device would be ideal for combat medics to carry on the battlefield because it does not have to be refrigerated and is transportable, Howell added.
"It doesn't really have any shelf life or heating or special packaging … requirements that you sometimes get," he said. It's "a round shape … and it's something that's much easier to handle."
The creation of MTEC stemmed from a medical other transaction authority agreement, Howell said.
Topics: Army News, Health Affairs