'Jay Leno's Garage' Leads Textron Systems to Company Acquisition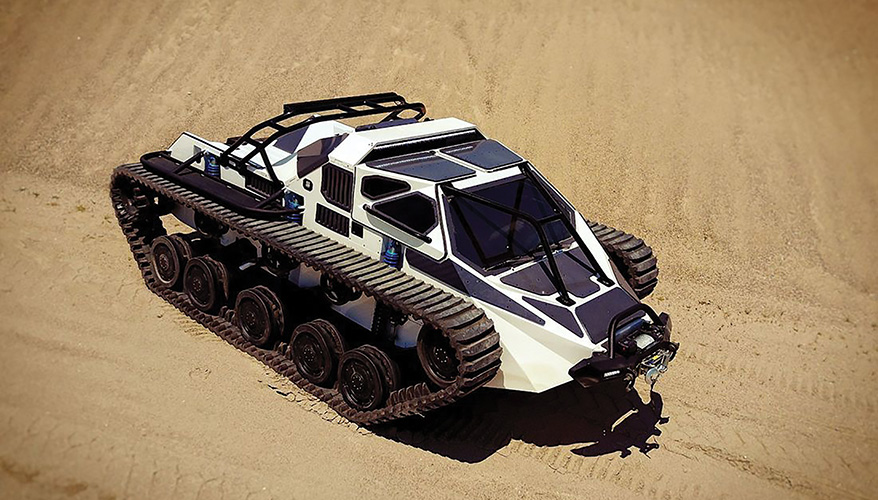 Ripsaw Super Tank
Photo: Howe & Howe Technologies
A segment on former talk show host Jay Leno's television series led Textron Systems to acquire a ground robotics vehicle developer.
Lisa Atherton, president and CEO of Textron Systems, said she was at home one evening watching "Jay Leno's Garage" when a vehicle featured on the show sparked her interest.
The tracked platform — built by Howe & Howe Technologies — was "flying through the woods and up and over the berms," Atherton told reporters. It immediately caught her eye and, after doing some research, she gave them a cold call to discuss setting up a meeting.
Textron made an offer to acquire Howe & Howe Technologies in October. By December, the deal was finalized.
Now that the acquisition is complete, Textron is moving forward with its goal of expanding its unmanned vehicle offerings.
"Although we have manned ground vehicles, we were missing that unmanned ground space," Atherton said.
The vehicle that sparked Atherton's interest was Howe & Howe's Ripsaw Super Tank, known by some for its appearance in the 2015 Academy Award winning film Mad Max: Fury Road. The vehicle is the fastest dual-tracked vehicle that's ever been developed, she said.
Textron Systems plans to continue developing the Ripsaw in pursuit of the Army's robotic combat vehicle initiative.
"We saw the requirements come out for the robotic combat vehicle … [and] we believe the Ripsaw is tailor-made for that," Atherton said. "This year we will be focused on responding to [requests for proposals] that come out for the prototypes."
There are three other Army competitions that Textron is prioritizing in 2019. They include the squad mission equipment transport, future tactical unmanned aerial system and the next-generation squad weapons.
Competing for the squad mission equipment transport, or SMET, contract will be Howe & Howe's tracked RS2-H1 robot.
For the Army's future unmanned aerial system, Textron is bidding its Aerosonde HQ, which it showed off at Dugway Proving Ground, Utah, last month, Atherton said. The future UAS will replace the RQ-7 Shadow drone.
Lastly, Textron hopes to win the next-generation squad weapons contract with its lightweight and small arms technologies. "We believe we are the leaders in the case-telescoped prototypes for the Army's next-generation squad weapon with our lightweight small arms technologies," Atherton said. ­
Topics: Tactical Wheeled Vehicles, Land Forces