Harris Provides EOD Robots to British Army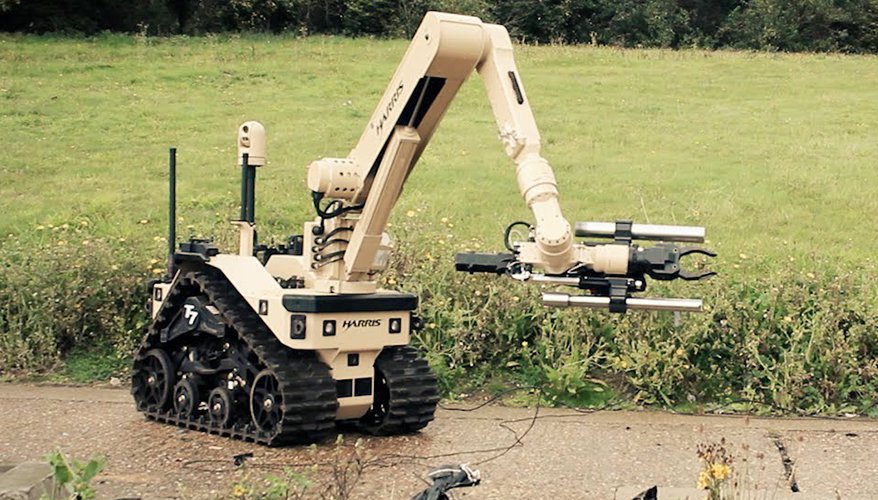 T7 Multi-Mission Robotic System
Photo: Harris Corp.
Harris Corp. is providing the U.K. Ministry of Defence with a multi-mission explosive ordnance disposal robotic system.
Paul Bosscher, chief engineer for robotic systems at Harris, said the company began delivering the T7 at the end of 2018 through the Project STARTER program. The effort is being run under the Defense Ministry's special projects and search countermeasures team. Harris is providing systems under a contract worth up to $70 million, with initial operational capability projected for fall 2019.
Bosscher said the T7 has a pistol grip that allows the user to control the robot.
"You'll hold that pistol grip and you'll just move that the way you would move your hand if the [robot] was your hand," he said. "You don't need to worry about … the complexity of the machine that you're trying to control. You're just saying, 'How would I naturally do this job by hand?'"
The system also has electronic jamming equipment to counter threats that may be set off remotely through radios, he said. Many other robots are not robust enough to provide this kind of capability, he noted.
The platform has a weight of 710 pounds, a maximum speed of 4 mph and cameras in the front and rear, according to the company's website. It also has a common interface and a design that can be upgraded in the future, the company stated.
The system is also in the running for the U.S. Army's common robotic system-heavy competition, which is being conducted under an other transaction authority agreement, he noted. CRS(H) is one of three major systems the service is pursuing for a family of EOD robots.
"It's a modular robot," he said. "I can pull the robot arm off, I can put another payload on and ... I've got something that can support moving equipment around the base, or doing a patrol, or whatever else they can envision."
Bosscher noted the United Kingdom has extensive expertise in robotics due to its history of combating domestic terrorism and the Irish Republican Army.
Topics: Land Forces, Fuze