Army Looks to Replace Cold Weather Vehicle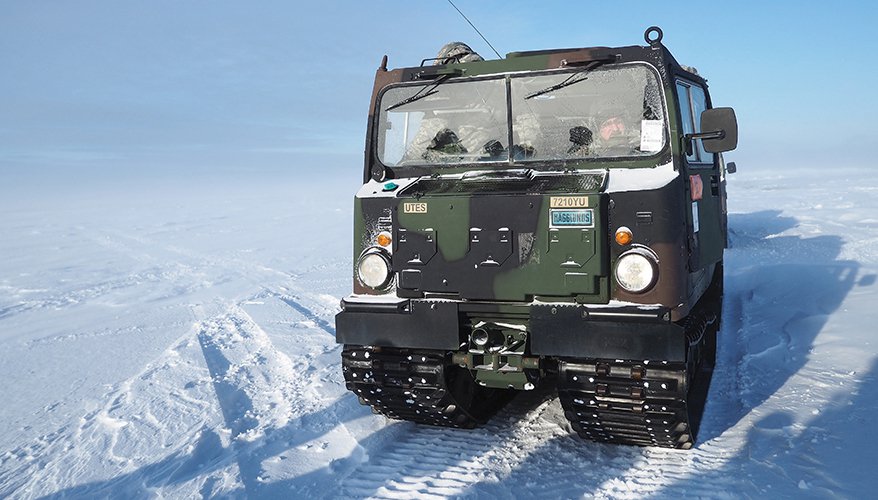 Small unit support vehicle
Photo: Army
Increased activity and competition in the Arctic are prompting the Pentagon to put a renewed focus on the region. The Army is now seeking a replacement for a vehicle that remains a cornerstone for its units in Alaska.
The service's small unit support vehicle, or SUSV — which was last purchased in 1983 — is an amphibious, tracked system built to travel through rough terrain such as snow, mud and swamps. At 1.8 pounds per square inch of force, the platform has a footprint that exerts less pressure than a human foot. That allows it to travel smoothly over deep snow.
However, the aging vehicle no longer falls under a program of record, leaving the service without means to maintain them, the Senate markup for the fiscal year 2019 National Defense Authorization Act noted. Rather, the decades-old systems are being "cannibalized for parts" to keep the remaining systems running.
Additionally, the vehicles have only five years left before they will be classified as obsolete, according to the Senate markup for the fiscal year 2018 NDAA.
"Allied and near-peer competitor countries are developing extreme cold weather ground transportation capabilities that far exceed U.S. military capabilities, notably the recent advances in all-weather/cross-country mobility being demonstrated by new Russian specialty vehicles," the document stated.
Keith Klemmer, director of business development for the National Guard for combat vehicles at BAE Systems, said it is also difficult to find replacement parts for the vehicle because of its old age. The company's Swedish subsidiary, Hägglunds, was the original manufacturer of the small unit support vehicle.
In June 2018, the Army released a request for information to gather industry input for a new platform that will have four variants and provide transportation for "a combat-loaded Infantry-like squad element, emergency medical evaluation, command-and-control capability and general cargo." The RFI was issued by Army Contracting Command-Warren and the product director for medium tactical vehicles.
The new system — deemed the joint all-weather all-terrain support vehicle, or JAASV — would have to operate successfully in "otherwise impassable terrain" such as marshy conditions, deep snow, frozen ice and extreme cold weather, the notice stated. Cold weather is defined as temperatures that drop as low as minus 50 degrees Fahrenheit.
As a tracked, amphibious platform, it would also need to have a light footprint and be transportable by a CH-47, UH-60 or C-130.
Mark Cancian, a senior adviser at the Center for Strategic and International Studies, said the Army has two main roles in the Arctic region. It maintains a presence with two brigades in Alaska, and maintains a capability with its Northern Warfare Training Center, he said. As interest in the area continues to increase, the Army might not add soldiers beyond the two brigades, he noted. Instead, the service may focus on increasing its activities in the region. The number of students that have gone through the training center has risen substantially within the last couple of years, he noted.
"I would not be surprised to see a unit, battalion-size, [or maybe] even brigade-size eventually exercising up in the Arctic," he said.
The Defense Department has already completed a business case analysis for the small unit support vehicle replacement, the fiscal year 2019 markup stated. The analysis concluded the initiative will compete for funding in the Army's program objective memorandum for 2020 to 2024, which provides an outline of how the service hopes to fund its future efforts. Congress encouraged the Defense Department to consider using rapid acquisition authorities to obtain a commercial-off-the-shelf, nondevelopmental item solution. Although the potential program is likely to fall under the Army, the report noted that Congress believes the vehicle will be needed by the Air Force and Marine Corps as well.
Additionally, the Army's Training and Doctrine Command will work to determine the total number of new utility vehicles needed for both its active and reserve components.
The Senate's markup for fiscal year 2018 noted that besides assisting units in Alaska, the service's 200 SUSVs are fielded in states such as Colorado, Minnesota, Vermont, Louisiana and Michigan.
"The technology that's out there is … '60s/'70s technology," Klemmer said. "It's just an old vehicle that [has] served a great life for the military in the United States, but … it needs to be replaced with a new vehicle."
However, this is not the first time the Defense Department has considered replacing the small unit support vehicle, said Tom Spoehr, director of the Heritage Foundation's Center for National Defense. He noted that during his time serving at the Pentagon, the department proposed to replace the SUSV at least two other times.
"No one said it wasn't something that was needed," he said. But "when we racked and stacked all the Army's other priorities, that came above … the cutline."
Spoehr said if the Army decides to move forward with a formal program of record for a replacement, it likely won't have an acquisition objective higher than 200 or 300 vehicles, and they would not be purchased all at once.
The small unit support vehicle is the main system the Army has for maneuvering in this area, he said. Although Humvees have high mobility, they are unable to travel through deep snow.
"You either walk, you use your snow shoes or your skis, or you use one of these SUSVs," he said. "Those are about the only options you have for the units that are up there."
A formal program of record would not be expensive, he said, should the Army stick with a commercial-off-the-shelf item, which is the same strategy it used for procuring the original SUSV. Even when the program was at the height of its procurement, it only cost about $150 million, he estimated. Replacements might be about $3 million or $4 million each, he predicted.
Although the service has yet to announce a specific timeline for a joint all-weather all-terrain support vehicle program of record, some industry members have already shown interest in winning the potential future contract.
BAE Systems announced its intention to bid for the system in August.
Klemmer said BAE plans to offer its BvS10 and Beowulf vehicles. The company developed the armored BvS10 in 2004 and has since developed Beowulf as an unarmored variant. Klemmer noted the Beowulf is similar in appearance to the SUSV, but about four feet longer.
The system has a top speed of 40 miles per hour, a range of up to 620 miles and can climb slopes up to 45 degrees, according to BAE. However, Klemmer noted the biggest difference between the small unit support vehicle and the Beowulf is within the electrical systems. Beowulf has a 400-amp baseline, he said, which is "quite an increase in power." Additionally, Beowulf has 285 horsepower, whereas the SUSV has only 136 horsepower.
The BvS10 carries over the original small unit support vehicle's articulated steering and drive system, Klemmer said, which allows it to maneuver in smaller spaces by splitting parts of the vehicle and incorporating a middle pivot point. Beowulf is based on BAE's Viking BvS10, which was first designed for the United Kingdom's Royal Marines.
ST Engineering also has a tracked, amphibious vehicle called the Bronco 3 that is designed to work in extreme conditions. However, Tom Vecchiolla, president and CEO of VT Systems, which is owned by Singapore-based ST, said it is too soon to determine whether or not it will bid for the program.
Dominic Phoon, product director for the Bronco, said the four-wheel, tracked vehicle can operate in environments of about 104 to 122 degrees as well as temperatures as low as minus 49 to minus 58 degrees. Similar to the small unit support vehicle, the Bronco 3 has a ground pressure less than that of a human foot so it can traverse over muddy terrain and dense snow, he said.
Because the amphibious system uses its tracks to propel itself in water, there is no need for additional preparation when transitioning from land, he noted. The company has already run the vehicle through Arctic terrain in Finland, he said.
There is also a commercial variant of the system that could be used at a state and local level for natural disasters, he noted. Vecchiolla said Japan has one of these variants, which is currently in demonstration phase, and there are potential plans for it to procure additional vehicles.
Cancian said that as the military continues to increase its presence in the Arctic, he expects the Army to focus mostly on adapting its systems to operate in the region.
"I wouldn't expect a lot of new systems, but I would expect a lot of activity and maybe efforts to figure out how to get systems to operate in extremely cold environments," he said. This may include adaptations for trucks, generators and communication equipment that must work in negative 50 degrees or negative 40 degrees temperatures, he noted.



Topics: Army News, Land Forces, Tactical Wheeled Vehicles