Supplementary War Funding Expected to Remain Robust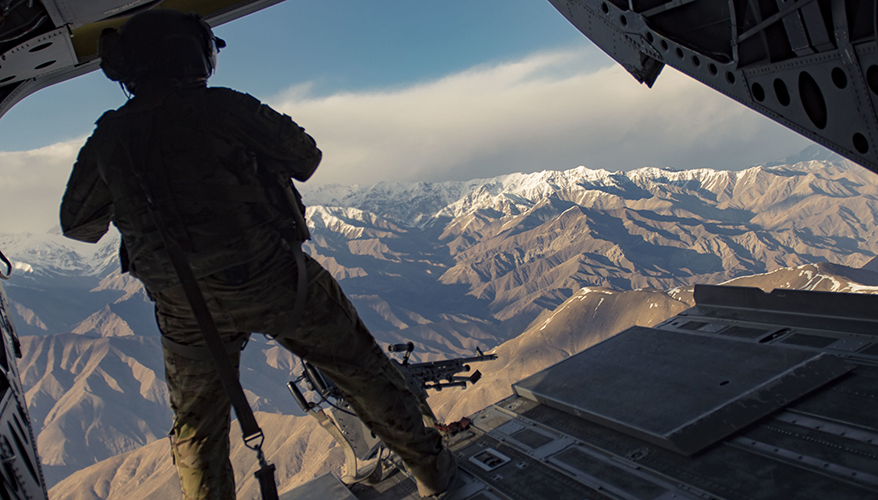 A U.S. Army CH-47 Chinook door gunner surveys the ground during a training mission in Afghanistan.
Photo: Army
President Donald Trump has ordered the withdrawal of all U.S. troops from Syria and reportedly has plans to cut the troop presence in Afghanistan by about half. He has often spoken about the need to save money by disengaging from "endless" wars. But the troop drawdowns probably won't do much to reduce overseas contingency operations spending, also known as OCO, according to one analyst.
For fiscal year 2019, the OCO budget was about $69 billion.
"You would expect to see war funding decrease as the U.S. withdraws troops from operations. But the sticking point is that the OCO budget has been used to skirt the Budget Control Act caps," said Seamus Daniels, a program manager for defense budget analysis at the Center for Strategic and International Studies.
Approximately 70 percent of the war budget constitutes enduring costs unrelated to war efforts, he noted.
The troop drawdowns could lead to "a minor dropoff" in the 30 percent of the OCO budget that is actually going toward military operations, such as the procurement of munitions, he said.
However, moving a large amount of base budget needs out of the overseas contingency operations account — which is not subject to the BCA caps — as some in the Trump administration have proposed, could be problematic for fiscal deal making, Daniels said.
"We're going to need another budget deal for FY 20 and FY 21, which are the final two years of the budget caps," he explained. "The problem there is that if you're moving the OCO funding back into base, that necessitates a higher increase in the BCA budget caps for defense."
For example, to achieve a $733 billion defense budget for 2020 while keeping OCO funding steady, lawmakers would have to increase the caps by $84 billion. If something on the order of $53 billion were moved back into the base budget, Congress would have to increase the caps by a whopping $137 billon, Daniels said.
Democrats, who now control the House, can be expected to insist on equal increases in non-defense spending to match any bump in base funding for military programs, he noted.
"We've seen in the past that … OCO has been used to plus-up defense spending significantly on top of that," he said. "It allows both parties to save face … [and] I don't think that we will see anything dramatic happen to the OCO budget until" the BCA expires after fiscal year 2021.
Topics: Global Defense Market, International, Defense Watch, Budget