WEB EXCLUSIVE: Top Navy Officer Vows to Fix Gerald Ford Nuclear Aircraft Carrier Woes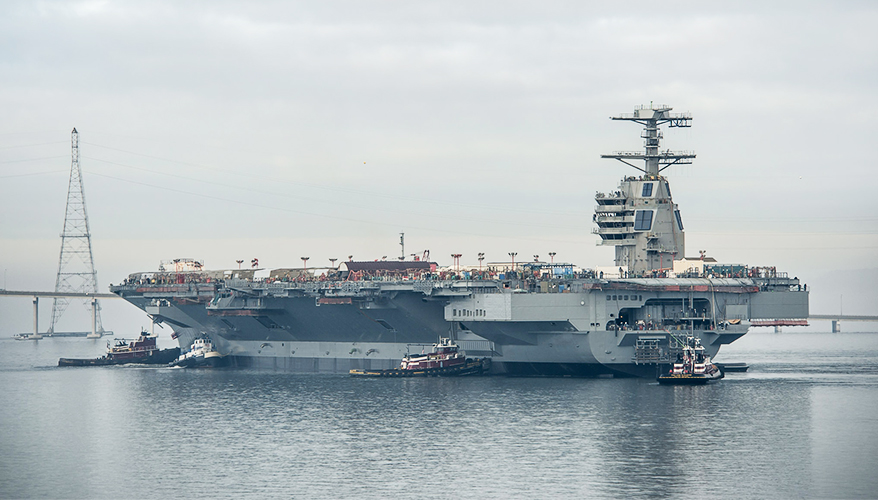 Aircraft carrier Gerald R. Ford (CVN 78)
Photo: Navy
Chief of Naval Operations Adm. John Richardson promised Feb.1 that the service will rein in a litany of technical problems, which were spelled out in a new report about the new Gerald Ford-class nuclear aircraft carrier.
Problems with the Gerald Ford-class carrier, designated the CVN 78, were revealed in a director of operational test and evaluation's annual report released Jan. 31. Less than four hours later, Huntington Ingalls Industries announced a long awaited $14.9 billion block buy contract modification for two carriers.

The Navy is "wrestling a lot of the last technical issues down," Richardson told reporters at a Pentagon press briefing the following day.

"By the time we're starting to build these two ships, this program will be very much under control, very predictable and very efficient," he said. Richardson noted he plans to visit the carrier for an update on its progress next week. Under a contract modification, the Navy is purchasing an additional two ships, the Enterprise CVN 80 and an unnamed CVN 81. Construction on the Enterprise began in 2017 before the Navy received funding for the block buy.
Robert Behler, director of operational test and evaluation — in a report that included dozens of other weapon systems from all four services — outlined several problems with the ship. "Poor or unknown reliability of systems critical for flight operations" such as catapults, weapons elevators and radar may prevent it from generating sorties, the report stated. Mechanical problems forced the ship to return to port early during three out of eight independent streaming events, and development problems have added about two years to the carrier's timeline. Issues with the electromagnetic aircraft launch system, advanced arresting gear, dual band radar and advanced weapons elevator could delay initial operational test and evaluation, the report noted.
Additionally, the CVN 78 may not have enough berthing space, the assessment stated. The current capacity is for 4,660 spaces, about 1,100 less than Nimitz carriers.
"Some of these concerns have required the redesignation of some berthing areas and may require altering standard manpower strategies to achieve mission accomplishment," the report states. To further complicate the berthing situation, it is not yet known how much manpower will be required to operate the Ford's new systems, the report noted.
Richardson said he expects the Navy to fix program issues before the arrival of Enterprise CVN 80 and the unnamed 81. Work is slated to be completed by February 2032. A press release from Huntington Ingalls stated the ships are scheduled to be delivered in 2028 and 2032.

Richardson noted that buying two carriers at once is expected to save the Navy about $4 billion. "The fact that we can make some bets, buy two of them at the [same] time ... it's indicative of how we can now reduce risk in that program by buying things like this and the savings that are possible," he said.
Huntington Ingall's announcement stated the buy will "stimulate" its supplier base, allowing it to construct aircraft carriers every three to four years. Building of the new ships will take place at its Newport News Shipbuilding division.
The Navy is also hoping to avoid future budget constraints, Richardson added. Through measures such as the fiscal year 2017 request for additional appropriations, the military services have been able to recover readiness lost under spending caps set by the 2011 Budget Control Act, he said.

"That is all progress that could be reversed and we would go right back to where we started," he said. "A big and important message that we've got to try and avoid that at all costs."


Topics: Navy News, Defense Contracting, Defense Department, Shipbuilding