BREAKING: Air Force to Expand Light Attack Experiment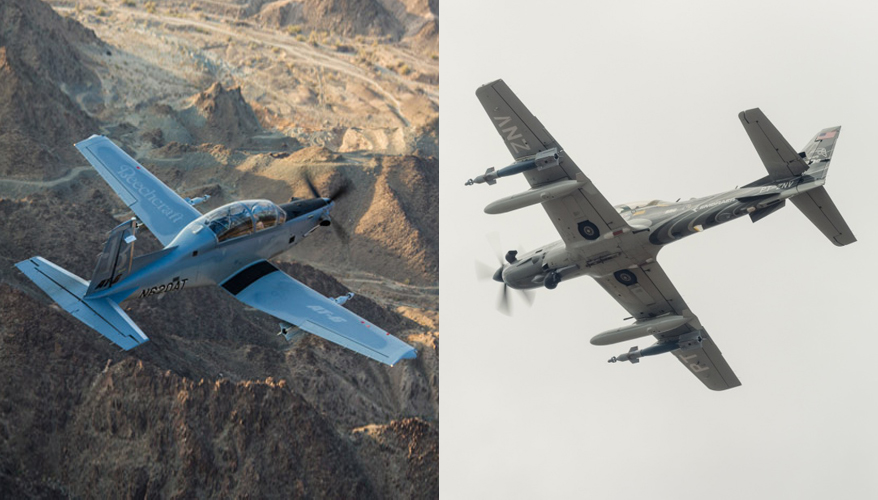 AT-6 Wolverine, A-29 Super Tucano
Photos: Textron, Defense Dept.
Instead of moving forward with the large procurement of new light attack aircraft, the Air Force is opting to expand its experiments and look at other commercial-off-the-shelf aircraft for close-air support missions, a senior service official said Feb. 1.
The Air Force is looking to open the aperture beyond just Sierra Nevada Corp.-Embraer team's A-29 Super Tucano and Textron Aviation's AT-6 Wolverine turboprop, said Lt. Gen. Arnold W. Bunch, Jr., military deputy at the office of the assistant secretary of the Air Force for acquisition.
"We are planning to broaden the experimentation out and carry the experimentation forward," he said during remarks at an Air Force Association event in Washington, D.C.
A final request for proposals for a light attack aircraft was expected to drop sometime in December, but those plans are now on hold, Bunch said.
"Looking at the national defense strategy and the priorities that we have to meet … [we decided] this was not an area that we would go do a long, large procurement at this time," he said.
Bunch was mum on details on what a future experiment would entail, citing a need first to brief Congress about the program's progress. A date for that briefing has not been set, he noted.
The Air Force has been pursuing a light attack aircraft for years. The point of the effort is to procure an affordable, commercial-off-the-shelf platform that could be used for counter-terrorism missions, Bunch said. There is also a desire to work closely with international partners who many want a more low-cost option opposed to a high-end fighter jet.
"Countries have a spectrum of what they may need," he said. "Not everybody needs a F-35."
The service has already conducted a series of experiments, known as OA-X, to study the feasibility of using an off-the-shelf platform as a low-cost solution for light attack and close-air support missions.
Originally, the experiment involved four aircraft including the Super Tucano; the AT-6 Wolverine turboprop; Textron Aviation's Scorpion jet; and Air Tractor Inc.'s AT-802L Longsword turboprop supported by L3's Platform Integration Division.
Last year, during the second phase of the experiment, the service whittled the participants down to two systems, the A-29 and the AT-6. However, that phase was cut short after a Super Tucano participating in the effort crashed near Holloman Air Force Base, New Mexico, in late June. One pilot, Navy Lt. Christopher Carey Short, was killed, and another suffered minor injuries.
In August, the service released a pre-solicitation that said a formal solicitation was expected in December and that "Sierra Nevada Corp. and Textron Aviation are the only firms that appear to possess the capability necessary to meet the requirement within the Air Force's time frame without causing an unacceptable delay in meeting the needs of the warfighter."
However, those plans are now on hold, and a future experiment could include a mix of manned and unmanned platforms, Bunch said. However, despite the potential procurement being delayed, Bunch noted that the effort has yielded fruit.
"I do believe it's been a success and I might be the only one that believes that," he said. "We tried something we hadn't done. We built a partnership with industry. We experimented. We learned a lot and we got to the point that we weren't ready to make a large buy decision at this stage."
Bunch said he has asked his team to reach out to all stakeholders involved to collect lessons learned. "We've got to look ourselves in the mirror and say, 'Was that good or was it bad and how do we do it better?'" he said.
Meanwhile, Bunch also noted that the service is preparing for a pitch day as it seeks to court new and innovative small businesses. The event will take place March 6-7 in New York, he said.
"We're going to have companies coming in pitching their … ideas so that we can decide who is going to get the phase one small business innovative research contracts," he noted. "Our goal is to get a vast number of those."
The intent is to reach out to members of industry that the service historically hasn't been able to reach, he said. It plans to use rapid contracting methods, such as facilitating transactions with government purchase cards, to move things faster, he added.
"How do we bring them in and get awareness of what they're doing and … figure out what their innovative ideas are and capitalize on that so that we can move forward?" he said.
The service is focusing is on areas including intelligence, surveillance and reconnaissance, communications and networking.
"Our goal here is to maximize the utility of our small business innovative research dollars," he said. "We need to maximize how we're using those dollars, and this is to demonstrate we can do it. Will we get 100 percent right this time? Probably not. Will we learn from it and adjust and move forward? Most definitely."
Bunch was recently nominated in December by President Donald Trump to serve as the next commander of Air Force Materiel Command at Wright-Patterson Air Force Base, Ohio. His nomination requires confirmation by the Senate. If confirmed, Bunch would succeed Gen. Ellen Pawlikowski, who retired in September.
Topics: Air Power, Air Force News