I/ITSEC NEWS: Navy Pushes for Interoperable Training Solutions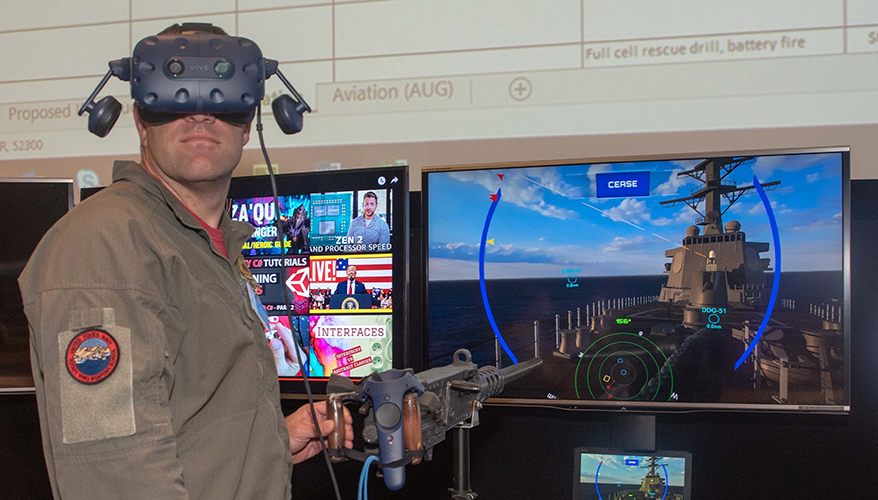 Photo: Navy
ORLANDO, Fla.
— The Navy wants its live-virtual-constructive training capabilities to be interoperable among military services, a service official said Dec. 5.
"We recognize that LVC training environment will be the only way that a pilot squadrons, airwings can train before the high-end fight," Capt. Lisa Sullivan, program manager for naval aviation training systems, said during a panel discussion at the annual Interservice/Industry Training, Simulation and Education Conference in Orlando, Florida.
"We will be spending a lot of time trying to connect the dots again because there's a lot of folks that are working on LVC and [working on] how we can all be connected in together," she added.
LVC training technologies include simulation and virtual reality products and other computer-generated entities. The Navy announced last year that it was opening a new facility to allow members of industry, government and academia to work on live-virtual-constructive training initiatives year-round.
Sullivan wants to ensure that the Navy is connecting the "LVC bridge" from ground to air.
"That is important," she said. "Then also with our joint partners — with …. the Air Force network and the Navy network and then also on the live side, so that will be a lot of the focus."
Looking toward the future, Sullivan asked for the industry's help connecting training technologies and creating more low-cost augmented and virtual reality trainers.
"It is going to be critical that we are continuing to work with industry … [to] wire open architecture... to be able to plug in across the force," she said.
Likewise, she wants to move away from proprietary standalone training products that are not interoperable.
Topics: Navy News